Andy Murray believes that home advantage can be as beneficial in tennis as in any other sport but the world No 3 relishes the challenge of taking on opponents in their own backyard. Murray has an excellent record as an "away" player, which he will hope to extend when he faces Jérémy Chardy here on Monday in the fourth round of the French Open.
Since Murray lost to Gaël Monfils in the first round at Roland Garros nine years ago he has won all 11 matches he has contested against players competing in their home Grand Slam tournament. He has become a master at dampening the enthusiasm of a home crowd, as he showed in his quarter-final victory at this year's Australian Open over Nick Kyrgios, who lost again to the Scot here on Saturday, going down 6-4, 6-2, 6-3.
"One of the things that I try to do before going on for those sort of matches is to prepare myself," Murray said. "I tell myself: 'OK the crowd is going to be tough.' I just get myself in the right frame of mind before I go out there. I don't know if all players do that or talk about that with their coach, but that's something I always try to do."
Murray also tries to use partisan home crowds to his own advantage. "I try and tell myself that when they're booing me they're booing him," Murray said. "I think in football the crowd obviously get pumped when the home team is attacking, whereas in tennis it's kind of no noise in the middle of the rallies, so it shouldn't put you off."
He added: "I don't mind playing in those kinds of atmospheres. Obviously, I prefer it when the crowd is behind you, but it's something you have to enjoy. It's a challenge and when you accept it's going to be the case before a match you deal with it.
"I think it's something that when I was younger it would have affected me, but now I feel like I'm experienced. I've won 11 in a row. I've experienced those atmospheres many times now, so it's not something that fazes me when I go out on court. I just go out and try to play."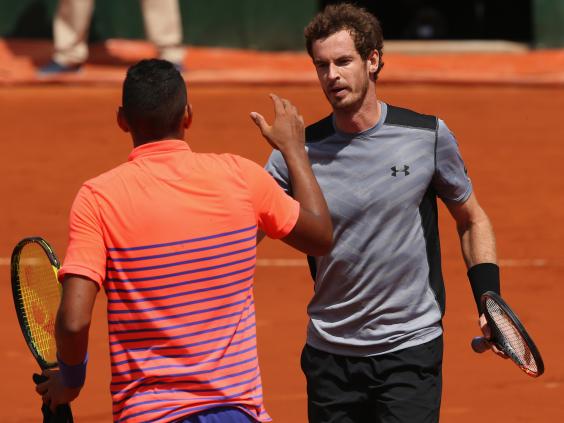 Murray also has an exceptional record against French opponents, having won 22 matches in succession in Grand Slam tournaments against them since his last defeat, to Jo-Wilfried Tsonga in Melbourne seven years ago. "I think that's a coincidence," Murray said. "Some of the guys I've played against, their styles have matched up well for me."
Murray has won six of the seven matches he has played against Chardy. The most recent was last month in Rome, where Murray pulled out of the tournament the following day, blaming tiredness. Chardy said here that he had been "a little bit pissed [off]" at Murray's retirement, adding: "If you want to win a Grand Slam, everybody is tired."
Chardy, aged 28, has reached only one Grand Slam quarter-final, at Melbourne in 2013, when he lost to Murray. As the world No 45 the Frenchman is 20 places beneath his highest position in the rankings, but he has been in good form here. He beat John Isner in the second round and described his straight-sets victory over David Goffin in the third as "the best match of my life".
Murray will be seeking his 14th successive victory on clay following his title successes in Munich and Madrid. His improvement on clay this year is reflected in his serving statistics. Until this year he had won 75 per cent of the service games he had played on clay; going into the French Open he had won 91 per cent of them in 2015. Meanwhile, his percentage of break points saved rose from 62 to 76.
The Scot believes a key to his breakthrough this year was changing his schedule. He missed the Monte Carlo Masters because it was the week after his wedding and kicked off his clay campaign by playing in his first "250" event – the lowest grade of tournament on the main tour – in Munich.
"I think winning the tournament and changing my schedule helped a lot," Murray said. "I had never played any of the smaller events on the tour on clay and getting my first win on clay helped, for sure. I feel that was a good decision from me and my team. I also gave myself time physically to get used to the surface."
Reuse content