Statistics can never give a complete picture, but if there is anyone who still doubts Amélie Mauresmo's ability as a coach, perhaps they should consider this. In Ivan Lendl's first 12 months working with Andy Murray, the Scot won 56 matches and lost 16. Under Mauresmo, who will complete a full year as Murray's coach at the end of this French Open, he has won 68 and lost 15.
Murray, who meets David Ferrer in the quarter-finals here this afternoon, has yet to celebrate a Grand Slam title with Mauresmo – under her predecessor he won Wimbledon and the US Open, not to mention Olympic gold and silver medals – but his progress in recent months suggests that he could soon be closing in on some more major prizes.
In his first year with Mauresmo, Murray has won five titles. Four have been at "250" or "500" events, which are the lower two levels of tournaments on the tour, and the fifth was at last month's Madrid Masters. He has also been runner-up this year at the Australian Open and Miami Masters.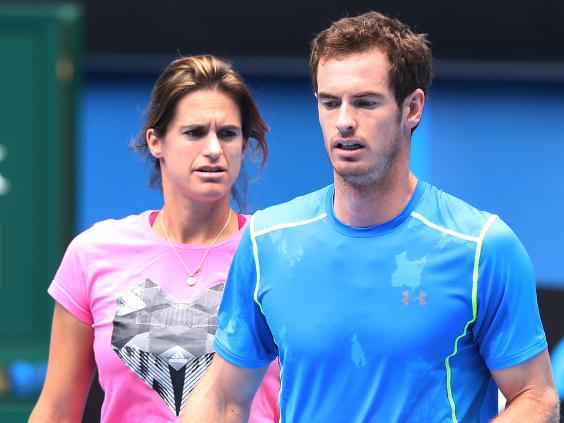 Murray won only three titles in his first 12 months with Lendl, though they included the US Open and Olympics. If his record under Mauresmo has been skewed favourably by the greater number of smaller tournaments that he has entered, he was still searching for his best form for the first six months with the Frenchwoman following back surgery.
"Like I said at the start, people are going to say that my relationship or the work that I've done with Amélie will be a success only if I win Grand Slams," Murray said. "That's what people will judge it on obviously, as has always been the case with me throughout my career.
"But my results have been good. I'm starting to get more wins against higher-ranked players and top players, which is something that I wasn't doing last year. Hopefully it keeps going that way. But it does show that the stuff that was getting said about her at the end of last year  was completely unfair and unacceptable."
Virginia Wade and Fred Stolle, who both initially thought Mauresmo's appointment was a joke, were among the early doubters. Wade, the 1977 Wimbledon champion, said Mauresmo was "fragile mentally", while Stolle, who was French Open champion here 50 years ago, did not expect the arrangement to last long.
By the end of last year, when Murray's season ended with a 6-0, 6-1 drubbing by Roger Federer at the Barclays ATP World Tour Finals in London, Tim Henman was suggesting that the Scot had "not been playing the right way", while Greg Rusedski thought that he was being too passive and too defensive.
Reaching the final in Melbourne at the start of this year was clearly Murray's best result since he started working with Mauresmo, but the world No 3 has shown his greatest improvement on clay. Now he will be seeking his 15th consecutive victory on the surface – which would equal his best unbeaten run anywhere – and, for once, he is the favourite to beat Ferrer, who is one of the world's best on clay and a former runner-up here.
Ferrer has won all four of his previous matches against Murray on clay, including their only meeting at Roland Garros in the quarter-finals three years ago. The 33-year-old Spaniard is five years older than the Scot and is not as big a hitter as Jérémy Chardy, his last opponent, but has a reputation as one of the game's most tireless performers. Ferrer could make the Trojans look like work-shy layabouts.
Murray believes the best way to stop the world No 8 running you into the ground is not to allow him to dictate the points. "Something I feel like I've done a better job of on the clay this year is not playing so defensively," Murray said.
Australian Open men's final - in pictures
Australian Open men's final - in pictures
1/12 Australian Open men's final

Murray's girlfriend Kim Sears wore this top in response to being caught swearing in his semi-final win over Tomas Berdych

Getty Images

2/12 Australian Open men's final

A member of security (bottom) prepares to pull down a banner displayed by protesters (wearing white shirts) in the stands. Two women were later arrested

GETTY IMAGES

3/12 Australian Open men's final

Murray's coach Amelie Mauresmo looks on in shock as the Briton falters in the fifth set, going down 6-0

GETTY IMAGES

4/12 Australian Open men's final

Djokovic celebrates Championship point

5/12 Australian Open men's final

A distraught Murray takes a seat after his match

6/12 Australian Open men's final

Djokovic holds his trophy next to runner-up Murray

GETTY IMAGES

7/12 Australian Open men's final

Murray looks on as Djokovic is presented with the title

8/12 Australian Open men's final

Djokovic poses with his trophy - winning the Australian Open title for the fifth time

9/12 Australian Open men's final

Djokovic's coach Boris Becker applauds from the stands

10/12 Australian Open men's final

A downbeat Murray talks to the press

11/12 Australian Open men's final

Djokovic raises a celebratory toast in his press conference

12/12 Australian Open men's final

Djokovic is all smiles in the locker room
"When I have had to defend, I've moved a lot better, so when I've had the chance I have stepped into the court and dictated the points. David can make you run a lot if you allow him to. But because he's not as hard a hitter as somebody like Chardy, you have the opportunity to dictate the points as well. So I will need to do that for sure."
Murray believes he is equipped physically to cope with whatever challenges might lie ahead. If he beats Ferrer he will face Novak Djokovic or Rafael Nadal in the semi-finals.
"In comparison with the preparation that I'd had coming to the French Open the last few years, where I've played some pretty long matches, I wasn't really able to train as I would have liked because of the problems I had with my back," Murray said. "Whereas this year I was actually able to train better and I played way more matches, so I should be pretty confident that I'll be able to last."
Reuse content