Perhaps more tennis players should try taking a less glamorous job for a while. Timea Bacsinszky, frustrated at a succession of injuries, started working in a hotel two years ago in preparation for a new career, but since giving herself a second chance by returning to the sport after a three-month break the 25-year-old Swiss has not looked back.
Bacsinszky, who had never previously gone beyond the third round of a Grand Slam tournament, beat Belgium's Alison Van Uytvanck 6-4, 7-5 at the French Open here to set up a semi-final showdown with Serena Williams. The world No 1, who is chasing her 20th Grand Slam title, secured her place in the last four by beating Italy's Sara Errani 6-1, 6-3. In the other semi-final Ana Ivanovic will take on Lucie Safarova.
Bacsinszky, who will be the first Swiss woman to reach the semi-finals here since Martina Hingis 14 years ago, attacked from the baseline to deny Van Uytvanck, the world No 93, the chance to become the lowest ranked player to make the last four at Roland Garros. Bacsinszky took control from the moment she won the first three games, though Van Uytvanck remained competitive throughout.
Asked what she had learned from her brief taste of working in the hotel industry, the world No 24 said: "I don't know if it really helps me for my forehand or  backhand, but it gives you a lot of humility because there are many people in this world who are working in restaurants, hotels, in the kitchen, who are making our beds in hotels.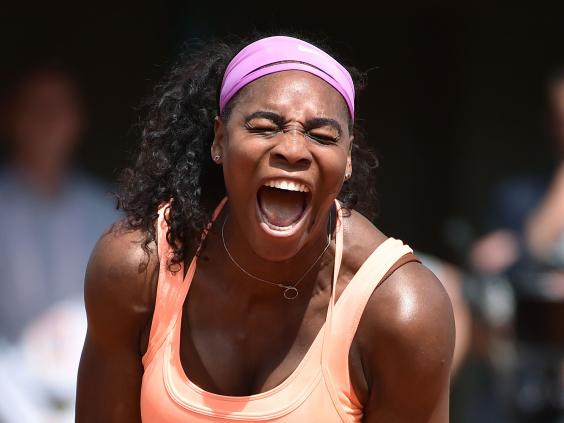 "Maybe when you're a tennis player and you have everything around you which is already given to you and you're kind of assisted, then you don't see all the people who are working for you, cleaning rooms or making a nice breakfast.
"I'm not only talking about tennis players. There are many, many players who don't realise maybe how lucky they are also to have enough money to go to a restaurant. I learned what it was like to be on the other side. My colleagues didn't actually know that I played tennis."
Bacsinszky said that her hotel experience had made her think more about tipping staff in hotels and restaurants. "I used to tip them before, but maybe not that much," she said. "Now I always feel bad if I forget to tip someone."
Williams put her patchy performances of the previous three rounds behind her to crush Errani. "I definitely felt more in control and I felt I had to be again going up against a player who plays well on this surface in particular," Williams said. "I had only one option and that was to gain control of myself, my emotions and my game."
The world No 1 has won both her previous matches against Bacsinszky, most recently at Indian Wells three months ago. "She's a good player," the American said. "She's a major fighter. You can have a match point, be up a set, and she's not going to give up. She's had a really good year. It's not going to be an easy match at all for me. I need to come out strong again. Most of all, I need to relax."
Reuse content