When the end came it was almost as if someone had died. There were no big celebrations from Novak Djokovic, who had finally beaten Rafael Nadal here at the French Open at the seventh attempt, and as the fallen champion left Court Philippe Chatrier the standing ovation he was given was almost subdued. It seemed that nobody could quite believe what they had just witnessed.
In his previous 70 matches at Roland Garros Nadal had lost just once, when his creaking knees gave way against Robin Soderling six years ago, but this time the explanation for his 7-5, 6-3, 6-1 defeat was more straightforward: the king of clay had been beaten by a better player.
The truth is that this was a dethroning that had been waiting to happen, for Nadal has not been the same since he lifted the Coupe des Mousquetaires for the ninth time last summer. A wrist injury and appendicitis made the second half of his season a non-event and for all his insistence that he was gaining momentum through this year's clay-court campaign, he has lost his aura of invincibility. Djokovic, meanwhile, has won every tournament at Masters Series level or higher that he has entered since  last October.
Since 2011 Djokovic has needed only the Roland Garros title to complete his Grand Slam collection. By his own admission the world No 1 has put too much pressure on himself to achieve that target for the last three years, but there was a steely-eyed brilliance about this victory that spoke volumes for his current mental strength.
The Serb, who now faces Andy Murray in the semi-finals, served and returned beautifully, attacked at every opportunity and regularly  outfoxed Nadal with his clever use of drop shots. His increasing stranglehold on the match was reflected in the length of the sets: 67 minutes, 46 minutes and 34 minutes.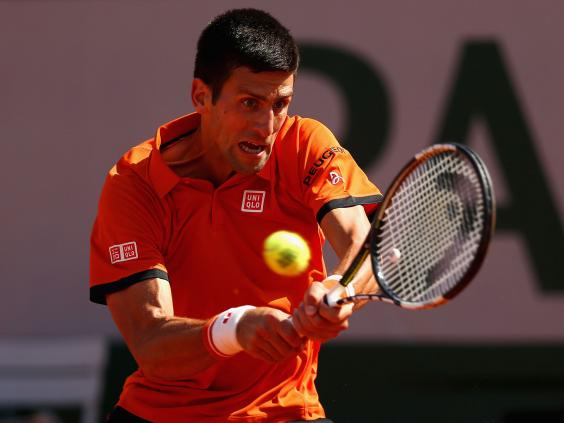 Nadal hung on grimly for the best part of two sets. After Djokovic had won 16 of the first 20 points to go 4-0 up, the Spaniard fought back to 4-4 and then saved five set points before putting a volley wide on the sixth. Djokovic made the crucial break of the second set in the eighth game but needed another four set points before doubling his advantage. The final set became a procession, with Nadal's day summed up by the final game, in which forehand errors left him 0-40 down before a double fault handed Djokovic victory.
"I didn't want to give him too many opportunities where he could dictate the play," Djokovic said afterwards. "I tried to mix up the pace, to get into the net. I played drop shots, high balls, fast balls – always something different. Obviously he didn't serve that well, especially in the second and third sets. He made some unforced errors that are not characteristic for him on the forehand side. But that's what happens when you don't feel comfortable on the court."
Nadal, who could no doubt have found a better way to celebrate his 29th birthday, will drop to No 10 in the world rankings next week, or to No 11 if Jo-Wilfried Tsonga reaches Sunday's final.
The Spaniard said afterwards that Djokovic had been the better player and had also been in better shape. "It's not a big surprise after the year that I had before coming here," Nadal said. "I competed, but I was not good enough to win. I'm going to fight. I lost in 2009 and that was not the end. I lost in 2015, and this is not the end. I hope to be back here the next year with another chance."
Nadal rejected talk of the end of his Roland Garros dynasty. "I have been very successful here for nine years out of 11," he said. "I lost twice. Everybody loses at every place. I have not lost many times here, but that day arrived today. As always, I accept my defeats. There is only one sure thing: I want to work harder even than before to come back stronger."