Few players in professional tennis have experienced more difficult lives than Mirjana Lucic-Baroni, but in her twilight years in the sport the 33-year-old Croat is enjoying a run of success that nobody in the sport would begrudge her.
The world No 70's 7-5, 6-1 victory here over Simona Halep in the second round of the French Open was the latest chapter in what has been a remarkable story dating back to her days as a teenage prodigy.
For Halep, last year's runner-up, it was a case of lightning striking twice, the 23-year-old Romanian having also lost to Lucic-Baroni at last year's US Open. Her second defeat by the former Wimbledon semi-finalist was arguably an even greater shock, given the world No 3 has been one of the outstanding performers of 2015, having won three titles this year, more than any other player on the women's tour.
Lucic-Baroni's talent has never been in doubt. She was the US Open junior champion at 14, won the first professional tournament she entered at 15 and beat Monica Seles en route to Wimbledon's last four at 17.
However, her teenage years were also marked by abuse from her father and in 1998 she fled the family home, along with her mother and four siblings, for the United States.
After the 2002 US Open, she did not play another Grand Slam tournament for eight years. Her financial struggles were such that she could not afford to enter professional tournaments, though she continued to play at a low level and always hoped to return.
Lucic-Baroni finally resumed Grand Slam competition in 2010, though her results were modest until her run at last year's US Open, where she lost in the fourth round. When she won in Quebec on her next appearance, she broke the record for the longest period between titles. It had been 16 years and four months since her previous victory – at Bol, in Croatia, in 1998.
The tears had flowed in New York, but Lucic-Baroni was eventually all smiles as she reflected on her latest victory. "At the US Open, it was the first time in a really long time I'd had a really good result like that, so I was extremely emotional," she said. "Everything just kind of hit me at once.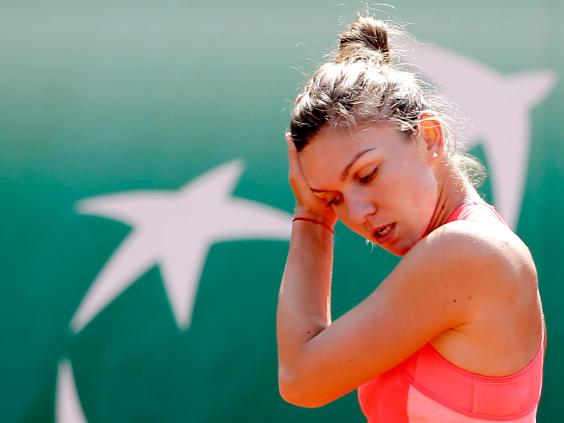 "Now, after seeing that video of my press conference a few times, I'm trying to hold it together a little bit better. No, I don't hide my emotions. This is who I am. And I was really so happy I shed a few tears today on the court as well."
She added: "Sometimes the way things happen in life, it's difficult to handle everything. There is a lot of pressure on the court as it is. I really do love the game. So as long as I can – and as long as my body allows me to – I'm going to keep fighting and keep playing. It's moments like this, like today, it's just so amazing, a full court, playing against one of the best tennis players in the world and winning. It doesn't get better than this."
Asked what she took from her past, Lucic-Baroni said: "I take a lot of pride in what I went through in my life, the difficulties. I think I know for a fact that a lot of people couldn't do it, what I went through, and come back and fight the way I did. So I take a lot of pride that I was stubborn, believed in myself enough and was strong enough to be here today."
Roger Federer beat Marcel Granollers 6-2, 7-6, 6-3 to set up a first meeting with Bosnia's Damir Dzumhur, while it was a good day for Frenchmen. Nicolas Mahut and Benoît Paire knocked out seeded opponents in Ernests Gulbis and Fabio Fognini respectively, with Gaël Monfils, Gilles Simon and Jo-Wilfried Tsonga joining their compatriots in the third round.
Edmund withdraws with stomach injury
Britain's Kyle Edmund has pulled out of the French Open with an abdominal problem, less than 24 hours before his scheduled second-round encounter with Australia's Nick Kyrgios.
The 20-year-old had been due to face Kyrgios in one of Thursday's opening matches but withdrew because of fears that he might exacerbate a muscle injury which has been troubling him. He did not want to jeopardise his chances in the forthcoming grass-court season.
Edmund's withdrawal means that Kyrgios has a free passage into the third round, where he will meet the winner of this afternoon's meeting between Andy Murray and Joao Sousa.
Laura Robson's 17-month absence is set to continue after the former British No 1 suffered a hamstring injury in training. Robson, who had wrist surgery after last year's Australian Open, had been on track to return to competition here until her latest setback.
The former Wimbledon junior champion has switched her comeback target to the grass-court season, but that may now be in doubt. "She is just now starting back on the court, so we will see," Max Eisenbud, her agent, said. "We have put strict guidelines in place that she will not return until she is 100 per cent healthy."
Paul Newman
Reuse content