Andy Murray is only halfway towards emulating his achievement of reaching last year's French Open final, but the world No 1's confidence is growing with each victory.
"I felt like I could turn it around," Murray said here as he reflected on the poor form he had been in when he arrived at Roland Garros. "It wasn't going to be easy, but I feel like I've done a good job. I'm playing way better than I was a week, 10 days ago."
Having disposed of one 6ft 6in giant in the third round on Saturday when he beat Juan Martin del Potro in straight sets, Murray faces another on Monday in the imposing figure of Karen Khachanov, who is one of the best of a new generation of rising talent. The 21-year-old Russian, a big server with equally impressive ground strokes, is through to the fourth round on his French Open debut after beating John Isner 7-6, 6-3, 6-7, 7-6.
Murray had arrived here with just one win to show from his previous four matches and was on antibiotics after going down with another bug during a season in which he has been regularly beset by injury and illness.
"To be playing the way that I am now, I'm very pleased and happy for myself," Murray said. "A lot of people wouldn't have thought that I would maybe get to this stage or be playing the way that I did in the last two sets [against Del Potro], so I'm happy I've managed to turn it around.
"The further that you go, the better you start to feel and the more confidence you get. You are in the second week of a Slam, so anything is possible. Why not set the bar as high as possible? It's better to say 'OK, I want to try and win the tournament' and to fall short and lose in the final than to say 'I'm delighted getting to the second week' and then lose in the fourth round.
"I want to try and go as far as possible, but there are no guarantees. If I play like I did in the last two sets [against Del Potro], then there is no reason why I can't win a few more matches."
Andy Murray's projected route to the final
Andy Murray's projected route to the final
1/8 Andy Murray's projected route

Who will the World No 1 come up against if he is going to win at Roland-Garros for the first time?

Getty Images

2/8 R1: Andrey Kuznetsov

The World No 85 is not a renowned clay court performer, although his run to the third round of the 2015 French Open will ensure that Murray does not underestimate him.

Getty Images

3/8 R2: Martin Klizan

The Slovak was ranked just outside the top 20 two seasons ago. But has since dropped outside the top 50 and lost in the first round of every Slam last season.

AFP/Getty Images

4/8 R3: Juan Martin del Potro

One of the most dangerous players in the draw. The former US Open champion hasn't played at Roland-Garros since 2012 but did beat Murray the last time the two met: in the Davis Cup tie between Britain and Argentina.

Getty Images

5/8 R4: Tomas Berdych

The former Wimbledon finalist is no longer the force he once was. Reached the semis in 2010 and the quarters last season, but he is a player Murray would expect to beat.

Getty Images

6/8 QF: Alexander Zverev

The rising star of men's tennis. The 20-year-old has not yet been beyond the third round of a Major, but his recent victory over Novak Djokovic in the final of the Italian Open means he enters the tournament as a legitimate dark horse.

Getty Images

7/8 SF: Stan Wawrinka

The 2015 French Open champion is the highest ranked player in Murray's half of the draw. Has a terrific clay-court game and an impressive 41% win ration against Murray.

Getty Images

8/8 F: Rafael Nadal

Nadal is the favourite to win the 2017 French Open for what would be his tenth title at Roland-Garros. Murray has only beaten him twice before on clay, both times at the Madrid Open, and only once before at a Grand Slam, when Nadal retired hurt during their 2010 Australian Open quarter-final match.

Getty Images
Murray said he had not been playing well enough going into Roland Garros to think he could win the tournament but insisted: "Things can change very quickly. You don't become a bad tennis player overnight. It can take only one or two good practices, providing you're trying to do the right things.
"Even when you're not playing well, if you're training hard and trying to do things right, things can turn around very quickly. It can also turn around the other way as well if you stop doing things properly in practice, aren't concentrating properly and aren't having the correct game plan or game style going.
"I felt like I've been doing the right things in practice. In the matches maybe I was just not as switched on as I needed to be - and that can make a huge difference.
"In the matches here I think I've been more switched on. I didn't play perfect tennis in the first three rounds, but [playing over the best of five sets] gives you a lot better chance of turning your form around and also winning matches just by playing smart.
"When I'm not playing well I can still win matches against top players. I did it last year a bunch. You need to remember that as well, providing you are willing to work hard and try to get through it."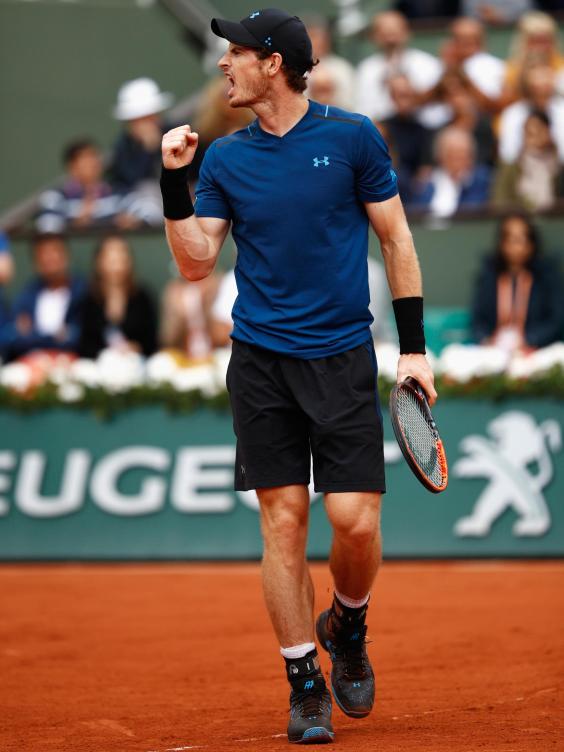 He added: "Physically I feel pretty good. I haven't seen any of the stats but I do feel like I've been dictating a lot more points these last couple of matches, doing less running than I did in the first two matches here last year, when I felt like I was defending the whole time."
Khachanov, who has only just turned 21, is the youngest man to reach the fourth round at Roland Garros since Marin Cilic in 2009. The world No 53 climbed 99 places in the rankings last year and is set to break into the top 40 for the first time at the end of this tournament. He has won four of his last six matches against opponents ranked in the top 30.
Born in Moscow, Khachanov has been coached by Galo Blanco at the Spaniard's academy in Barcelona for three years now. Blanco has worked with a number of top players in the past, including Milos Raonic and Feliciano Lopez.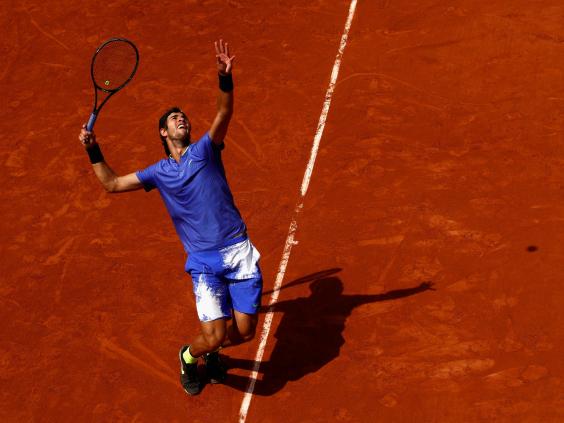 Although this is only the Russian's third appearance in a Grand Slam tournament, Murray is well aware of the threat he poses.
"I practised with him before he got on to the tour when he was ranked about No 350 and he was really good," Murray said. "He's a big strong guy who generates a lot of power and also has a big serve."
Isner sees Murray as the favourite but added: "Karen is playing with a lot of confidence. If he hits the ball as big as he did [against me] I think he can keep it close. He's certainly got to believe that he can win the match."
Reuse content