The French Open began with talk of a changing of the guard at the top of men's tennis, but as the first week comes to an end it is the women's game in which a new world order is developing. For the first time at a Grand Slam tournament in the Open era the top three women's seeds have all lost before the fourth round. Agnieszka Radwanska, the world No 3, on Friday joined Serena Williams and Li Na among the fallen when she was beaten 6-4, 6-4 by Croatia's Ajla Tomljanovic.
Simona Halep, a 22-year-old Romanian who until this year had never reached a Grand Slam quarter-final, is now the highest-ranked player left in the women's tournament as the world No 4. The favourite to win the title, however, is Maria Sharapova. The 27-year-old Russian, who won here in 2012 and was runner-up last year, yesterday earned a heavyweight fourth-round showdown with Australia's Samantha Stosur by crushing Argentina's Paula Ormaechea 6-0, 6-0 in just 51 minutes.
Like Garbine Muguruza and Kristina Mladenovic, who beat Williams and Li respectively, Tomljanovic was born in 1993. The 21-year-old Croat, ranked No 72 in the world, is playing in only her fourth Grand Slam tournament. She moved to the United States eight years ago and trains at Chris Evert's academy in Florida.
Tomljanovic said her victory over Radwanska had been inspired by the feats of Muguruza and Mladenovic. "After seeing the two first seeds go out, you kind of feel like: 'I can do this too'," she said.
"I grew up with these girls that are beating them. I went on the stadium for the first time and [Radwanska] kind of feels like home there, because she's been there a lot more than I did. I went out there and I really, really thought inside that I could win. I think that showed and it is why I won."
Muguruza extended her run by beating Slovakia's Anna Karolina Schmiedlova, who had beaten Venus Williams in the previous round, 6-2, 6-4. Stosur, a former finalist here, beat Dominika Cibulkova, runner-up at this year's Australian Open, 6-4, 6-4.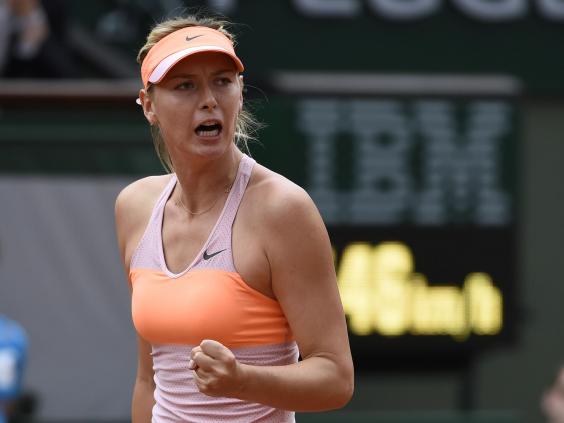 Taylor Townsend, an 18-year-old American, has also struck a blow for the younger generation with her performances this week, though her run ended yesterday when she was beaten 6-2, 6-2 by Spain's Carla Suarez Navarro.
Andy Murray was among those who had been impressed by Townsend's victory over France's Alizé Cornet in the previous round. "She's just a really nice player to watch," Murray said. "She hits the ball great. She's very talented. She volleys. You don't see that much now. You don't really see it on the men's or the women's tours at all. She had drop shots, angles, a good attitude."
Sharapova, who coasted to victory after saving three break points in the opening game against Ormaechea, did not shy away from the fact that she now has an outstanding opportunity to win here.
"If I don't have the mentality that I'm the favourite inside of myself going into a tournament like this, then I probably shouldn't be in the draw," Sharapova said. "I like to be positive yet realistic and there is no reason why I shouldn't be the favourite at this tournament. I have won four Grand Slams and I feel that when I'm in the draw of a tournament, I'm there for a reason."
Sharapova has beaten Stosur in 13 of their 15 meetings but will not be taking anything for granted. "A lot of her successes come on clay," Sharapova said. "She has a great serve, she uses the court extremely well, moves well on it. It's a good match-up. I look forward to it."
While Sharapova and Stosur are the only major names left in the top half of the draw, there are still some big guns left in the other section. Svetlana Kuznetsova, the winner here five years ago, today meets Petra Kvitova, the 2011 Wimbledon champion, with the winner to face either Lucie Safarova or Ana Ivanovic, who won the title here in 2008. Halep, Jelena Jankovic, Sloane Stephens and Sara Errani are among others still standing in the bottom half of the draw.