Maria Sharapova was the favourite to win the French Open from the moment Serena Williams and Li Na made their early exits, but the 27-year-old Russian has never had to work harder to secure a Grand Slam title. Having been taken to a deciding set for the fourth match in a row, Sharapova beat Simona Halep 6-4 6-7 6-4 here in one of the best women's finals here in recent years.
It was a remarkable performance for a player who once described herself as "a cow on ice" when playing on clay. Making her third successive appearance in the final here, Sharapova claimed her second French Open title to add to her crowns at Wimbledon, the US Open and the Australian Open.
"I can't believe it," she said afterwards. "Seven or eight years ago I would never have thought that at 27 I would have won more titles at Roland Garros than at any other Grand Slam. This tournament means so much to me. It was a tournament when I was growing up that I wanted to win."
She added: "This is the toughest Grand Slam final I've ever played. All respect to Simona."
Sharapova's resilience has never been more evident than in the past week. To reach the final she had to come from a set down in successive matches to beat Sam Stosur, Garbine Muguruza and Eugenie Bouchard. This victory means that she has now won 20 three-set matches in succession on clay, dating back to her defeat by Justine Henin in the fourth round here four years ago.
Halep, in her first Grand Slam final, played a full part in a gripping contest which lasted more than three hours and featured 16 breaks of serve. It was the first time the final had gone to a third set since Jennifer Capriati beat Kim Clijsters 12-10 in the decider 13 years ago. Sharapova won despite the usual problems with her serve, which has been shaky ever since she had to remodel her action following surgery. She made 12 double faults, including three in one game. On occasions she also took a long time between points when serving. It was a surprise that the umpire took until the second game of the third set to penalise her with a time violation.
In the early stages Halep fell into the trap of playing too far behind the baseline, which gave Sharapova time to hit her big groundstrokes. As her confidence grew, however, the 22-year-old Romanian, started to take the game to Sharapova.
Maria Sharapova celebrates 2014 French Open title with Paris photo shoot
Maria Sharapova celebrates 2014 French Open title with Paris photo shoot
1/15 Sharapova poses at Trocadero

Maria Sharapova of Russia poses with the Coupe Suzanne Lenglen at Trocadero, following her victory in the women's singles final match against Simona Halep of Romania, on day fifteen of the French Open in Paris

2/15 Sharapova with her trophy in front of the Eiffel Tower

Maria Sharapova of Russia poses in front of the Eiffel Tower with the Coupe Suzanne Lenglen at Trocadero in Paris

3/15 That'll do

Before making her exit with the beautiful backdrop of the Paris skyline behind her

Getty Images

4/15 One last snap

She poses for one last over-the-shoulder snap with her trophy hidden behind her

Getty Images

5/15 Soaking it up

The 2014 French Open champion poses for the photographers as she holds her trophy triumphantly

Getty Images

6/15 Get my best angle

Of course, Sharapova is no stranger to a photo shoot, and she pulls out all the poses for the masses in attendance

Getty Images

7/15 The Sharatower

Known for her excessively long legs, Sharapova poses alongside another towering structure, although we aren't expecting the French to be renaming their famous tower after a Russian tennis player anytime soon

Getty Images

8/15 The city of love

Sharapova is pictured in front of the iconic Eiffel Tower in Paris as fans and photographers clamour to get a picture of her

Getty Images

9/15 Moving on swiftly

Sharapova and her entourage arrive at Trocadero for a celebratory photo shoot

Getty Images

10/15 Sharapova wins

Sharapova claims a brilliant 6-4 7-6 (7-5) 4-6 victory to clinch her second French Open title

Getty Images

11/15 Sharapova reacts after winning

Russia's Maria Sharapova celebrates as she wins the French tennis Open final match against Romania's Simona Halep at the Roland Garros stadium in Paris

12/15 She can't believe it

The emotion is clear to see as Sharapova enjoys the crowds applause following her win

Getty Images

13/15 Halep accepts defeat

Having threatened what would've been an incredible fightback after taking the second set, Halep concedes defeat after arguing with the umpire

Getty Images

14/15 It all gets too much

In true grand slam winner style, Sharapova crumples to the floor to celebrate, but rather wisely doesn't roll around as many a victim has done on the clay surface

Getty Images

15/15 I want that one

Sharapova smiles as she stands next to a portrait of the Coupe Suzanne Lenglen that she holds in her hands

Getty Images
Quick around the court and a consistent ball-striker, Halep has a big future ahead of her and will rise to No 3 in tomorrow's updated world rankings list. She enjoyed plenty of support from the crowd, with the chant of "Simona! Simona!" regularly ringing around the stadium.
Both players made an edgy start, with five breaks of serve in the opening set, the last of them when Halep missed a forehand as she served at 4-5. Sharapova led 2-0 in the second set, but Halep refused to let the Russian pull away from her. When Sharapova served at 4-4 and deuce Halep won a superb point as her steadfast defence was rewarded when the Russian netted a backhand. After Sharapova missed a forehand on the next point Halep served for the set, only for the Russian to break back. Two more breaks of serve led to a tie-break, which Halep took 7-5 after winning the last four points.
Halep twice recovered from a break down in the deciding set. Yet after levelling to 4-4 as Sharapova double-faulted twice, the Romanian did not win another point. A huge backhand cross-court winner took Sharapova to 5-4 and she served out to love in the following game.
"I was crying for a few minutes afterwards but then I was smiling," Halep said later. "I said to myself that it was my first Grand Slam final and I had to be happy. I'm very happy with what I have achieved in the last two weeks."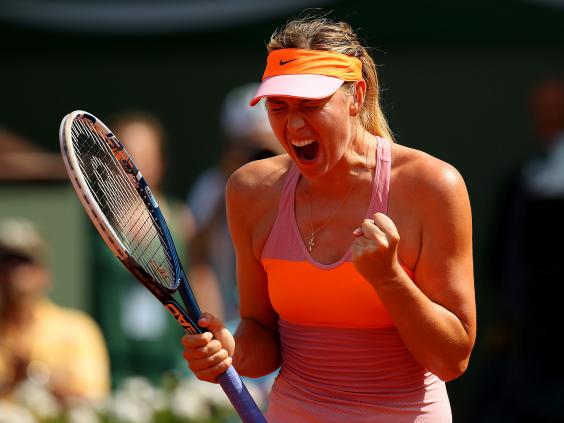 Sharapova climbed into the stands after the match to celebrate with her entourage. In particular she hugged Sven Groeneveld, who became her coach at the end of last year, when she missed the last six months of the season because of a recurrence of shoulder trouble. The Dutchman has clearly played a part in her comeback, but once again the Russian's remarkable mental strength proved her greatest asset.
Reuse content