For a country with a population of just 10.5 million it is a remarkable achievement. Lucie Safarova, who takes on Serena Williams in the final of the French Open at Roland Garros this afternoon, is one of nine players from the Czech Republic ranked in the world's top 100. The only country with greater representation is the United States (population: 320 million), which has 13 in the top 100.
Football and ice hockey may dominate the pages of the Czech press, but the country has a stunning record in tennis. The Fed Cup and Davis Cup are the largest annual team competitions in world sport – 95 countries took part in the former last year and 122 in the latter –yet the Czechs have dominated both in recent times. Safarova has helped the Czechs win three Fed Cups in the last four years, while Tomas Berdych and company have won the Davis Cup twice in the same period.
Safarova, who will be playing in her first Grand Slam final, follows a long line of fine Czech players. Martina Navratilova, Jana Novotna, Hana Mandlikova and Petra Kvitova, the two-times Wimbledon champion, have all won Grand Slam titles. Jaroslav Drobny, Jan Kodes and Ivan Lendl lead the roll call on the men's side.
Kvitova will climb to  No 2 in the world rankings next week, while Safarova, who will move into the top 10 for the first time, will be No 6 if she wins the title and No 7 if she is runner-up. The last time there were two Czech women in the world's top 10 was 26 years ago. Meanwhile, there are three Czech players – Kvitova, Safarova and Karolina Pliskova – in the top-eight places on the "Road to Singapore" leader board, which ranks players according to points won this year and decides the field for the year-end WTA Finals.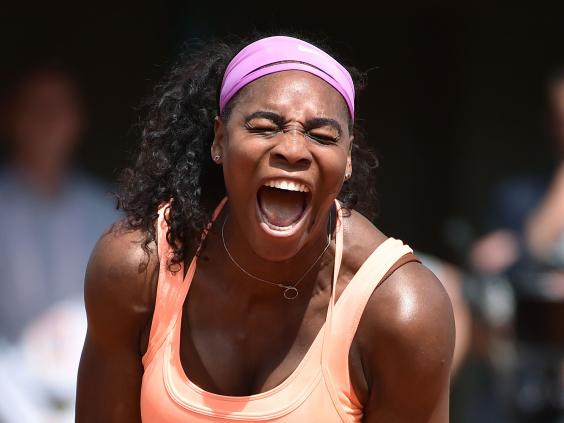 Safarova, aged 28, is a  comparatively late developer, having reached her first Grand Slam semi-final at Wimbledon last summer. She claimed the first of her six tour titles 10 years ago and had won only one tournament in more than six years until she triumphed in Doha earlier this year.
For all Safarova's improvement, however, Williams will start the final as the overwhelming favourite, even though she has been battling with flu ever since the end of last week. The world No 1 stayed in bed for most of yesterday and did not practise.
"I think I have some kind of flu which makes it tough because it's just a matter of resting and keeping hydrated," Williams said. "There's not much else I can do. I've felt really cold so I'm just fighting that, trying to sweat it out."
She added: "I just have to hope that tomorrow I will be feeling a lot better and able to give my best on court."
Williams has won all eight of her meetings with Safarova, two of which were on clay, and has dropped only three sets in the process. Their most recent encounters were on hard courts last year in Montreal and Beijing. Safarova, nevertheless, can draw encouragement from her form over the last fortnight. The Czech has not dropped a set in six matches, while Williams has had to come from a set down on four occasions, the first time she has done so at a Grand Slam tournament.
With 19 Grand Slam titles to her name, Williams needs only three more to equal Steffi Graf's Open era record. The 33-year-old American has lost only four of the 23 Grand Slam finals she has contested. She won both her previous Roland Garros finals, beating her  sister Venus in 2002 and Maria Sharapova in 2012. If she  wins today she would set a record for the longest span between French Open titles in the Open era.
Williams is also attempting to become the first woman to win the US, Australian and French Opens consecutively since Monica Seles performed the feat in 1991 and 1992. Williams herself was the last to win three Grand Slam titles in a row. Between 2002 and 2003 she won what became known as the "Serena Slam" by taking the four major titles in a row, but not in the same year.