Opinion is divided as to whether playing in the Hopman Cup is the best preparation for the Australian Open. The round-robin format of the team event guarantees players three outings in singles and three in mixed doubles, but with no ranking points at stake the matches can lack a competitive edge.
For Heather Watson, nevertheless, the last week here at the Perth Arena has been "awesome". The Guernsey 22-year-old has played three singles matches against higher-ranked opponents – she beat Casey Dellacqua but lost to Alize Cornet and Agnieszka Radwanska – and has relished the chance to play mixed doubles with Andy Murray.
"Getting the opportunity to play with Andy and be around him has been a dream come true," she said. "I've learnt a lot from him. I feel like I haven't wanted to be too nosey and ask him too many questions, but I've seen how professional he is off the court, how hard he works.
"Playing the doubles with him, I've seen how competitive he really is. Against the Poles, there were a few people in the crowd screaming out between our first and second serves, but he just channels those things so well. They motivate him. I could see that he got more pumped up and wanted it more. If that happens to me in the future I'd want to do the same thing – channel it, rather than get mad."
With the British pair failing to reach yesterday's final, Murray flew to Melbourne to prepare for the Australian Open, which begins a week tomorrow, while Watson headed for Hobart, where she is playing one more tournament.
The Australian Open is one of her favourite competitions, though it is also a reminder of the most difficult period of her career. It was at Melbourne Park two years ago that the British No 1 noticed the symptoms which she later realised were the first signs of glandular fever.
Although Watson was eventually off the court for only two months, the effects of the glandular fever stayed with her for much longer. By February of last year she had fallen to No 161 in the world rankings, having been at a career-high position of No 39 just 12 months earlier.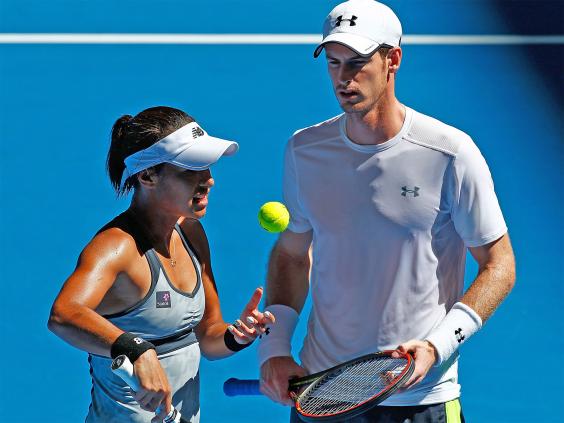 While 2014 did not bring any titles on the main tour to add to the Japan Open crown she won at the end of 2012, a series of solid performances put Watson back in the world's top 50 by the end of the season. "If somebody had told me when I was No 161 that I would be back in the top 50 by the end of last year I would have signed up for that," she said.
Having ended 2014 at No 49 in the rankings, which was exactly where she finished in 2012 before glandular fever struck, it almost feels as if the last two years never happened. "I just want to start doing what I hoped to do the year that I got glandular fever," Watson said. "I want to get back up there and accomplish the goals that I set myself."
Every winter Watson sits down with her father to plot goals for the coming year. Her targets for 2015 are ambitious but realistic. "My rankings goal for the year is to finish inside the top 25 and I'd love to get seeded for a Grand Slam," she said.
To be seeded at a Grand Slam tournament, which means you are guaranteed not to face a higher-ranked player in the first two rounds, Watson would need to make the top 32 in the world rankings. "With one good tournament, especially in a Slam, you can be there," she said. "The rankings system really benefits the players who do well in the Slams. If I have a good run in any of them this year, I think it's possible.
"And once you get there it sets you up for the rest of the tournaments. I just think it's almost easier to stay in those top 32 places than it is to get there. It's like breaking into the top 100, which is very difficult because you're always playing qualifying tournaments, against good girls."
Watson sees plenty of room for improvement under her coach, Argentinian Diego Veronelli, who has worked with her for a year. "We get along really well," she said. "We've been working on using more slice when I'm on the defence. He also wants me to be more aggressive, to come into the net more.
"I'm trying to become a more complete player by being more aggressive, but I still want to keep the old Heather by making a lot of ball. I just have to find the right time to put the ball away.
"There are improvements I can make in my professionalism, in the way I go about things. Recently I've taken that sort of thinking to a new level. I'm making sure I eat the right things with every meal. I have porridge for breakfast and no desserts, and I make sure I'm in bed by 10pm. Everything makes a difference."