Playing the best tournament of her life at the US Open will not satisfy Johanna Konta. After her run to the fourth round ended in a battling  7-5, 6-3 defeat to Petra Kvitova, the 24-year-old Briton was immediately looking forward to her next tournament.
Konta, who earned her biggest pay cheque of $213,575 (about £141,000) after becoming only the second British woman to reach the last 16 here since 1991, will take a few days' rest before heading to China for tournaments in Wuhan and Beijing. She is expected to climb about 40 places in next week's updated world rankings from her current position of No 97, though she will not experience the immediate benefit – in direct entry to tournaments – until the start of next year.
"My coach was saying it's a nice bonus to be able to go to Australia next year and go into the main draw, but I don't want to stop here," Konta said. "I'm an ambitious person, so I'm looking forward to  working hard and trying my best every time I step out on to the court.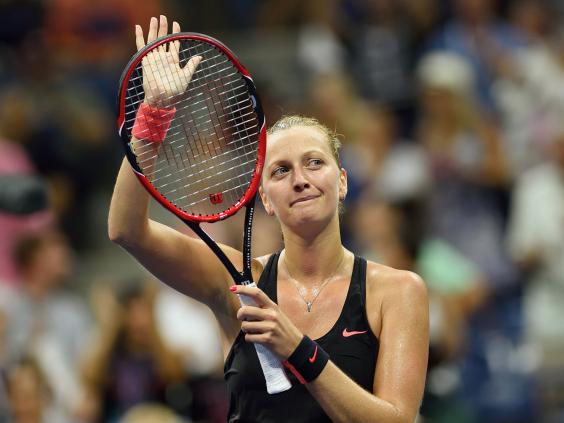 "I'm really happy that I got some rewards for my hard work, but the hard work's not over by any means. I'm not blown away by my performance here, I'm just satisfied that I get a little bit of candy for doing well. I'm really looking forward already to my next tournament. Obviously, I need to take a little bit of a break now, just a couple of days' rest, but I'm looking forward to  the next plane I'm on to head to Asia."
What impressed most about Konta's performances here was the way she took everything in her stride. On occasions in the past the Briton has crumbled under pressure, but the benefits of her work with a mental coach have been evident. Whatever the situation in a match, she continued to play her measured game.
Even when she made her debut in Arthur Ashe Stadium – the biggest stage in world tennis – Konta handled the situation like a hardened professional. She had her chances too. While she failed to convert any of five break points in the first set, Kvitova took her only opportunity when the Briton hit the first of her three double-faults on set point. The world No 4's only break of the second set came after another double-fault by Konta in the eighth game.
"I think I stayed true to how I wanted to play out there," Konta said after her 16-match winning run finally ended. "I felt that I competed really well, just stayed calm. There are a lot of things going on here. There are a lot of emotions from a lot of players. It's a high-pressured environment. I felt I did a reasonable job of just dealing with that."
She added: "My body's in a good state. That's not always the case when you've played so many matches. I'm taking the positives from that."
Reuse content