Kei Nishikori remembers visiting Roland Garros when he was 12 or 13. "I shouldn't say this," he said sheepishly last week, a look of guilt spreading across his face. "There was no guard outside centre court, so I went in. I was just looking around and I was dreaming about it. It's a good memory."
More than a decade later, the ever-modest Japanese will start the French Open next week with some observers making him second favourite for the title behind Novak Djokovic. "I think it's going to take some time to win a Grand Slam, but I love how I feel at the French Open," Nishikori said during a break from training at last week's Rome Masters. "I feel differently at Roland Garros to how I feel at other Grand Slams. I've been playing well on clay, so I think I have a chance in the next couple of years."
While Djokovic's outstanding form makes him the bookmakers' favourite, this is one of the most unpredictable French Opens for years. Rafael Nadal, the nine-times champion, is out of touch, Andy Murray has discovered how to win on clay and Roger Federer continues to defy the years.
Meanwhile, Nishikori is aiming to become the first Asian man to win a Grand Slam title. The world No 5 played in his first Grand Slam final at last year's US Open and has since won three hard-court tournaments and made a successful defence of his Barcelona title on clay.
Jim Courier, who will be commentating at Roland Garros for ITV, said this week: "I believe [Kei] is the second best clay-court player today."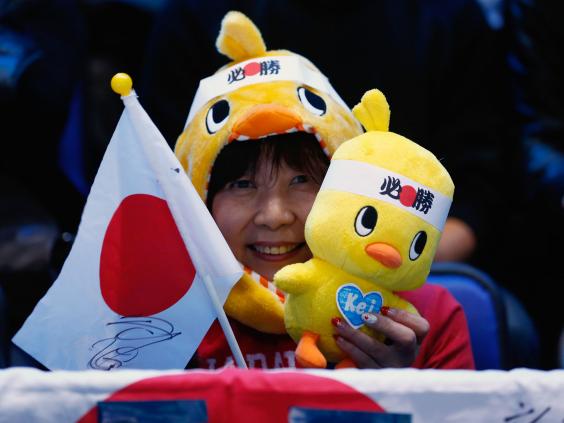 Nishikori has a coach who knows a thing or two about winning on clay. In this era of celebrity coaches, Michael Chang may be less visible than Boris Becker, Goran Ivanisevic or Amélie Mauresmo – but the German, the Croatian and the Frenchwoman never won at Roland Garros. Chang claimed his only Grand Slam title there in 1989.
The 43-year-old American started working with 25-year-old Nishikori at the end of 2013. There are some obvious reasons why their partnership has worked. Like the 5ft 10in Nishikori, Chang made up for his comparative lack of physical power with athleticism, clean ball-striking and mental resilience. Nishikori believes that Chang's Chinese background also means he understands Asian ways of thinking. "We're the same height and tennis-wise we're kind of the same, so I think it's easy for him to tell how I should play," Nishikori said. "He's very passionate. I'm really happy to be working with him."
Nishikori said Chang had helped him both mentally and tactically. "I worked with him on clay courts for the first time last year and he told me a lot of good things," Nishikori said. "That's why I changed how I play on clay. I am going more for my shots and coming to the net a little more than before.
"I've been feeling really comfortable on clay because I have more time to set up my forehand. I can use a lot of different shots – drop shots and high balls. You can mix up a lot of shots, so it's actually more fun to play on clay."
Despite his optimism on clay, Nishikori believes the Australian and US Open hard courts offer him the best chance of Grand Slam success. His run in New York last summer, when he beat Milos Raonic, Stan Wawrinka and Djokovic before losing in the final to Marin Cilic, strengthened his self-belief.
"Until then I couldn't really see how I could play two weeks in a row, especially over five sets," he said. "But after that I was really confident on the physical side. I also played amazingly when I beat Stan and then Djokovic. In the final I got maybe too nervous, but the tournament gave me a lot of confidence."
Nishikori's mental strength derives in part from having had to fend for himself ever since the age of 14, when a sponsor paid for him to attend Nick Bollettieri's academy in Florida, where he has been based ever since. He did not speak a word of English at first and missed his family and Japanese food.
"The first couple of years were really tough, with a different culture and different food, and it wasn't easy, but I had to get used to it," he said. "I don't cook for myself, so I still have to eat in the cafeteria at the academy. I have to say it's not the best food. I used to go to McDonald's sometimes. I had to, because there was nothing else.
"But I think it was good that I went to the US because after a couple of years I got much bigger in height and weight. The taste of the food wasn't the best, but I think it was good for me, good for my body. Japanese food is healthy, but it doesn't make you bigger."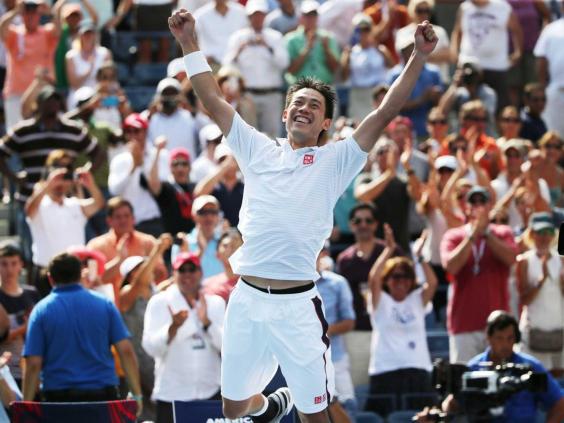 Nishikori's English is much improved, but he usually reads only in Japanese and watches only Japanese television. "The day after I retire I will move back to Japan," he said. "That's how much I love Japan. I feel more comfortable there, all my friends are there, my sponsors are mostly Japanese and I feel more fun in Japan."
Nevertheless, he admitted: "I'm becoming a little more American. I'm a little more easy going. I've already lived there for 10, 11 years."
The demands of the schedule are such that Nishikori returns to Japan only occasionally, but when he does so he is reminded of his huge popularity in a country where the previous best home male player, Shuzo Matsuoka, reached just No 46 in the world rankings.
"If I stayed in Japan, for sure I would go crazy [with all the attention]," he said. "In the US I can concentrate all the time on playing tennis, doing my training and all the important stuff."
Does he feel like a visitor when he returns to Japan? "I feel more easy and relaxed in the US [than I used to], but I feel more comfortable in Japan," Nishikori laughed. "It still feels like home."
Reuse content