The tennis fates, bitterly cruel to Laura Robson over the past 18 months, have not finished with her yet. Returning to competitive play for the first time since January 2014 at the Aegon International tournament on Saturday, the former British No 1 found herself buffeted by a relentless wind and beaten up 6-0, 6-1 in under an hour by the toughest of 31 possible opponents in the opening qualifying round, top seed Daria Gavrilova of Russia.
Becoming the first British woman since Jo Durie to make the world's top 30, reaching the last 16 at Wimbledon and famously taking an Olympic silver medal with Andy Murray in the mixed doubles all seemed a long time gone, and Robson knows it will be a steep road back.
She demonstrated a sense of humour amid all her travails with an ironic fist-clench after finally winning a game here, early in the second set. Afterwards she was defiantly upbeat, insisting that the wrist first injured in Australia last year has now fully healed, that a wild card for Wimbledon is still possible, and that finishing a match was a victory in itself. Her latest coach, the Colombian Mauricio Hadad, was possibly more realistic when he told her: "There's only one little thing we need to work on – everything."
"I've felt better, but in a way it was a victory to just be back on court, playing tournaments, and for that I'm very happy," Robson said. "It's not been easy. I've had some great people helping me out and as a team we've worked through it together. I'm not expecting to play my best tennis for a while, it's going to take a lot more matches and a lot more practice. It's a totally new start but a very exciting one."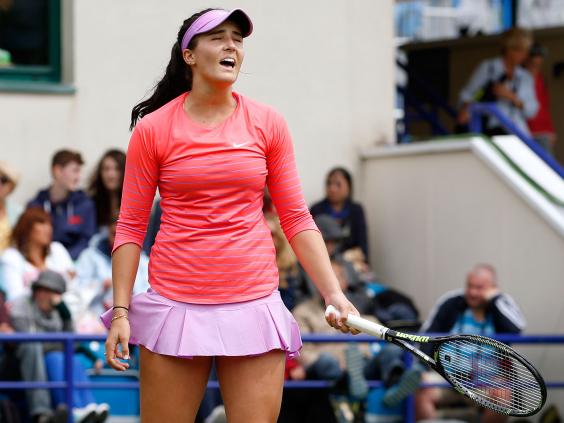 The hardest part of the past 18 months was when she finally removed the plaster cast from her wrist, only to feel pain again almost as soon as she began hitting. "That was such a downer. You know [Juan Martin] Del Potro has had the same issue, and it's a horrible feeling for any athlete."
Understandably all smiles before Saturday's 58-minute demolition, she was nevertheless aware of the quality of her opponent, a regular practice partner lately, even if many of the capacity crowd enticed to Devonshire Park's Court One by free admission may not have been.
They were soon enlightened, for it was harsh in the extreme to be drawn against Gavrilova, ranked No 41 in the world after beating two top-10 players and former world No 1s – Maria Sharapova and Ana Ivanovic – this year.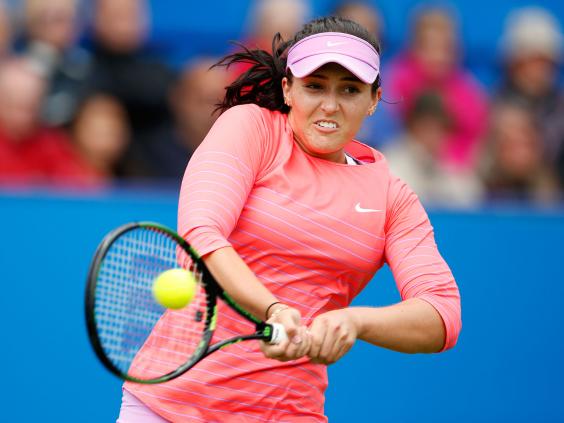 Serving into a stiff breeze seemed to hold no concerns for her but caused Robson all manner of problems, producing four double-faults in her first game alone. Her ball-toss was more of a problem than ever, and it was generous of her not to make too much of the difficult conditions but hard to agree with her assessment that "it was a lot closer than the score suggested".
She took only four points off the powerful Gavrilova serve in the opening set, three of them in the one game (at 4-0 down) that offered any hope of breaking back. The Russian saved the two break-points comfortably and soon had the set secured after Robson miscued completely.
The second set was done and dusted in another 25 minutes, even though Robson held her serve once to level at 1-1. She saved one match- point, only to find an ace fizzing past her for a fitting conclusion to the contest.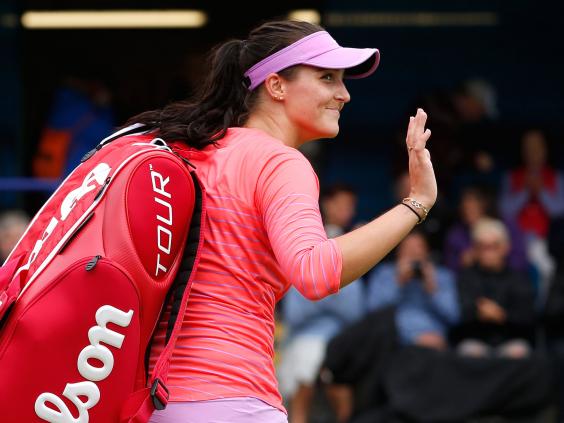 Robson must now wait to see how tough the Lawn Tennis Association are going to be in applying their new criteria for Wimbledon wild cards, which include "attitude, professionalism, game development and recent form". It is the last of those they must assess most closely in her case before the next puff of smoke from the referee's office.
Meanwhile, Naomi Broady and Johanna Konta, already given wild cards for the Championships, face tricky tasks in the first round at Eastbourne this week: Broady against the American Sloane Stephens and Konta taking on the world No 34 Zarina Diyas. The other Briton in the main draw, Harriet Dart, meets Slovakia's Dominika Cibulkova.
Reuse content