There have been many times in recent years when this looked likely to be the future for Lleyton Hewitt. As Roger Federer and Jo-Wilfried Tsonga played a match here last night in a packed Rod Laver Arena as part of a charity gala evening, Hewitt sat in the commentary box, suited and booted, giving television viewers the benefit of his knowledge and experience.
The 32-year-old Australian, who could clearly have a big career in television, also proved a natural in front of the cameras as he interviewed celebrities when they came on to the court. "Do you get nervous?" Hewitt asked Federer, who admitted later that his nerves had indeed jangled when he traded shots on the court – for the first time ever – with 75-year-old Rod Laver, who had drawn the biggest applause of the night after entering the stadium with racket in hand and dressed in 1960s-style kit.
Nevertheless, if Hewitt looks confident with a microphone in his hand, the former world No 1 has no intention just yet of making it a permanent replacement for his racket. Despite having had to undergo surgery five times in the last six years on a range of injuries, the 2002 Wimbledon champion is not tempted simply to head for the beach. He is enjoying his tennis as much as ever.
As he prepares to play here next week in his 18th consecutive Australian Open, Hewitt is even back at the top of his country's rankings. Not that such matters concern him. "It's just a number," Hewitt said when asked what regaining the Australian No 1 position meant to him. "I couldn't care less."
Hewitt's victory over Federer in the Brisbane final four days ago gave him his first title for four years and took him back to No 43 in the world rankings, his highest position since October 2010. As 21-year-old Bernard Tomic continues to struggle to live up to expectations – Australia's best young player dropped to No 52 in the rankings this week and will fall further if he does not retain his Sydney title this weekend – Hewitt is likely to be the focus of home attention next week.
Given the latest surgery he underwent to keep his creaking body together, it is remarkable that Hewitt is competing at all. If operations on both hips, in 2008 and 2010, were serious enough, the surgery he had on the big toe on his left foot two years ago was a once-and-for-all attempt to prolong his career.
After years of pushing his foot down into the court as part of his service action, the chronically arthritic toe had become badly misshapen and painful. The radical solution was to have a metal plate screwed into the toe, locking it into a permanent position.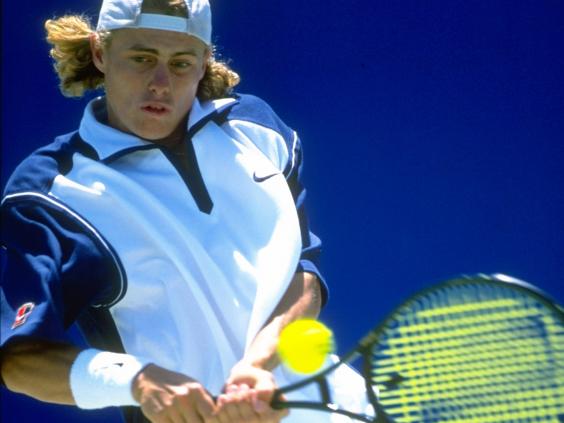 "I must have seen seven or eight different surgeons worldwide," Hewitt said. "At least six of them told me to retire if I had it done. I'm very thankful that I found the [surgeon] that I believed in. We went in there and were optimistic about it. We thought I might be able to play doubles, but we weren't 100 per cent sure whether I would be able to come back and play singles.
"In the back of your mind, you still have question marks whether it's going to be good enough to go out and compete on the centre stage against top players again. When I first came back for the French Open and Wimbledon [in 2012], I wasn't in a good place in terms of the foot. I was still in a bit of pain after the surgery."
Last year, however, brought plenty of reminders of how good a player and how fierce a competitor Hewitt can be. He reached the semi-finals at Queen's Club, where he knocked out Grigor Dimitrov, Sam Querrey and Juan Martin del Potro, beat Stanislas Wawrinka at Wimbledon and accounted for Del Potro again at the US Open en route to the fourth round before losing a four-hour marathon to Mikhail Youzhny.
Hewitt has to look after his body these days and after five matches in Brisbane he has pulled out of this week's exhibition tournament here at Kooyong, though he will play a one-off match there tomorrow against Andy Murray.
His victims last week included Thanasi Kokkinakis, who is one of the latest hot Australian prospects, Feliciano Lopez and Kei Nishikori before rivalries were renewed with Federer.
Hewitt won seven of their first nine meetings – including a dramatic victory from two-sets down in a match-winning rubber of a Davis Cup semi-final in this very arena in 2003 – before Federer beat him 15 times in a row. Until Sunday, Hewitt's only victory in 17 meetings with the Swiss in the previous 10 years had been in the final at Halle in 2010.
Playing in the Davis Cup continues to be a major motivation for Hewitt, who at the end of last year helped take his country back into the World Group for the first time since 2007. Pat Rafter, the Australia captain, has helped to bring together Hewitt and Tomic, who had their differences in the past.
"I'm the oldest player in the team by a long way, but I still think I can help out Bernie and a couple of the younger guys especially in what it means to play for Australia and the tradition and history that we have in Davis Cup," Hewitt said.
Asked if he had had any thoughts about retirement, Hewitt said: "It depends on if Pat lets me keep playing Davis Cup, so we'll wait and see.
"Pat might have to call the end of my career," he admitted, "but as long as I'm still enjoying tennis and training and doing all the hard things I'll keep playing."
As for next week's Australian Open, Hewitt said he would take one match at a time. "Every match is tough – if you're not seeded you can meet any of the seeded guys in the first couple of rounds," he said.
"Even when I was No 1 in the world I was taking it one match at a time. I never was a player to look too far ahead, the way draws can pan out. I think the most important thing in Slams is trying to find a way through the first week and then focus on starting fresh the second week if you can. That's still the case nowadays."
Evans keeps alive hope of matching last year
Dan Evans was the sole British survivor on the first day of qualifying at the Australian Open. The British No 2 is looking to repeat his achievement at last year's US Open, when he qualified at a grand slam for the first time and went on to reach the third round.
Evans made the perfect start in Melbourne against Chinese Taipei's Huang Liang-chi, pulling away after a tight opening to win 6-1, 6-2. The 23-year-old from Birmingham next meets Hungarian Marton Fucsovics. Evans needs to win two more matches to reach the main draw.
Britain's other representatives in the men's draw both went out, James Ward losing to Italy's Andrea Arnaboldi 7-6, 6-4 while Dan Cox was beaten 6-4, 6-1 by American Denis Kudla.