Throughout her career Maria Sharapova has been the ultimate sporting professional but the 28-year-old Russian admitted on Monday night that one rare moment of unprofessionalism had cost her the chance to carry on playing tennis, which has always been the part of her working life she cherishes the most.
The world's most famous sportswoman and the planet's highest-earning female athlete for more than a decade revealed at a press conference in Los Angeles that she had failed a drugs test.  Sharapova said she had tested positive at this year's Australian Open for meldonium, which she had been taking for health reasons since 2006.
Meldonium was added to the World Anti-Doping Agency's list of banned substances at the start of this year, but Sharapova had not been aware of that fact because she had failed to read details of the updated legislation which had been sent to her. The drug is used to treat chest pain and heart attacks, but it is also said to improve athletic performance and endurance.
Sharapova, who is likely to receive a lengthy ban, said she hoped this would not mark the end of her career.  "I made a huge mistake," she admitted. "I received a letter on 22 December from WADA – an email with the changes happening for next year and a link to a button which you can press to see the prohibited items for 2016. I did not look at that list."
The list of changes to the prohibited list for 2016, which was sent to all athletes, is very short and states clearly that meldonium has been "added to the Prohibited list".
Maria Sharapova's career defining moments
Maria Sharapova's career defining moments
1/22 19 April 2001

Makes professional debut at the age of 14

2001 Getty Images

2/22 14 January 2003

Makes Grand Slam debut at Australian Open

2003 Getty Images

3/22 3 July 2004

Wins first Grand Slam title at Wimbledon at age of 17

2004 Getty Images

4/22 22 August 2005

Ranked world No 1 for the first time

2005 AFP

5/22 March 2006

Forbes names Sharapova the highest-paid female athlete in the world

2006 Getty Images

6/22 10 September 2006

Wins the US Open by beating Justine Henin

2006 Getty Images

7/22 27 January 2008

Wins the Australian Open without dropping a set

2008 AFP

8/22 August 2008

Long-standing shoulder injury requires surgery, forcing Sharapova to miss the 2008 Olympics

2010 AFP

9/22 14 January 2010

Launches the Nike Maria Sharapova Collection after the success of the 'Little Black Dress' from the 2006 US Open.

2006 Getty Images

10/22 January 2011

Splits with coach Michael Joyce, appoints Thomas Hogstedt

2009 Getty Images

11/22 January 2012

Ends engagement to Slovenian professional basketball player Sasha Vujacic after three-year relationship

BURAK KARA

12/22 10 June 2012

Completes career Grand Slam after winning the French Open

2012 AFP

13/22 June 2012

Named the 15th highest-paid athlete in the world by Forbes

2012 Getty Images

14/22 5 August 2012

Wins Olympic silver medal at London 2012 after losing to Serena Williams in final

2012 AFP

15/22 11 January 2013

Global launch of Sugarpova sweets line alongside Jeff Rubin

2013 Getty Images

16/22 September 2013

Considers changing her name to Maria Sugarpova for the US Open but decides against it

2013 AFP

17/22 September 2013

Third shoulder injury ends her season prematurely

2013 AFP

18/22 7 June 2014

Wins second French Open title by defeating Simona Halep

2014 Getty Images

19/22 July 2015

Splits up with boyfriend and fellow tennis professional Grigor Dimitrov

2014 Getty Images

20/22 26 January 2016

Knocked out in Australian Open quarter-finals by Serena Williams and doesn't play again due to injury

2016 Getty Images

21/22 February 2016

Announces deal to make Sugarpova Premium Chocolates with Polish company Baron Chocolatier to be released in May this year

Getty Images

22/22 7 February 2016

Sharapova reveals she has failed a drug test after testing positive for the banned substance meldonium, with the ITF provisionally suspending her from 12 March.

2016 Getty Images
Sharapova said the drug had first been prescribed for her 10 years ago. "I had several health issues going on at the time," the former world No 1 said. "I was getting sick very often and I had a deficiency in magnesium, irregular [electrocardiogram] results and a family history of diabetes, with the first signs of diabetes. That is one of the medications, along with several others, that I had received."
Reading from a statement, Sharapova added: "Throughout my long career I have been very open and honest about many things and I take great responsibility and professionalism in my job every single day and I made a huge mistake. I let my fans down. I let the sport down I have been playing since the age of four and I love so deeply.
"I know with this I face consequences and I don't want to end my career this way and I really hope I will be given another chance to play this game. I know many of you thought I was retiring but if I was ever going to announce my retirement it would probably not be in a downtown Los Angeles hotel with this fairly ugly carpet."
Sharapova, who had cited an arm injury as the reason for her withdrawal from tournaments after the Australian Open, said she had received notification of her failed drugs test "a few days ago". She said did not know exactly what would happen next but would be working with the International Tennis Federation.
The ITF is responsible for the sport's anti-doping programme and announced last night that Sharapova would be provisionally suspended from this Saturday onwards. It said she had provided the failed sample on 26 January, during the second week of the Australian Open.
Sharapova, who has accepted the finding of meldonium in her sample, will almost certainly be required to appear before an independent tribunal. Craig Reedie, the president of Wada, told the Associated Press that athletes found guilty of using meldonium were normally banned for one year.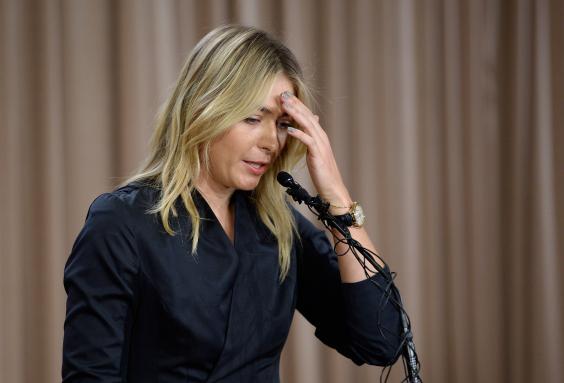 Some players who have failed drugs tests have managed to get their suspensions reduced because of the particular circumstances of their case, but Sharapova's appears to be clear-cut and she has already accepted full responsibility for the failed test. A cornerstone of anti-doping legislation in sport is that athletes are responsible for whatever substances are present inside their bodies.
Tennis has sometimes been criticised for not having a stringent enough drug-testing programme, with leading players never failing tests, but at least this case, involving the most high-profile player in the women's game, will be a response to some critics. More funds have been put into the drug-testing programmes in recent years, though many critics still argue that more resources need to be made available and that procedures need to be more transparent.
Sharapova said she hoped the failed test would not mark the end of her career. However, even if she is allowed to return to competition next summer she will be 30 by then.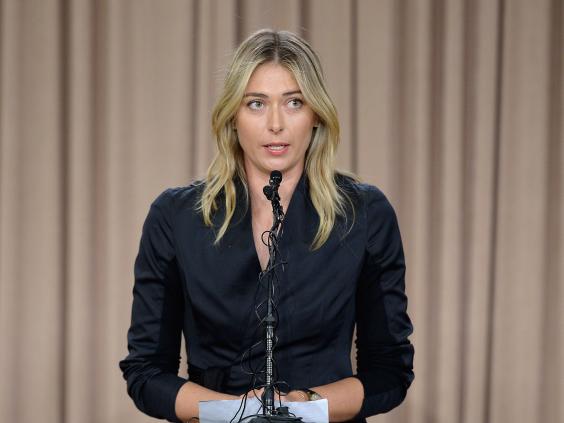 Last summer Sharapova was listed as the world's highest-earning sportswoman for the 11th year in a row in an annual list published by Forbes. The world No 1, Serena Williams, who won three Grand Slam titles in 2015, earned $24.6m (about £17.2m) in prize money and endorsements from June 2014 to June 2015, but Sharapova earned $29.7m (about £20.8m) over the same period.  She launched her own confectionery business, Sugarpova, four years ago which has proved a huge success, with sales doubling in 2015 to more than three million bags of sweets.
Sharapova is the leading female athlete on Facebook, where she has more than 15 million fans, and has been highly successful off the court, especialy in her fashion interests, whether as a model, designer or businesswoman. It remains to be seen whether her sponsors will want to remain with her. Nike have been her biggest sponsors, but she also has highly lucrative deals with, among others, Evian, Porsche, Avon, Head and Tag Heuer.
The Russian is one of a select group of players to have won all four Grand Slam tournaments and has a total of 35 trophies to her name.  Whether it was on court in matches or in practice, in the gym or in the rehabilitation room, in media interviews or in her commercial work, Sharapova had always been a byword for professionalism.  On Monday night that reputation was in tatters.
Reuse content