World tennis No 1 Serena Williams has backed Maria Sharapova for showing "a lot of courage and heart" after admitting to failing a drugs test.
The Russian, facing a one-year ban after testing positive for meldonium, made the stunning announcement at a press conference on Monday. Sharapova, 28, said she had tested positive for the banned substance during the Australian Open, but said she had been taking the drug since 2006 for health reasons and did not realise it was now banned. 
Sharapova said she "made a huge mistake" but maintained her innocence.
Maria Sharapova's career defining moments
Maria Sharapova's career defining moments
1/25 19 April 2001

Makes professional debut at the age of 14

2001 Getty Images

2/25 14 January 2003

Makes Grand Slam debut at Australian Open

2003 Getty Images

3/25 3 July 2004

Wins first Grand Slam title at Wimbledon at age of 17

2004 Getty Images

4/25 22 August 2005

Ranked world No 1 for the first time

2005 AFP

5/25 March 2006

Forbes names Sharapova the highest-paid female athlete in the world

2006 Getty Images

6/25 10 September 2006

Wins the US Open by beating Justine Henin

2006 Getty Images

7/25 27 January 2008

Wins the Australian Open without dropping a set

2008 AFP

8/25 August 2008

Long-standing shoulder injury requires surgery, forcing Sharapova to miss the 2008 Olympics

2010 AFP

9/25 14 January 2010

Launches the Nike Maria Sharapova Collection after the success of the 'Little Black Dress' from the 2006 US Open.

2006 Getty Images

10/25 January 2011

Splits with coach Michael Joyce, appoints Thomas Hogstedt

2009 Getty Images

11/25 January 2012

Ends engagement to Slovenian professional basketball player Sasha Vujacic after three-year relationship

BURAK KARA

12/25 10 June 2012

Completes career Grand Slam after winning the French Open

2012 AFP

13/25 June 2012

Named the 15th highest-paid athlete in the world by Forbes

2012 Getty Images

14/25 5 August 2012

Wins Olympic silver medal at London 2012 after losing to Serena Williams in final

2012 AFP

15/25 11 January 2013

Global launch of Sugarpova sweets line alongside Jeff Rubin

2013 Getty Images

16/25 September 2013

Considers changing her name to Maria Sugarpova for the US Open but decides against it

2013 AFP

17/25 September 2013

Third shoulder injury ends her season prematurely

2013 AFP

18/25 7 June 2014

Wins second French Open title by defeating Simona Halep

2014 Getty Images

19/25 July 2015

Splits up with boyfriend and fellow tennis professional Grigor Dimitrov

2014 Getty Images

20/25 26 January 2016

Knocked out in Australian Open quarter-finals by Serena Williams and doesn't play again due to injury

2016 Getty Images

21/25 February 2016

Announces deal to make Sugarpova Premium Chocolates with Polish company Baron Chocolatier to be released in May this year

Getty Images

22/25 7 February 2016

Sharapova reveals she has failed a drug test after testing positive for the banned substance meldonium, with the ITF provisionally suspending her from 12 March.

2016 Getty Images

23/25 8 June 2016

Sharapova is given a two-year ban by the ITF for her positive drugs test.

AFP/Getty

24/25 October 2016

Sharapova's ban is reduced from two years to 15 months on appeal.

Getty

25/25 26 April 2017

After serving her ban, Sharapova made her return to professional tennis at the Porsche Grand Prix in Stuttgart, defeating Roberta Vinci.

Getty
Williams, arguably the most dominant women's player ever, lent he support to Sharapovs at a press conference of her own.
"It's just taking responsibility, which she admitted she was willing to do and wanted to do, so I just hope for the best for everyone involved," Willaims said.
"To be honest I think in sport and in life there's always a double standard and everyone knows that, whether it's a race thing or a sex thing.
"However, this is a different thing and she said she's ready to take responsibility and that shows a lot of courage and a lot of heart, but she's always shown that in her career.
"I am not concerned [by damage to the WTA Tour], there are a lot of stars and personalities on the WTA Tour."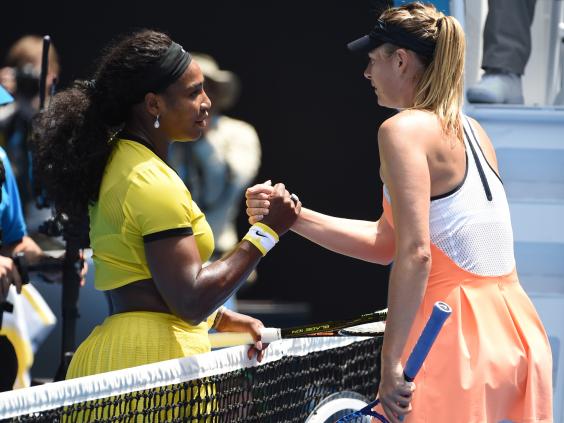 Sharapova is facing a lengthy ban and has alreeady been dropped by several sponsors, including Nike, Tag Heuer and Porsche.
Later, Caroline Wozniacki echoed Serena Williams' sentiment, but added that athletes have to "triple check" everything.
"I don't think there's any more to add, I think Serena said it," said the 25-year-old Dane.
"Anytime you take any medication we double and triple check because even things like cough drops or nasal sprays can be on the list.
"So, as athletes we try to really make sure there's nothing in them that can give an advantage."
Reuse content