Her retirement came out of the blue, but perhaps we should not have been surprised by Marion Bartoli's announcement in Cincinnati late on Wednesday night that she was putting away her rackets for good. It might be unusual for a reigning Grand Slam champion to walk away from the sport, but in Bartoli's case you could understand the thought process.
At the age of 28 the Frenchwoman clearly thought that she would never be able to top her achievement last month, when she won her only Grand Slam title at Wimbledon. Bartoli has been dogged by injuries for the last year, her triumph at the All England Club in strict contrast to her fortunes elsewhere. Luck was also on her side: she was the first player in the Open era to win the Wimbledon title without facing a top 10 seed.
Besides, winning Grand Slam titles appears to have become harder than ever as players become physically stronger. No teenager has won a women's Grand Slam singles title since Svetlana Kuznetsova at the 2004 US Open, while there has been a spate of older first-time champions in recent years, including Francesca Schiavone, Sam Stosur and Li Na. Serena Williams, who will be 32 next month, is the oldest ever world No 1.
The first reigning Wimbledon champion in the Open era to announce her retirement, Bartoli clearly believes that she can no longer sustain the level of fitness required to succeed at the top of the modern game.
In revealing her decision after losing to Romania's Simona Halep in Cincinnati, Bartoli said: "You never kind of know before it's going to be your last match, but I felt that way after the match. I felt I just couldn't do this any more. After one set, my whole body was in pain.
"Everyone will remember my Wimbledon title. No one will remember the last match I played here. There are so many things to do in life rather than playing tennis, so I'm sure I will find something."
She added: "It's time for me to retire and to call it a career. I feel it's time for me to walk away. My body, I just can't do it any more."
Bartoli said she had suffered a succession of injuries, particularly an Achilles problem that had troubled her on the hard courts.
"I've already been through a lot of injuries since the beginning of the year," she said. "I've been on the tour for so long, and I really pushed through and left it all during that Wimbledon.
"I really felt I gave all the energy I have left in my body. I made my dream a reality and it will stay with me for ever, but now my body just can't cope with everything. I have pain everywhere after 45 minutes or an hour of play. I've been doing this for so long."
Bartoli had played in every Grand Slam tournament since the 2002 US Open. She won her first and only Grand Slam title at the 47th attempt, beating the previous record of 45 set by the 1998 Wimbledon champion, Jana Novotna. She had dreamed about winning Wimbledon from the age of six.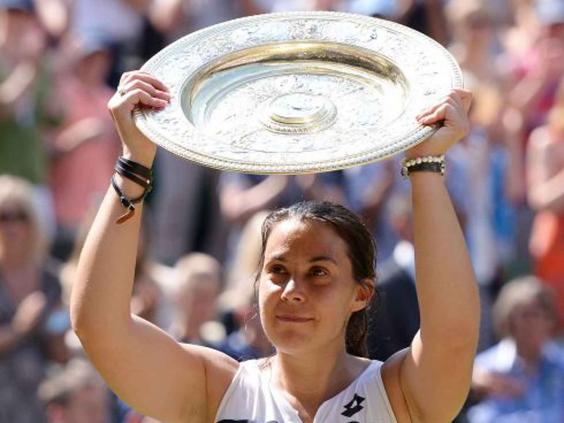 "It's hard to explain when you dreamed about something for so long and you have been on the tour for many, many, many years and you have been through ups and downs and highs and lows," Bartoli said. "My body was really starting to fall apart and I was able to keep it together, go through the pain with a lot of pain throughout this Wimbledon, and make it happen. That was probably the last little bit of something that was left inside me. I made my dream a reality and it will stay with me for ever."
Bookmakers, nevertheless, were offering odds of 8-1 last night on Bartoli reversing her decision. Justine Henin, Kim Clijsters and Martina Hingis are among recent players who have reversed retirement decisions made in their mid-twenties.
Amelie Mauresmo, France's Fed Cup captain, was asked whether she thought Bartoli might return one day. "If she finds the desire, obviously I think there will be many people to push her in this direction," Mauresmo said. "I don't know if it would fit with her personality, but you should never close the door. Anything is possible."
Calling it a day: Tennis retirements
Early departures
Justine Henin Retired at 25 in 2008 when world No 1 and French and US Open champion. She returned for a year in 2010 but did not win another Grand Slam title.
Tracy Austin Won the last of her 30 career titles at the age of 19 in 1982. She made three subsequent comebacks but never rescaled former heights.
Late departures
Virginia Wade Retired at the age of 41 in 1986, 24 years after making her debut at Wimbledon, where she played every year between 1962 and 1986.
Martina Navratilova Played final match in the 2006 US Open mixed doubles final, becoming the oldest woman to win a Grand Slam title a month short of her 50th birthday. She won 167 singles titles, 177 doubles and 10 mixed doubles.
Reuse content