Her own arrangement with Agnieszka Radwanska did not work out, but Martina Navratilova believes the idea of tennis "legends" coaching top players is here to stay. "You will see that more and more," said the former world No 1. "Players are saying: 'I don't have to have a coach who has only played a little bit. Instead I can have somebody who won something'."
Only Margaret Court, with 62 Grand Slam titles in singles, doubles and mixed doubles, won more trophies at the highest level than Navratilova, whose tally of 59 included nine singles triumphs at Wimbledon.
As the trend for appointing "super-coaches" gathered momentum last year, Radwanska's recruitment of Navratilova in December generated huge interest, but they parted company last month. The Pole has not reached a final since last August. Navratilova, who lives in Miami, had underestimated the amount of time she needed to work with the world No 9, who lives in Poland.
The break-up still seems to be a sensitive issue for Navratilova, who arrived in Britain last week ahead of her work as a commentator for BT Sport at the tournaments in Madrid and Rome. Although she was happy to answer questions on a wide variety of subjects when she visited the Wimbledon Club, just over the road from the scene of her greatest triumphs at the All England Club, she did not want to talk about Radwanska.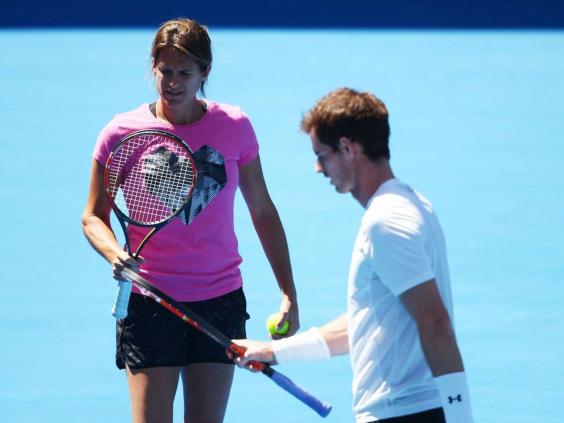 Navratilova believes, nevertheless, that the sport's former greats will have an increasing influence on the modern game. In recent times Boris Becker, Stefan Edberg, Ivan Lendl, Goran Ivanisevic and Michael Chang have been key figures in the respective careers of Novak Djokovic, Roger Federer, Andy Murray, Marin Cilic and Kei Nishikori. Murray went one step further last summer by replacing Lendl with Amélie Mauresmo, the first woman other than a family member to coach a male Grand Slam singles champion.
In the women's game Lindsay Davenport is combining motherhood – she has four young children – with coaching Madison Keys and only last month Arantxa Sanchez Vicario joined Caroline Wozniacki's entourage.
Navratilova believes the wealth of today's players has been a catalyst. "The players today earn so much more that they can afford to pay the money to the former top players to entice them from their nice cosy retired life and get them back on the road again," she said.
"If you have been on the road all your life, I know that, for me, you kind of itch for it after a while. After I retired I was in Aspen and after two months of being at home I started to go nuts. I needed to go somewhere because that was the longest I never travelled. It's in your blood. You are a gypsy."
She added: "You can have a coach for five or six years and eventually that coach has so little new to say. So get somebody else to give a different point of view. Somebody will see something I don't see and vice versa. You evolve with your game and your coaches. But that's perhaps what we will see the most of in the future: somebody on the road on a full-time basis and somebody else just at the Slams, or the week before the Slams, when most of the work is done, or even in the off season."
It remains to be seen what effect motherhood will have on Mauresmo's position with Murray. She is due to give birth in August and Jonas Bjorkman, recently recruited to the Scot's coaching team, will take charge in her absence later this summer.
"It's generally easier for guys to travel and go and leave the kids at home with the mum," Navratilova said. "With the mum it's more tricky and it's a different situation for fathers. But it is changing. It's becoming more egalitarian. The opportunity is there. Lindsay Davenport will go on the road and coach because her husband is helping as well. Jon [Leach] is also a former pro and whoever is capable of doing the job can do it."
In pictures: Wimbledon moments of magic
In pictures: Wimbledon moments of magic
1/10 Shot of the tournament

Nick Kyrgios's victory over Rafael Nadal was the most extraordinary result of the fortnight and featured the most memorable shot – a through-the-legs half-volley winner from the baseline.

PA

2/10 Unplayable Kvitova

Petra Kvitova's performance was one of the best seen in a women's final for many a year. When the Czech strikes the ball as cleanly as she did against Eugenie Bouchard she is almost unplayable.

EPA

3/10 Leaping and diving

The sight of Novak Djokovic and Grigor Dimitrov both lying spreadeagled on either side of the net during their semi-final showed how players can throw themselves around a grass court in a way they would not contemplate on other surfaces.

EPA

4/10 Alizé in wonderland

There is nothing more satisfying than seeing a game plan work out. Alizé Cornet carried hers out to perfection to beat Serena Williams. Was there a happier face at Wimbledon than Cornet's after her victory?

AP

5/10 The best of Murray

Andy Murray's defence of his title ended in disappointment, but some of his tennis in the first four rounds was sensational. He made Roberto Bautista Agut, the world No 23, look like a novice.

Reuters

6/10 Fantastic Federer

Of all Roger Federer's performances, his dismantling of Milos Raonic in the semi-final was one of the best demonstrations of the pressure a great champion can impose on even the most talented of opponents.

EPA

7/10 Kazakh surprise

She did not go as far as Nick Kyrgios, but Zarina Diyas was the surprise package in the women's draw. She is also a genuine Kazakh rather than the Russian imports who often compete under the Kazakhstan flag.

Getty Images

8/10 The grace of Stepanek

At no time in the history of tennis has the game been so similar on all surfaces, but Radek Stepanek reminded us in his second-round match against Novak Djokovic how graceful grass-court tennis can be.

Getty Images

9/10 The colourful Fanatics

Wimbledon insisted on strict observance of its whites-only rule for players, but thankfully that did not apply to spectators. Hats off to the "Fanatics" who provided so much colour – and noise – in their support of the Australians.

Getty Images

10/10 The Princess Eugenie

Eugenie Bouchard emerged as a player who will charm the Wimbledon crowd for years to come. What better way to win over the British public than to be named after a member of the royal family?

EPA
As for female coaches working in the men's game, Navratilova believes that Mauresmo will be a trailblazer. "If a man can coach a female, why can't a female coach a male? When I was looking for a coach the gender of the coach never occurred to me. It was about who I thought was good and who I could get along with and listen to.
"Andy didn't care about the gender. Maybe being coached by his mum had something to do with that. He was used to taking advice from a female. Amélie opened the door and maybe other players won't care one way or the other about the gender."
What influence does Navratilova think Mauresmo has had on Murray? "He is more aggressive. Lendl was very much a baseliner and it wasn't his nature to be more aggressive on grass. That was Amélie's nature. Maybe how you played helps that player if it's a similar style. Andy seems more relaxed and at ease with himself. That's good because he can be too hard on himself and too intense."
As for Serena Williams, Navratilova believes that Patrick Mouratoglou's coaching has been an important part of her recent success. Williams has won six of the last 11 Grand Slam tournaments since turning to the Frenchman three summers ago.
"She seems to believe in herself more," Navratilova said. "The biggest difference I see from the outside is her steadiness. She allowed herself to evolve with his help. He has definitely made an impact on her. Most of all it's because of the relationship. She really trusted him to make the changes or adjustments."
Williams has won 19 Grand Slam singles titles – one more than Navratilova – and is now only five behind Court's all-time record. Navratilova believes that milestone is within reach and said the 33-year-old American could still be winning Grand Slam titles in three or four years' time.
"It's possible, given the way she plays," she said. "It's fast tennis. She doesn't have to grind it out: big serves, big returns. The trick for players is to get into the point with her. If anyone can do it, it will be her, with her technique and her physique and her mental ability and drive."
Martina Navratilova is a tournament commentator for BT Sport. The Mutua Madrid Open, which is exclusively live on BT Sport 2 until Saturday, is one of 21 WTA events on BT Sport each year.