Normal Novak service has been resumed. When Novak Djokovic failed to win the Australian Open for the fourth year in a row two months ago and followed that with a semi-final defeat to Roger Federer in Dubai it seemed that his golden touch might have deserted him, but a 6-3, 6-3 victory over Rafael Nadal in last night's Miami Masters final confirmed that the 26-year-old Serb is well and truly back in business.
After losing to Nadal in last year's US Open final, Djokovic had gone on a sensational unbeaten run for the rest of the season, claiming four titles in the process. That winning sequence was interrupted by his below-par performances in his first two appearances of 2014, but successive triumphs in the Masters Series tournaments at Indian Wells and Miami have seen the world No 2 rediscover his best form.
Djokovic, only the second player after Federer to do the Indian Wells-Miami double twice in his career, played superbly to claim the title in Florida for the fourth time. The Serb has now won four Masters Series titles in a row, as well as last year's season-ending Barclays ATP World Tour Finals.
No two players in the Open era have met as frequently as Djokovic and Nadal, who now hold all nine Masters Series titles between them. In their 40th career confrontation Djokovic reduced his arrears to 22-18. Crucially, he has won 14 of their 21 meetings on hard courts.
After the farce of the semi-finals – when Nadal and Djokovic both went through without striking a ball after their opponents Tomas Berdych and Kei Nishikori pulled out with illness and injury respectively – the Miami public at least got the best possible final as the world's top two players went head-to-head. The temperature was a pleasant 26˚C, though the players had to contend with the customary stiff breeze at Crandon Park and the sound of an overhead blimp.
Djokovic in particular seemed concerned by the noise from the skies, complaining twice to umpire Mohamed Lahyani about the distraction in the first set, but it hardly seemed to affect him. Every aspect of his game looked in top order as he kept Nadal on the back foot throughout.
Although both players dropped just seven points on their serve in the opening set, it was Djokovic who made the only break in the sixth game thanks to a series of stunning returns. There was no let-up in the second set as Djokovic broke immediately with a splendid backhand cross-court winner. Nadal hung on grimly, but when the Spaniard served at 3-5 Djokovic created two match points with a typically brilliant return.
The Serb needed only one chance, capping an almost flawless performance after 84 minutes with a half-volley winner after a wonderful rally. Djokovic fell on his back in celebration and his subsequent victory jig demonstrated how much the win meant to him.
One irony of Djokovic's form is that Boris Becker, who joined his entourage as head coach at the end of last year, was absent from both Indian Wells and Miami. The German has missed the last fortnight because of hip surgery. Marian Vajda, who headed Djokovic's team until Becker's arrival and has been back working with the Serb for the last four weeks, could have been forgiven for wearing a wry smile.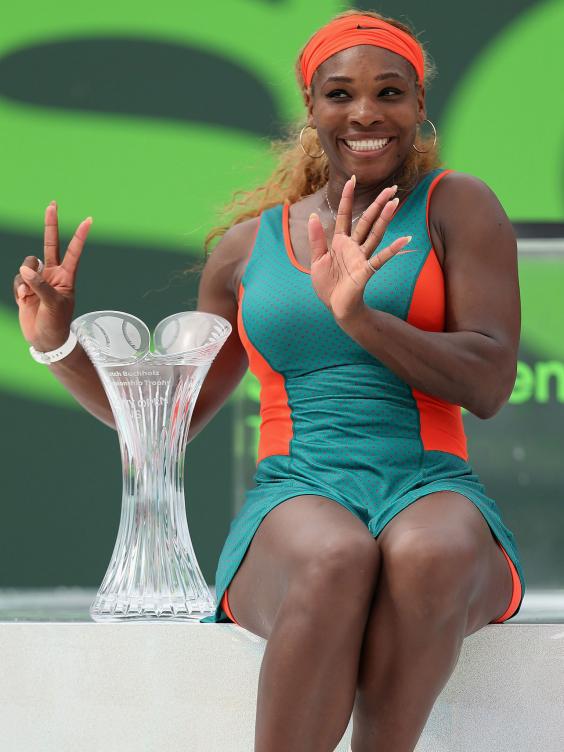 The women's final was also a showdown between the world's top two players. Serena Williams, the world No 1, claimed a record seventh Miami title when she beat China's Li Na 7-5, 6-1. Since winning in Brisbane in her first appearance of the year Williams has not always looked at the top of her form, but the closest thing to her hometown tournament – she lives an hour up the coast at Palm Beach Gardens – nearly always brings out the best in her.
Both Williams and Li are approaching veteran status at 32 but neither is showing any sign of slowing down. "I just feel that both she and I have this never-give-up fight [mentality]," Williams said. "It just goes to show that you can still shine at any age."
Li, meanwhile, said she was "a young 32" and added: "I really feel now that tennis has changed a little bit because it's not only about technique. Right now I take more care of myself. I know what I should do already before I come to the court. So maybe this is why these couple of years I was doing well."
Reuse content