Closer, but not close enough. Andy Murray pushed Novak Djokovic hard in the Miami Masters final on Sunday night only for the match to finish with the same outcome as their previous six encounters. Murray, who has not beaten Djokovic since the 2013 Wimbledon final, lost 7-6, 4-6, 6-0 as the Serb underlined his status as the world's best player.
Just as he had done in their Australian Open final two months previously, Murray gave as good as he got in the first two sets only to see Djokovic take command in the latter stages. The world No 1 had looked flustered when Murray levelled the match at one set apiece, but his play in the decider could not be faulted. After two hours and 46 minutes, Djokovic was ultimately the stronger player in the brutally hot and humid conditions. It was his 10th successive victory over Murray on hard courts and put him 18-8 up in their head-to-head record.
Murray, nevertheless, will take positives from his last month in the United States. His performances in Miami represented a significant improvement on Indian Wells, where he took only five games off Djokovic in their semi-final meeting. Djokovic is  the only player who has won more ranking points so far this year than Murray, who will today replace Rafael Nadal as world No 3.
There was certainly no shame in losing to a player who today equals Nadal's record of 141 weeks at the top of the rankings. Only Roger Federer, Pete Sampras, Ivan Lendl, Jimmy Connors and John McEnroe have spent longer at the head of the list.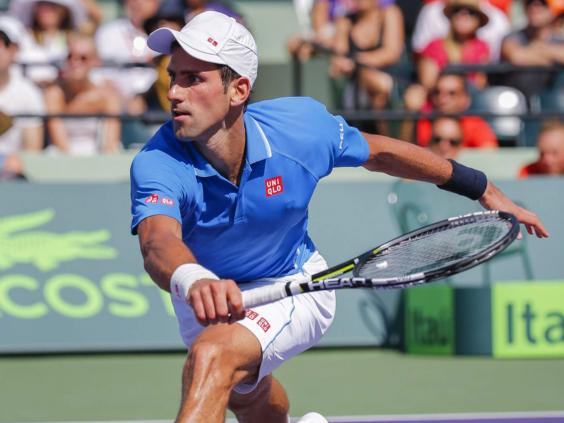 This was Djokovic's 22nd Masters Series title – only Nadal and Federer, with 27 and 23 titles apiece, have won more – and his 10th successive victory in a Masters Series final. In winning his fifth title at Crandon Park he became the first player to complete the Indian Wells-Miami double on three occasions.
Murray, who has a second home in Miami and does most of his training there, took the game to Djokovic throughout. The Scot showed admirable aggression, but nobody defends as well as Djokovic, who kept making his opponent hit the extra ball. Murray made some crucial mistakes on overheads and volleys, but credit had to go to Djokovic for his remarkable consistency and resilience.
The first set, which took 67 minutes, was typical of so many encounters between the two men. They shared four breaks of serve – both had trouble serving into the sun from one end – and contested a succession of lengthy rallies. Djokovic began the tie-break from the easier serving end and won it 7-3 after taking the first four points.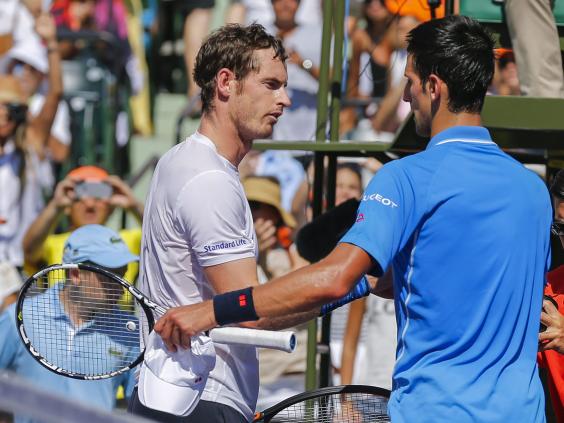 Murray held on at the start of the second set, saving four break points in the third game. There were no breaks until Djokovic served at 4-5. At 0-15 the Serb double-faulted and at 0-30 Murray won a sensational point when he hit a forehand winner off a smash. At 0-40 Murray stepped into the court to hit an unstoppable backhand cross-court return winner.
The momentum appeared to be with Murray, but he dropped serve in the opening game of the third set after putting two poor backhands into the net. In the third game Murray saved five break points but on the sixth he netted another backhand. The end was swift, Djokovic completing his victory with a volley winner.
Murray, who has now lost 12 matches in a row against fellow members of the "Big Four", admitted that he had tired at the end but insisted: "It's been a good start to the year for me. I've made big progress from where I was at this stage last year. I'm not quite there with Novak yet, but I feel like I'm getting a bit closer. I just need to keep working hard and, hopefully, it will come."
Reuse content