For half an hour Mirjana Lucic-Baroni has been engaging company. Sitting in a quiet corner of a tournament café, the 33-year-old from Croatia has been recalling how she returned to play Grand Slam tennis after an absence of eight years, telling of the joy she felt at winning the third title of her career a remarkable 16 years after she had won her second, and speaking of her love for her husband, mother and siblings.
Before we part, however, I raise the subject which she may have been fearing. "Can I ask one question about your father?" I ask. Her response is immediate. "I would rather not if you don't mind," she says, her smiling demeanour changing instantly to one that suggests only sadness and pain.
Whatever Lucic-Baroni achieves in her remaining years as a tennis player – and her victories over Simona Halep, the world No 3, at last year's US Open and this year's French Open suggest there are more outstanding feats to come – she must know she will always be known as much for her past as for her present.
From the day in 1997 when she won the very first tournament she entered on the main women's tour at the age of 15, her story has been a remarkable one. Two years later she was hailed as a major talent when she reached the Wimbledon semi-finals. Yet within three more years she had all but sunk without trace.
In 1998 she had fled to the United States with her mother, two brothers and two sisters to escape her father, who was also her coach. She said he had abused her physically and mentally for 10 years. In dire financial straits following the family's move to Florida, she did not play in any Grand Slam tournaments between 2002 and 2010.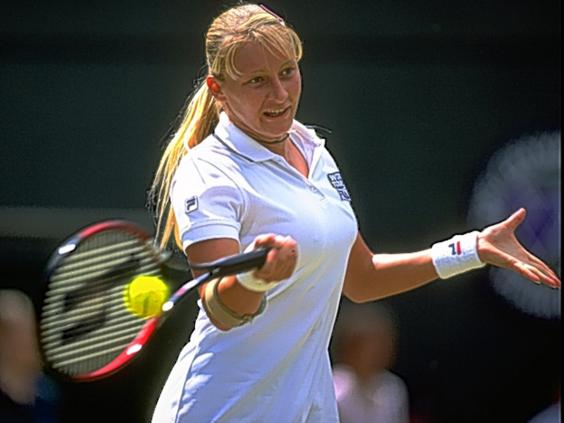 Over the past 12 months, nevertheless, she has shown that her talent never deserted her. Ranked No 121 in the world, Lucic-Baroni reached the fourth round at last summer's US Open with a memorable victory over Halep. Less than a month later she beat Venus Williams in the final of the Quebec Open. She had won her previous title in Croatia in 1998, which made it the longest gap ever between tournament victories on the women's tour.
"To win a tournament after so long was really special," Lucic-Baroni says, a broad smile breaking out of her expressive face. Her English is excellent but her voice still carries more than a hint of her Balkan roots. Depending on her mood, she can look significantly older or younger than her 33 years.
"Every Grand Slam is kind of what it's all about and New York was amazing, to come back again to the big stage, but to win the final in Quebec was something else, especially against Venus. I played really well and I stepped up when I had to. It was good to see that I could still do that.
"I always knew I was able to do it, though it's difficult when you're not making the results. It takes a long time, but you're still working hard and getting ready for it. I felt like all these years of really working hard and trying had finally paid off."
Nearly 20 years previously, as Mirjana Lucic (she married a restaurateur, Daniele Baroni, in 2010), she had won two junior Grand Slam titles by the age of 14. She remembers the moment, aged eight, when she decided she wanted a career in tennis. "I was watching Monica Seles and Steffi Graf play the final of the French Open on television," she says. "I remember having a very strong feeling and thinking, 'This is what I want to do. I want to be there.' "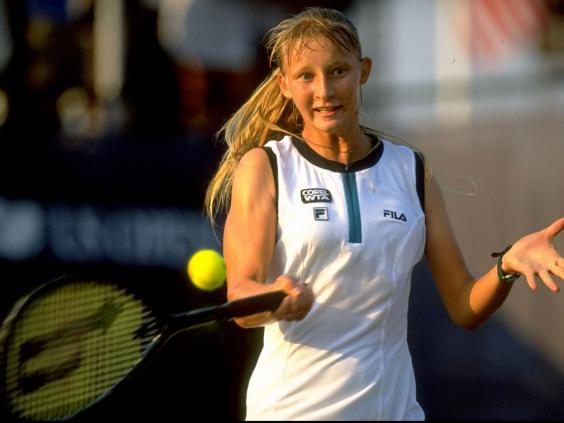 She recalls matches in great detail. At her first US Open in 1997, at the age of 15, she was beaten 6-2 6-7 6-3 in the third round by Jana Novotna, then the world No 3. "It was a very close match. It was a beautiful night match in Arthur Ashe Stadium. I was down 6-2 4-1 40-15 and came back. I was up 3-0 in the third. She took a long bathroom break. I was thinking, 'OK, I've got this.' But being the champion that she was, she raised her level. It was a bit of inexperience on my part."
The following year Lucic-Baroni won her only Grand Slam title, partnering Martina Hingis in the doubles at the Australian Open, before making her Wimbledon debut. She won one match before being crushed 6-3 6-0 by another 16-year-old debutant, Serena Williams.
At Wimbledon 12 months later Lucic-Baroni beat Seles before losing to Graf, her childhood idol, 6-7 6-4 6-4 in the semi-finals. "I remember I missed a very easy volley. I think it was to make it 5-5 in the second set, or maybe it was at deuce. I remember Steffi really stepping up. She was known for that. When it was a really tight situation she would go up another level."
Lucic-Baroni had fled Croatia the previous summer. Despite all the difficulties that followed, she still pinpoints that moment as her life's turning point. "[After that] I was able to have peace and love," she says. "I was able to live really happily with my family. I think that was when everything went good for me."
The early years in Florida, never-theless, were a struggle, though this is another aspect of her life she prefers not to revisit. Asked if one of the reasons she entered very few tournaments between 2003 and 2008 was because she simply could not afford to do so, she replies: "Yes, basically – and I would like to leave it at that. I don't really want to go into that."
She adds: "Tennis is a huge part of my life and it always was, even in those difficult times. It was very difficult for me to watch tennis on TV and not be able to be there. That was probably the hardest part for me."
However, she continued to play tennis, mostly with her brothers, who both make a living today as tennis coaches in Connecticut. "I practised and trained at home," she recalls. "I always thought I would come back. That's the reason why I trained and played."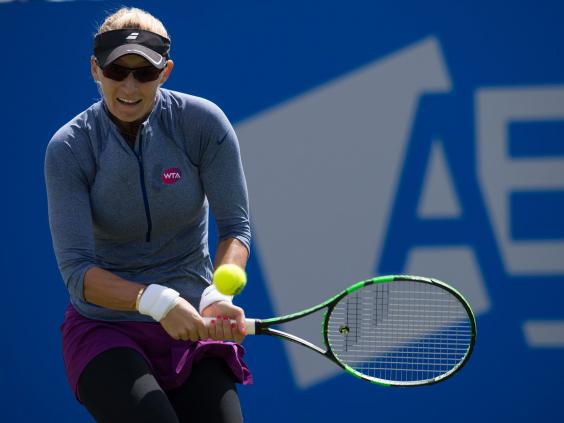 She finally started her comeback in 2008 at the very lowest level of professional tournaments. In her second comeback event she won just $68 (£44) in prize money.
"It was incredibly difficult," she says. "I hadn't played for a good four or five years. Nobody really knew me any more and it was very difficult, playing on the very last court, sometimes playing two matches a day, without umpires.
"I remember a match when I was 3-1 up in the third but my opponent said it was 1-1. So I had to start again from 1-1. I was like, 'How is it possible that this is happening to me?'
"It was tough sometimes finding a doubles partner. I asked a girl once if she wanted to play doubles. She said, 'Who are you?' I gave her my name. She said, 'What's your ranking?' I said,'I don't have a ranking but we can ask for a wild card.'
"She said, 'No, I don't know you.' I said to her, 'Well, I won a Grand Slam title in doubles.' After that she was like, 'OK.' So it was difficult in the beginning to break through again. I wasn't getting any wild cards. I had to do it the hard way."
In 2010, at last, Lucic-Baroni returned to Grand Slam competition when she qualified for Wimbledon. Ten years after her last match at the All England Club, she played Victoria Azarenka in the first round on Centre Court. "I lost 6-3 6-3. I would have preferred an easier first-round match, but it was nice to be welcomed back on Centre Court."
In the first 16 Grand Slam tournaments of her comeback Lucic-Baroni won only five matches. "I just wanted it so badly," she says. "I'd finally got back and I kind of wanted to take it up again where I had left off all those years ago. Unfortunately it doesn't really work like that. There were a lot of players I didn't know. I was a bit too eager."
She admits there were moments of self-doubt but adds: "I'm lucky enough that I had people around me who believed in me and kept telling me, 'You can do it.' And I knew myself. I really knew and I still know that I could do more. But until you go out there and you do it, it's two different things. Now I feel like a different player compared with before the US Open. Now I know I can do it. I've proved to myself that I belong there."
Last month Lucic-Baroni won her first match at the French Open for 13 years. She is now looking forward to her favourite event. "Wimbledon suits my game, though I didn't know that when I was a kid and I still loved the tournament then," she says. "It's my favourite time of the year. It always was – and this year more so than ever because I feel like I'm playing great tennis and I feel good."
She intends to carry on playing for a good while yet. She is happy with her life in Sarasota and likes the fact that her husband can travel with her to many tournaments. "I have a husband that loves me and that I love more than anything in this world," she says.
"I feel great. As long as I'm healthy and I feel like I can, why not? Tennis has its ups and downs, of course, but I love it. I live for those moments, like lifting the trophies. I find incredible pleasure in it."
After beating Halep in Paris, Lucic-Baroni was asked what good things she could take from her life. "A lot of strength," she replied. "I take a lot of pride in what I went through in my life, the difficulties. A lot of people couldn't have experienced what I went through and come back and fought the way I did. I was stubborn, I believed in myself enough and I was strong enough to be here today."
Reuse content