By Nick Bollettieri's standards this is a quiet week. The veteran American coach, who celebrates his 83rd birthday next month, flew into Britain on Saturday, took mass coaching sessions for juniors and adults at the Cumberland Lawn Tennis Club in north London on Sunday and Monday, conducted private lessons for the next two days and had dinner last night with Porsche executives who had flown in from Germany to meet him.
There will be more lessons over the next three days, a dinner in London tomorrow night in recognition of his induction next month into the International Tennis Hall of Fame and then a trip to Northampton, where he will give a masterclass to coaches, players and parents at an event organised by the British Tennis Coaches Association. Then he gets busy.
As he does every year, Bollettieri will be at Wimbledon, which begins on Monday. In the rare free moments he will have between being stopped for a chat, an autograph or a photograph, he will be writing the columns which have lit up the pages of The Independent for the past 11 years, giving the benefit of his 60 years in tennis to listeners of BBC Radio Five live and offering support and encouragement to players from his Florida academy.
Not that those commitments will stop the world's most famous coach doing what he loves best. Bollettieri will still find time in the evenings to give some private lessons.
At an age when many of his contemporaries would consider a weekly trip to the shops a major outing, Bollettieri still loves globe-trotting. Next year he will go to the Australian Open for the first time since 1997, when he helped guide Mary Pierce to the final. He will be a guest speaker at events in Melbourne, Sydney and Auckland. He has also accepted an invitation to open a new indoor tennis centre at the Rome Masters next May.
"I believe that when people get tired travelling, a lot of that is psychological," Bollettieri said. "I've trained my mind to just treat a travelling day like any other day. Time changes don't bother me at all. I still get up the same time of day wherever I am.
"I'm lucky that I'm a good sleeper on planes. I never fly anything other than economy. I sit straight up in those seats and go to sleep. I remember being treated once to first-class tickets when I flew to France. I tried to cash in the tickets. When I sat down in one of those fancy seats I just didn't know what to do. My wife couldn't stop laughing."
Bollettieri's life story reads like something out of The Boy's Own Paper, which is probably why an autobiography has been at the forefront of his mind in recent years. "Bollettieri: Changing the Game" tells the extraordinary story of how a drop-out from law school became the best tennis coach in the business, despite having never played the game professionally.
Born into an Italian family in a village near New York in 1931, Bollettieri studied in Alabama, where he played for the college tennis team, before becoming a paratrooper.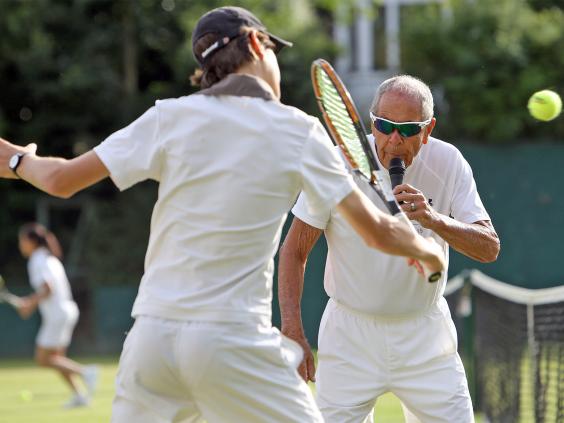 On completing national service in 1956 he went to the University of Miami to study law. To finance his studies he started coaching at the local tennis courts. Before long he had given up his studies to concentrate on his new career.
Bollettieri admits that at first he knew next to nothing about coaching. He sent out his wife, Phyllis, to spy on coaching programmes in the Miami area to pick up tips from other instructors. When he heard that Fred Perry was living locally he paid him a visit. Perry, who had won eight Grand Slam titles in the 1930s and was the last Briton to win Wimbledon until Andy Murray's triumph last summer, gave Bollettieri one piece of advice that stuck with him: "Make sure you always have a good-looking woman with you." Phyllis was the first of Bollettieri's eight wives.
Having quickly established himself as a good coach, Bollettieri became head tennis professional at the Dorado Beach Resort in Puerto Rico. In 1978 he bought a tennis club in Florida with 21 courts. Louis Marx, a businessman who had become a good friend, then put up the $50,000 needed to buy a run-down 20-room motel where players on his coaching programme could live.
By this time Bollettieri was formulating the idea of establishing a full-time institution where young players could live and train together in a professional environment. Two years later his wealthy friend put up the $1.2m that was needed to buy the plot of land in Bradenton where the Nick Bollettieri Tennis Academy was built. It was the first of its kind. Today there are tennis academies around the world – with eight in the Bradenton and Sarasota area alone.
Jimmy Arias, Aaron Krickstein and Carling Bassett, who all became professionals, were among Bollettieri's first intake of players. He subsequently worked with ten world No 1s: Andre Agassi, Boris Becker, Jim Courier, Martina Hingis, Jelena Jankovic, Marcelo Rios, Monica Seles, Maria Sharapova and Serena and Venus Williams. Kei Nishikori, Tommy Haas, Max Mirnyi, Sabine Lisicki and Britain's Heather Watson are among those who currently list Bradenton as their home.
IMG, which was recently taken over by the Hollywood talent agency William Morris Endeavor, bought the academy in 1987. It now caters for eight different sports. The tennis programme, of which Bollettieri remains the president, features 52 courts. "I always had a great relationship with IMG and I'm looking forward to working with the new owners," Bollettieri said.
He remains as committed as ever to his work. He gets up at 5.30am every weekday, or half an hour earlier if he has a 6am lesson. "I do about 10 to 12 minutes of stretching when I get up, maybe 50 to 100 sit-ups and 20 to 30 push-ups," he said. "I don't eat breakfast."
The day is spent with groups of players and coaches or with individual lessons. Thousands of "social" tennis players attend the academy and Bollettieri aims to spend time with all of them. He usually finishes by 5pm, after which he likes to play nine holes of golf. At 7.30pm his manager passes on all his letters, texts and emails. Bollettieri answers all of them before going to bed at 11pm.
On Saturdays he works at the academy in the morning before playing 36 holes of golf. Sunday is reserved for his family. Bollettieri, who has five children from previous marriages, and his 50-year-old wife, Cindi, adopted two boys from Ethiopia, Giovanni, nine, and Giacomo, six. Bollettieri, who went skydiving to celebrate his 80th birthday, jetskis and plays golf with the boys and watches their baseball matches.
"On Sunday night the boys order in pizza and I join them," he said. "Generally I'm very careful with my diet. I eat chicken and fish, maybe steak a couple of times a week. I don't eat much bread and I have pasta maybe once every two weeks. I don't drink alcohol any more. Giacomo asked why I had a glass of wine every night and I didn't have an answer, so I stopped."
As ever, Bollettieri is excited by the prospect of Wimbledon. He is tipping Serena Williams to win again. "I find it hard to see beyond her," he said. "I think the biggest threat to Serena would be Serena herself. She needs to control herself and enjoy it. I think sometimes she's too hard on herself, thinking she should win every single point."
He sees Novak Djokovic as a marginal favourite for the men's title but would never rule out Rafael Nadal. He thinks Murray faces a big task following his back surgery and is concerned that the Scot's second serve will be perceived by some of his opponents as a weakness.
Whoever wins, Bollettieri will relish the occasion. He might also enjoy a wry smile when he considers how he might have been viewed in the not so distant past. "Many years ago I was coming in the back door a little bit," he said. "I was bringing in the radicals – guys like Andre Agassi and Jim Courier. I also brought in the squeakers – Monica Seles and Maria Sharapova. I always seemed to cause a bit of a commotion in the past. Now I'm very comfortable. For me to be able to go in the press room and work, it's fantastic. I never expected that."
'Bollettieri: Changing the Game' by Nick Bollettieri with Bob Davis is published by New Chapter Publisher