The brother of Nick Kyrgios has claimed that the controversial Australian and Stan Wawrinka were involved in a locker-room fight after their match.
The 20-year-old courted more criticism after alleging that teenage Australian player Thanasi Kokkinakis had 'banged' the girlfriend of Wawrinka, Donna Vekic.
Wawrinka, who left his wife earlier this year and has subsequently been linked with the Croatian player, did not appear to hear what Kyrgios said at the time, but the words were picked up by an on-court microphone. The world No 5 was furious at his post-match press conference and called on the ATP to take action against Kyrgios.
Nick Kyrgios: His most controversial moments
Nick Kyrgios: His most controversial moments
1/10 Nick Kyrgios controversy

In the same year as stunning Rafael Nadal in the fourth round of Wimbledon 2014, Kyrgios was penalised an entire game after being slapped with a third code violation in a single match. Since breaking onto the scene the young Australian has been persistently warned about his language.

GETTY IMAGES

2/10 Nick Kyrgios controversy

During his first-round match at Wimbledon 2015, Kyrgios was heard saying 'dirty scum'. He had to defend himself after the win over Argentinian Diego Schwartzman, insisting the words were not aimed at the umpire but himself.

GETTY IMAGES

3/10 Nick Kyrgios controversy

During a match with Milos Raonic, Kyrgios was given a code of conduct warning after throwing his racket into the ground with so much force it bounced over a fence and into the arms of a spectator at the All England Club.

GETTY IMAGES

4/10 Nick Kyrgios controversy

In the same match against Raonic, Kyrgios confronted a fan in the crowd. 'I thought she said something like, 'Pull your head in'. She started laughing. I didn't really find it funny,' he said after the match. 'It's easy when you're just sitting there and you're just watching, when you've got no experience at all on the court.

GETTY IMAGES

5/10 Nick Kyrgios controversy

Kyrgios became an ambassador for headphone company Beats By Dre - but even that caused a stir. The marketing was titled Play By Your Own Rules, highlighting Kyrgios' lack of respect for the traditional etiquette of the game - something which irked some tennis fans.

GETTY IMAGES

6/10 Nick Kyrgios controversy

After being called out by a line judge for bad language at Wimbledon this year, Kyrgios remonstrated with the umpire. 'What did he just say to you? Does it feel good to be up there in that chair? Does it make you feel strong?' he said.

Getty Images

7/10 Nick Kyrgios controversy

The Aussie encouraged fans to smear Vegemite and other spreads on their faces after one supporter offered to do so. The trend, which seemingly started as a bit of fun, took a turn amid suggestions the gesture could be seen as 'blacking up'. Serena Williams said she would be interested to know why the fans did it.

FACEBOOK

8/10 Nick Kyrgios controversy

Against Richard Gasquet at Wimbledon, Kyrgios appeared to give up playing entirely after a couple of calls went against him and being warned by the umpire for an audible obscenity. With his opponent serving, Kyrgios hardly bothered to try and return. He lost the match.

AP

9/10 Nick Kyrgios controversy

Olympic swimming champion Dawn Fraser claimed Australia's young tennis stars should set a better example or 'go back where their parents came from'. She later apologised whilst Kyrgios labelled her a 'blatant racist.

Getty Images

10/10 Nick Kyrgios controversy

At the Montreal Masters he told opponent Stan Wawrinka that Thanasi Kokkinakis 'banged your girlfriend'. Wawrinka was furious with the sledge and urged the ATP to take action.

GETTY IMAGES
Kyrgios later apologised on Facebook (below) but his brother, Christos has claimed that the pair were involved in a post-match fight. He posted on Facebook but has since deleted his words.
"He put his hands on nick - grabbed him and said a whole bunch of abusive s***. I've studied law and that s*** is abuse bro. Lucky we aren't pressing charges," wrote Christos.
Watch the incident below...
"The p**** is lucky I wasn't there or he would have been withdrawing from the next few tournaments."
Christos also claimed that Wawrinka sparked the feud by claiming Nick had faked injury in a previous match.
"It's not even sledging, that's openly slandering someone after a match then I guess you can expect a bit of sledging back when you play them next."
Wawrinka earlier said: "What was said I wouldn't say to my worst enemy. To stoop so low is not only unacceptable but also beyond belief."
The Australian tennis player's trash talking was picked up by a court-side microphone at the hard court event, which is one of the major tournaments in the build up to the US Open.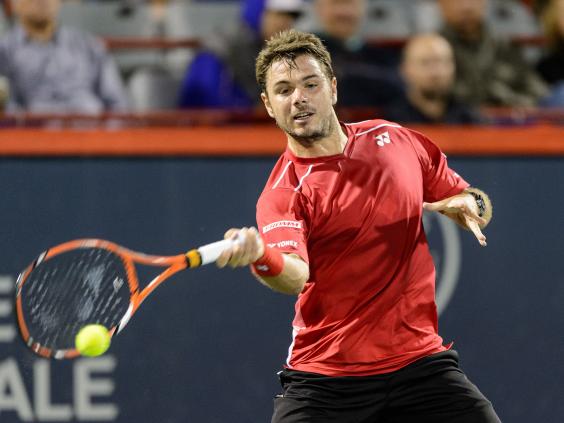 According to the ATP rule book players can be fined up to $10,000 (about £6,400) for verbal abuse or unsportsmanlike conduct. The ATP, which organises the men's tour and represents both players and tournaments, said that it had fined Kyrgios for his comments. "Further details on the fine will be made after that player has been notified," a spokesman said.
Wawrinka progressed in the tournament after Kyrgios retired despite leading 6-7, 6-3, 4-0.
Reuse content