It had all appeared to all be going so well for Nick Kyrgios at the start of his French Open second-round match against Kevin Anderson. But then, as has so often happened before, the Australian's game disintegrated and he lost, 5-7 6-4 6-1 6-2. His defeat to a player languishing 37 places behind him in the ATP rankings mean he has now exited his last two Grand Slams at the second-round stage.
But, predictably, his performance in the defeat — especially that positive start — have not been the primary talking points in the wake of his loss. Instead, a short video of Kyrgios furiously smashing his racquet against a Perrier water box, in front of a trio of completely bewildered schoolchildren, has dominated the post-match reaction.
Another Grand Slam loss, another spectacular racquet smash — same old headlines. "Nick Kyrgios, bad day pour le bad boy," screamed the Europe1 Sports report. "Nick Kyrgios is latest sore loser to go ham on his racket," complained American broadcaster CBS. Closer to home, the Mirror opted for "Aussie bad boy Nick Kyrgios throws tennis temper tantrum during defeat".
Once again, it is open season on the combustible Aussie, whose habit of running his mouth and imploding in completely winnable matches has seen him become something of an easy target for fans and journalists alike. But it is hardly fair to single Kyrgios out for criticism. He is far from the first person to obliterate his racquet at this tournament, and has been dealing with more than most over the days and weeks leading into the second Slam of the season.
For one thing, his grandfather Christos passed away at the end of April, a loss which hit Kyrgios hard. The American player Steve Johnson is also in mourning and spoke movingly of his father in a press conference after winning a match this week. And so, after his defeat to Anderson, Kyrgios was asked if he could speak about his grandfather in a similar way, to reveal a little about how he had been coping with his loss.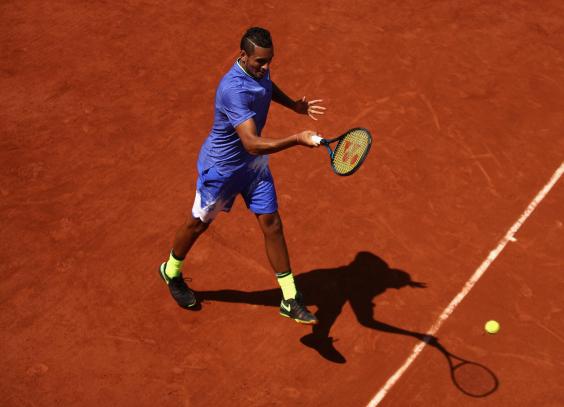 He couldn't.  "I mean, it was — yeah, when I was back home, it was tough," he began to reply. He added: "I mean, I can't talk about it. I can't," and then left the conference. 
And then there are the on-court problems. Kyrgios is not alone in disliking clay as a surface: the likes of Roger Federer, Novak Djokovic and Andy Murray all had to work exceptionally hard to adjust their games to the surface (and the three only share two Roland Garros titles between them) while women's World No 1 Angelique Kerber has spoken openly about her struggles on the surface throughout her career.
Kyrgios elaborated on his relationship with the red stuff after his first round win against Philipp Kohlschreiber. "I don't really like running. That's one thing," he replied. "So when the rally gets pretty long I tend to just go for a low-percentage shot." The passing of his grandfather also meant that he arrived in Paris without a full set of clay-court tune-ups under his belt, having played in just four matches on clay this season.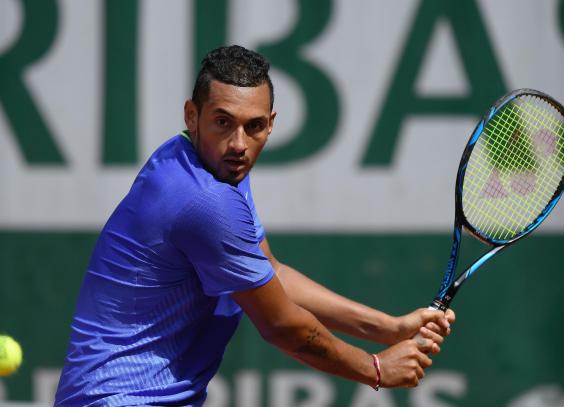 Those who so quickly write him off also conveniently choose to ignore the positive steps he has taken to furthering his career in 2017. After his particularly head-scratching defeat to Andreas Seppi at the Australian Open earlier this year, he again spoke about hiring a coach. "The coach is always a question mark for me," he admitted. "So I think that's one area where I obviously need to start taking a bit more seriously."
His comments didn't attract all that much attention at the time, as he had often spoke about looking into the possibility of hiring a coach throughout the previous season. Only this time, he did something about it. The retired French player Sebastien Grosjean appeared in his corner at both of his matches in Paris, and will continue to work with Kyrgios on a part-time basis going forward. It is a huge step in the right direction.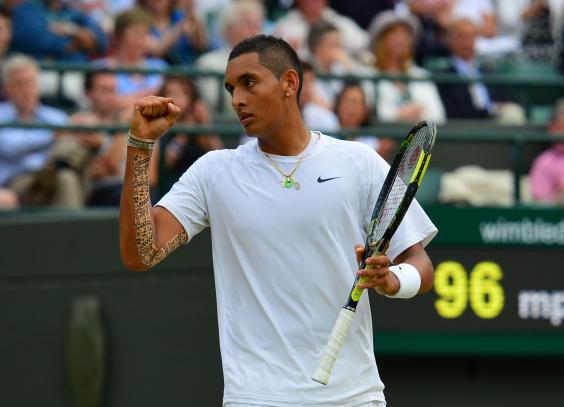 Finally, there is his age. Although he seems to have been a part of the Tour for years, and although he has generated enough newspaper coverage and scandalous headlines to last a career, Nick Kyrgios has only just turned 22. He was born in 1995. And having lived his life in the public eye since reaching the quarterfinals at Wimbledon in 2014, that means he has inevitably made mistakes.
But, the (admittedly entertaining) on-court arguments and (eminently sharable) racquet-smashing videos aside, the fact remains that Kyrgios is quite comfortably the most talented player of his generation. He remains the youngest player since Roger Federer to progress to quarter-finals at two different grand slams, while a wide-eyed John McEnroe remarked in Paris this week that: "It is unbelievable how talented Nick Kyrgios is. He is the most talented young player in the world."
With the continued success of Federer, Nadal et al — and a top five consisting entirely of players over the age of 30 — it appears tennis has become something of an old man's sport. But that does not mean its youngest stars should be so quickly written off. Kyrgios has made a number of high-profile mistakes, and will continue to do so. He needs our patience, not criticism.
Reuse content