He does not have much left to achieve, but you can be sure that Novak Djokovic's mind will soon be concentrating on one goal above all others. With 51 titles to his name, including eight at Grand Slam level, the 27-year-old Serb may one day be regarded as the greatest player in history, but if he is to achieve that status he will surely have to add the French Open to his list of honours.
This year may prove to be his best opportunity yet to claim the one Grand Slam title that has so far eluded him. Djokovic is in the form of his life, having won 23 of his last 24 matches, but the man who has so often proved his nemesis on clay is struggling. Rafael Nadal will be under enormous pressure when he starts his clay-court campaign in Monte Carlo next week.
While Nadal, by his own admission, has been lacking confidence since spending lengthy periods on the sidelines following a wrist injury and appendicitis, Djokovic has been in superb form. Since winning the French Open last year Nadal has taken one minor tournament in Buenos Aires; over the same period Djokovic has won Wimbledon, the Australian Open, the Barclays ATP World Tour Finals, three Masters Series tournaments and the China Open.
Djokovic, who yesterday matched Nadal's career total of 141 weeks at the top of the world rankings, currently has 13,205 ranking points to his name. That is more than double the total (6,060) of Andy Murray, who yesterday climbed to No 3 in the list following his defeat by Djokovic in the Miami Masters final on Sunday.
The Independent's sports writers' picks for 2015
The Independent's sports writers' picks for 2015
1/9 Athletics

Dina Asher-Smith

GETTY IMAGES

2/9 Football

Harrison Reed

GETTY IMAGES

3/9 Tennis

Borna Coric

GETTY IMAGES

4/9 Cricket

Sam Billings

GETTY IMAGES

5/9 Rugby Union

Alex Lozowski

GETTY IMAGES

6/9 Golf

Matt Fitzpatrick

GETTY IMAGES

7/9 Boxing

Kid Galahad (right)

GETTY IMAGES

8/9 Rugby League

George Williams

GETTY IMAGES

9/9 Formula One

Max Verstappen

GETTY IMAGES
Although Djokovic has come close to winning at Roland Garros several times, having been runner-up twice and a semi-finalist on four other occasions, he has had the misfortune to compete in the same era as the greatest clay-court player of all time. Nadal, who has ended Djokovic's French Open campaign six times, will be attempting to win the Coupe des Mousqetaires for the 10th time this summer.
Djokovic, who has won all three of the Masters Series tournaments played on clay, has been one title short of a "career Grand Slam" ever since his annus mirabilis in 2011, when he won the Australian and US Opens and Wimbledon. In 2012, in particular, he appeared to put too much pressure on himself when he said that Roland Garros was his principal target. He will not be making the same mistake this time.
"I don't want to predict anything," Djokovic said. "I don't want to put some additional, unnecessary pressure on myself. There are already a lot of expectations. Everywhere I go I have to deal with it. But I could not ask for a better start of the season, winning three big titles.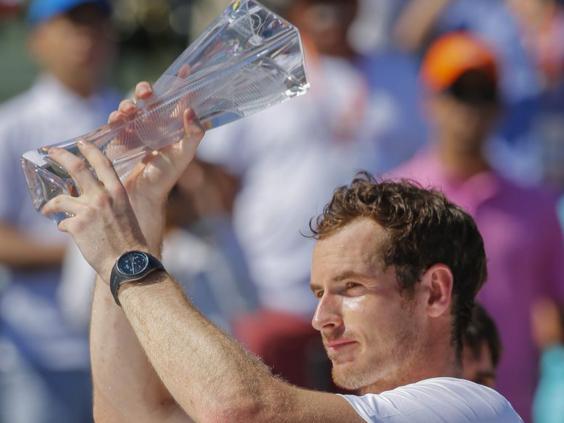 "Hopefully, I'm able to use this for the clay-court season. That's extremely important for me leading up to the French Open. We'll see. I feel good about myself on the court. I'm just going to take it slowly, one tournament at a time."
He added: "I'm trying to enjoy the moment and also utilise this time of my career where I'm probably playing the tennis of my life and I'm feeling confident and physically fit. That's what I'm thinking about right now.
"I am aware that this cannot go on for ever. There is going to be eventually a change of generations. Some players are going to start playing better and be stronger. But until that time comes, I'm going to try to stay on the top for as long  as I can and fight for the biggest titles."
Djokovic said that Boris Becker, who joined his coaching team 16 months ago, had been a big factor in his recent successes. The Serb has won his last 10 Masters Series finals in succession.
"[Boris] has been contributing to my mental approach to these big matches and tournaments," he said. "We talk a lot about the way I need to handle emotions on the court and how I need to direct my thoughts and prepare myself for fighting and winning these trophies. I'm sure that he's been a big part of this success."
As for talk that he might eventually be regarded as one of the greatest players of all time, Djokovic said: "It's hard for me to judge if I deserve or not to be part of those discussions. But I still believe that I have many more years in front of me and, hopefully, I'll be able to deserve even more to be part of those discussions."
Reuse content