Novak Djokovic and Petra Kvitova know a thing or two about winning Wimbledon, which is probably why neither defending champion has changed their preparations as they head into this year's tournament, starting in nine days' time.
The sport's restructured calendar, which from this year gives players three weeks rather than two between the end of the French Open and Wimbledon, has enabled some to get more grass-court matches under their belt, but for many of the leading competitors it has been more important to take the chance to rest.
Djokovic will not be playing any warm-up tournaments in the build-up to Wimbledon, although he will be making his traditional appearance at next week's Boodles exhibition event at Stoke Park in Buckinghamshire. Meanwhile, Kvitova's only pre-Wimbledon appearance on grass will be at next week's Aegon International at Eastbourne, where 13 of the world's top 20 women will be competing.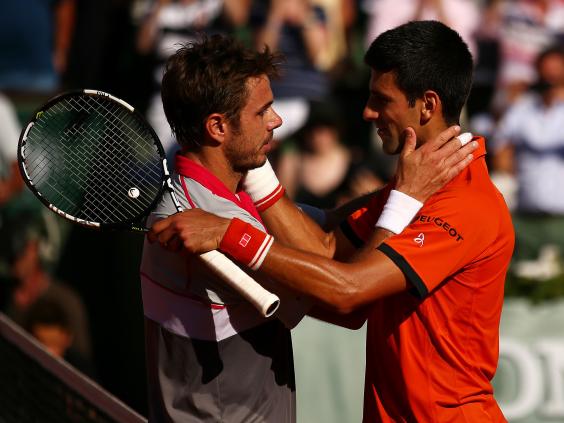 Kvitova and Djokovic followed the same paths last year and also when they won their first All England Club titles in 2011. Djokovic has not played a warm-up tournament before Wimbledon since he last competed at Queen's Club five years ago, while Kvitova is an Eastbourne regular. Before her first Wimbledon triumph in 2011 she reached the final at Devonshire Park before losing to Marion Bartoli, and before her second she lost to Heather Watson in the quarter-finals last year.
A number of the other top men and women have also declined the chance for more grass-court competition. Although Andy Murray and Roger Federer have been playing their usual warm-up events at Queen's Club and Halle respectively this week, Serena Williams will not begin hitting on grass until she arrives at the All England Club next week. Maria Sharapova will start Wimbledon having not played a competitive match since she lost to Lucie Safarova in the fourth round at Roland Garros three weeks ago.
Of the top men, Rafael Nadal is the only player who has substantially revised his pre-Wimbledon programme, which may have something to do with his early exits at the All England Club for the last three years in a row.
The Spaniard, who usually plays only one tournament before Wimbledon, won the event in Stuttgart last Sunday – his first on grass since he claimed his second Wimbledon title five years ago – and competed at Queen's Club this week. Although he lost first time out at Queen's, he also played two doubles matches and will go to the All England Club having played as many singles matches on grass as he has ever done going into the tournament.
While some players prefer to spend time on the practice court, Nadal likes to prepare for big tournaments by playing plenty of matches, though he also appreciates the need to recharge his batteries.
"I have been travelling a lot this year," the Spaniard said after his defeat at Queen's Club this week. "Since the beginning of the season I have been playing some more tournaments than usual, but at the same time I need my periods of rest. After Roland Garros, I only went back home for  two days before I flew to  Stuttgart to prepare for the tournament."
While some players have taken the opportunity to play more tournaments, Eugenie Bouchard might be among those wondering why she has bothered. Last year's Wimbledon runner-up, who is  in the field at Eastbourne,  lost first time out at both  's-Hertogenbosch and Edgbaston and has won only one of her last 11 matches.
The revised calendar, nevertheless, was designed as much to give the top players a chance to rest as to offer them more chances to hone their grass-court games. Even though Stan Wawrinka won only one match at Queen's Club this week, he was grateful that he had had the chance to get some rest time at home following his triumph at Roland Garros 13 days ago.
Simona Halep, the world No 3, also returned to competition this week feeling fully refreshed.
"I had two weeks off at home and that was enough for my body and my mind to recover," she said at the Aegon Classic at Edgbaston. "I just came here a few days before to get used to the grass before starting the tournament."
Reuse content