The question as to whether he can claim the greatest prize to have so far eluded him will be answered at the forthcoming French Open, but for the moment Novak Djokovic remains all but unstoppable. The world No 1 won his 21st match in a row here, beating David Ferrer 6-4 6-4 to book his place in today's Rome Masters final and continue his one-man assault on the game's major honours.
The only significant trophy on which the Serb's name has not been engraved since last October was the recent Madrid Masters, which he skipped in order to remain fresh for the bigger challenges that lay ahead. In the last seven months Djokovic has won the Australian Open, the year-ending Barclays ATP World Tour Finals in London and the Masters Series tournaments in Paris, Indian Wells, Miami and Monte Carlo. This year he has won more titles (four) and more matches (34) than any other player on the tour.
Djokovic was taken to three sets in each of his first three matches here, but the win over Ferrer suggested that he is peaking at the perfect time. Hitting some stunning returns, Djokovic broke serve once in each set to secure his ninth successive victory over the world No 8.
The world No 1's only complaint was the state of the court. "We had a couple of places where the holes are really deep," he said. "It's dangerous. This year, as I understand it, they started laying the court three weeks ago. That's not enough."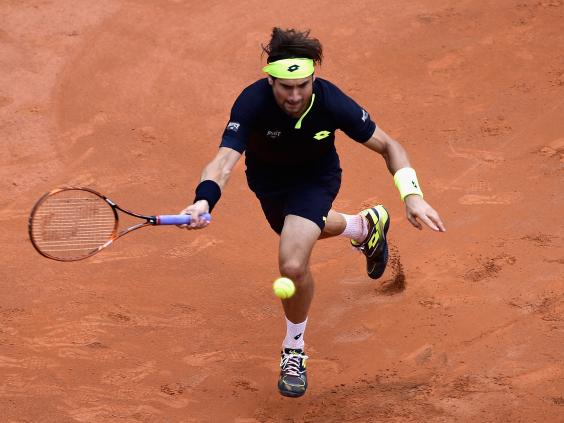 Djokovic needs to win the French Open, which starts next Sunday, to become only the eighth player to complete a "career Grand Slam" of the sport's four major trophies. As Rafael Nadal struggles to find his best form, the Serb will head to Paris as the bookmakers' favourite for the title for the first time.
Nadal, who has beaten Djokovic in all six of their meetings at Roland Garros, has won only one minor tournament since claiming his ninth French Open title last summer. He will go to Paris having failed to win a tournament in the European clay-court season for the first time since 2004. The Spaniard's last chance of extending that run came on Friday night with his quarter-final defeat to Stan Wawrinka, who was meeting his fellow Swiss, Roger Federer, in last night's second semi-final.
Djokovic said: "When you don't have a title behind you coming into Roland Garros things from a mental perspective are a bit different. But it's best-of-five-set matches, he's still one of the fittest guys on tour, he's still Nadal, who was won Roland Garros nine times."
As the world No 7 Nadal will be seeded outside the top four in Paris, which could mean he would have to beat Djokovic, Federer and Andy Murray to retain his title.
Maria Sharapova, who won two clay-court titles last spring en route to her third French Open title, will attempt to claim her first of 2015 here this afternoon. The world No 3, who beat her fellow Russian Daria Gavrilova 7-5 6-3 in yesterday's semi-finals, will take on Spain's Carla Suarez Navarro, who surprised Simona Halep 2-6 6-3 7-5.
Reuse content