Andy Murray has enjoyed more consistent success at the Australian Open than at any other Grand Slam tournament but ultimate success continues to elude him. Murray's fourth appearance in the final here in the last six years ended in familiar fashion as he was beaten 7-6, 6-7, 6-3, 6-0 by Novak Djokovic in a gruelling contest full of exceptional tennis and high drama.
Djokovic, who became only the second man in history to win the title five or more times, was presented with the winner's trophy by Roy Emerson, the only man ahead of him on the all-time list with six titles. There have been times in this tournament when the world No 1 has looked below his best, especially when he laboured to beat Stan Wawrinka in the semi-finals, but like so many great champions he has the knack of finding a way to win even when he is struggling.
Although Murray won his two Grand Slam titles – at Flushing Meadows in 2012 and at Wimbledon the following year – with Djokovic on the other side of the net, the Serb has now beaten him five times in a row. Most tellingly of all, Djokovic has won all four of their meetings here, three of which have been in finals.
Australian Open men's final - in pictures
Australian Open men's final - in pictures
1/12 Australian Open men's final

Murray's girlfriend Kim Sears wore this top in response to being caught swearing in his semi-final win over Tomas Berdych

Getty Images

2/12 Australian Open men's final

A member of security (bottom) prepares to pull down a banner displayed by protesters (wearing white shirts) in the stands. Two women were later arrested

GETTY IMAGES

3/12 Australian Open men's final

Murray's coach Amelie Mauresmo looks on in shock as the Briton falters in the fifth set, going down 6-0

GETTY IMAGES

4/12 Australian Open men's final

Djokovic celebrates Championship point

5/12 Australian Open men's final

A distraught Murray takes a seat after his match

6/12 Australian Open men's final

Djokovic holds his trophy next to runner-up Murray

GETTY IMAGES

7/12 Australian Open men's final

Murray looks on as Djokovic is presented with the title

8/12 Australian Open men's final

Djokovic poses with his trophy - winning the Australian Open title for the fifth time

9/12 Australian Open men's final

Djokovic's coach Boris Becker applauds from the stands

10/12 Australian Open men's final

A downbeat Murray talks to the press

11/12 Australian Open men's final

Djokovic raises a celebratory toast in his press conference

12/12 Australian Open men's final

Djokovic is all smiles in the locker room
Despite his disappointment Murray should draw encouragement from his performances here. This was his first appearance in a Grand Slam final since he won Wimbledon and some of his tennis over the last fortnight has been his best since he underwent back surgery at the end of 2013. One of his rewards will come with today's publication of  an updated world rankings list, in which he will climb back to No 4 behind Djokovic, Roger Federer and Rafael Nadal, the three other members of the "Big Four" who have dominated the sport for so long.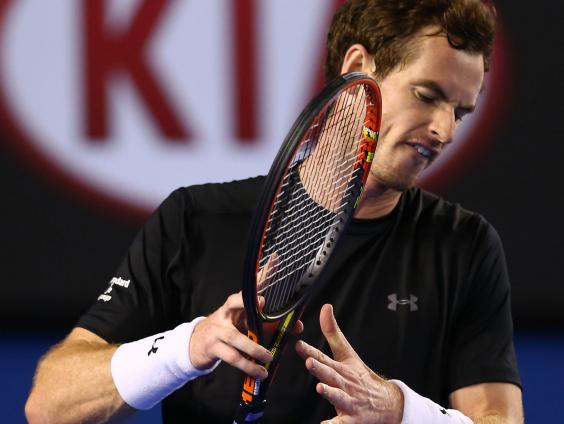 The final was desperately tight until Murray let the third set slip from his grasp, but in the end it was Djokovic who showed the greater mental and physical strength to win his eighth Grand Slam title. The way in which he closed out the match by not dropping a game in the winning set was an echo of his victory over Wawrinka 48 hours earlier.
The only odd aspect of Djokovic's victory was the way in which he recovered so quickly in two sections of the match when he appeared to be out on his feet. The Serb dropped his serve at the start of both the second and third sets, when he seemed barely able to move, but on each occasion he recovered at lightning speed. Murray might have been called a "drama queen" in the past but if anyone deserved that label here it was not the Scot.
At the presentation ceremony Murray hailed Djokovic's "fantastic, incredible and thoroughly deserved record" in the tournament.  The Scot said he would return here in the future and hope for "a slightly different outcome".
Murray said he and his entourage had put in a lot of hard work to get back to the top of the sport after a "difficult year" in 2014. "Unfortunately I didn't quite do it tonight, but I was a bit closer than I was a few months ago and will keep working hard to get there," he said.
This has been one of the coolest Australian Opens for years and the tournament finished with another chilly and overcast day. A stiff breeze blew through the court and from the start of the final there were dark clouds scudding across the sky.
An 11-shot rally on the very first point was an indication of what was to come. The match quickly settled into a familiar pattern as neither player was able to dominate on serve due to the quality of the opponent's returns.
The first set took 72 minutes, but might have taken a different course if Djokovic had not saved three break points from 0-40 down in the third game. In the following game it was Murray's turn to go 0-40 down and Djokovic did not waste his opportunity, converting his second break point with a superb forehand return winner.
With Djokovic serving at 4-2 Murray finally converted a break point at the sixth attempt, which he celebrated with a big roar. As he has done so often in the past, however, Murray dropped serve immediately after the break, playing a loose game as Djokovic set up the opportunity to serve for the set. It was typical of Murray, nevertheless, that he came out in a more attacking mood in the following game and broke once again.
Murray appeared in command of the tie-break when he led 4-2, but a double fault and some loose play let Djokovic get back in contention. At 5-5 Murray put what should have been a routine volley beyond the baseline before Djokovic converted his first set point when the Scot netted a backhand return.
It was a disappointing end to more than an hour of hard labour for Murray, but at the start of the second set Djokovic suddenly wilted. For no apparent reason the Serb repeatedly stumbled, almost as if he had lost control of his legs. Bizarrely, however, his difficulties lasted only two games. From 2-0 down Djokovic went 4-2 up.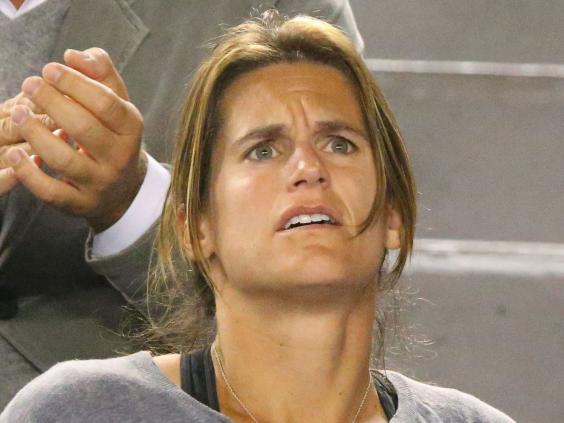 Djokovic won 13 points in a row in the middle of the set before Murray steadied the ship to trail 4-3. At that point there was a five-minute delay as a number of political protestors were evicted from the stadium, but the break gave Murray the chance to regain his focus.
On the resumption Murray broke back to 4-4 and two games later he had a set point on Djokovic's serve, only to put a poor backhand in the net. At 5-5 it was Murray's turn to save three break points, but he played a much better tie-break than at the end of the first set and won it 7-4. After two hours and 32 minutes of ferocious competition, it was effectively time for the two men to begin a three-set match to decide the destination of the title.
It was hard to work out what was going on as Djokovic again appeared to be in physical difficulty at the start of the third set. Once again Murray went 2-0 up and once again Djokovic staged an apparently instant recovery. The world No 1 won three games in a row and when Murray served at 3-4 the Scot played perhaps his worst service game of the match. After dropping serve on a double fault Murray slammed his racket to the floor in anger.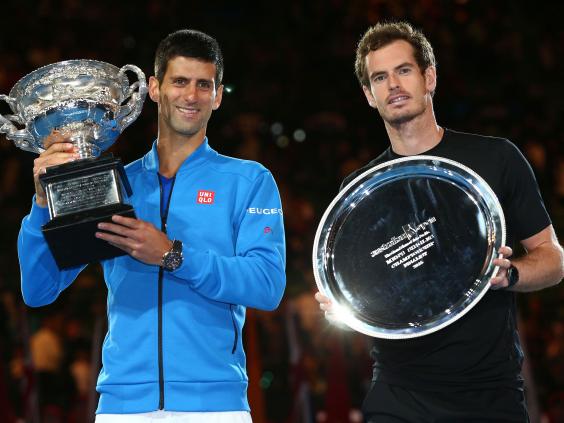 Djokovic served out for the third set and broke in the opening game of the fourth. It quickly became clear that the Serb was the stronger man by this stage and he ran away with the closing set, taking it in just 28 minutes after winning 36 of the last 49 points. It was the first time in Australian Open history that the last set in a men's final had ended 6-0. When Murray put a backhand in the net on the second match point Djokovic did not so much celebrate as puff out his cheeks in relief.
At the presentation ceremony Djokovic wished Murray success in the future. "You're a great competitor, you fight a lot," the Serb said. It takes one to know one.
Reuse content