The French Open, where victories have to be ground out on the energy-sapping red clay, can be the hardest Grand Slam to win. It took Roger Federer 11 attempts to lift the Coupe des Mousquetaires and he waited five years to complete his career Grand Slam of the sport's four major titles in Paris.
He finally did so by winning in 2009, but only after Robin Soderling had eased his path by knocking out Rafael Nadal, who had beaten the Swiss in the three previous finals.
If Novak Djokovic completes his Grand Slam collection here this afternoon he will have done it the hard way. In the quarter-finals the world No 1 knocked out Nadal, the nine-times champion; in the semi-finals he beat Andy Murray, who had been the only other player not to lose a match on clay this year; and in today's final he faces Stan Wawrinka, who is one of only three players (along with Juan Martin del Potro and Marin Cilic) other than the sport's so-called "Big Four" to win a Grand Slam title in the past 10 years.
While Federer, Nadal, Djokovic and Murray have dominated the sport for more than a decade, it has been only in the past four years that the 28-year-old Serb has emerged from the shadow of two men who are acknowledged as all-time greats of the sport. With eight Grand Slam titles to his name, Djokovic still has some way to go before he catches Federer or Nadal, who have won 17 and 14 respectively, but his status as the best current player is unquestioned.
Djokovic has won seven of the previous 17 Grand Slam tournaments and finished runner-up in five more of them. Having transformed his health by going on a gluten-free diet, he has become one of the game's most durable performers. He has also proved wrong all those who doubted the wisdom of his appointment of Boris Becker as coach.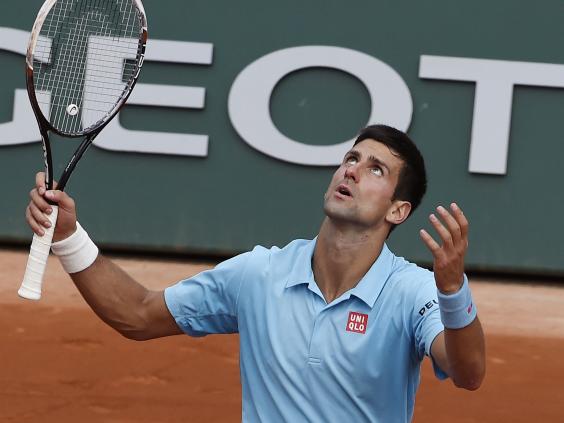 Djokovic's mental strength is immense. "He regroups well during matches," Murray said yesterday. "He didn't at the beginning of his career, and now it's something that he does extremely well, physically and mentally."
Djokovic admits that he has put too much pressure on himself to win here in the past. He has tried hard to be more relaxed this year, but Amélie Mauresmo, Murray's coach, said last night: "He is very tense, very tense. It is therefore going to be interesting to see how tomorrow will go. Everyone sees it: in his attitude, in his shots."
Although Djokovic will be the clear favourite, he will not be underestimating Wawrinka. Djokovic has won 16 of their past 17 meetings, but the 30-year-old Swiss beat him in the quarter-finals en route to his only Grand Slam title in Melbourne last year. Their past four meetings in Grand Slam tournaments have all gone to five sets.
Wawrinka (below), a former junior champion in Paris, said: "He's been amazing so far this year, winning every big title and playing his best tennis ever. But he has never won the French Open, and for sure we're both going to be nervous.
"I know that he's not always happy to play me when I can play my game. When I can play my aggressive game he's not feeling his  best normally."
Reuse content