What a difference a year makes. Twelve months ago Heather Watson went into the US Open dreading the prospect of playing her opening match against Simona Halep.
The 22-year-old from Guernsey, having returned to competition too quickly following glandular fever, had suffered a series of disappointing defeats and was facing a rapidly rising opponent who had won four titles in the previous two months. Even if Watson performed creditably in a three-sets defeat, it was a match to endure rather than enjoy.
Fast forward to this week and Watson can hardly wait to get on court to play her opening match against Romania's Sorana Cirstea. Having fallen to No 161 in the world rankings six months ago, Watson is back up to No 45 and relishing her return to form. A change of tactics, from her naturally defensive style to a more attacking game, has reaped rapid dividends. "I wasn't feeling very positive about my game," Watson said here last week as she recalled her opening match last year. "I came in with zero matches. I'd lost first round in all of them. Halep was coming up. She had just come off a tournament win. I'd say my confidence wasn't very high."
If it was a low point for Watson, there were nevertheless positives that she could take from her loss. She remembers the defeat as one of the first occasions she went on court determined to play a more attacking game. As a natural athlete, but one who lacks the power of some of her rivals, Watson had achieved her early successes by chasing down every ball and forcing her opponents into mistakes.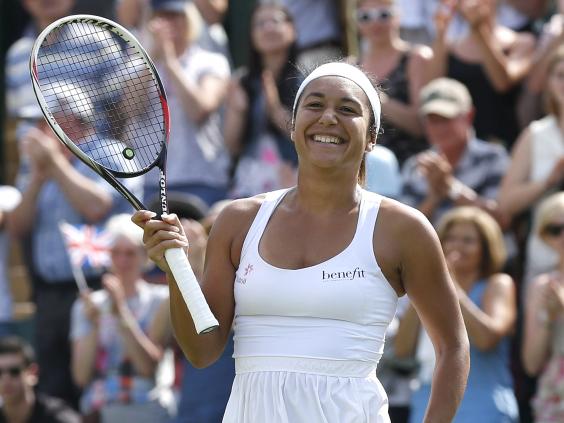 When Watson appointed the Argentinian Diego Veronelli as her coach at the end of last year, she told him that she wanted to adopt a more aggressive style. She admits now that it was the example of another player that inspired her to change her game, though she coyly refuses to reveal the player's identity. "I didn't want to rely on running for hours out there," Watson said of her new approach. "Diego agreed. He also wanted to add things to my game: slices, coming to the net and volleying. We both totally agreed and we've been working on it together."
Watson has enjoyed the experience. "It's because you're in control, you make it happen, you're not hoping or wishing and you're not killing yourself physically out there, just running side to side," she said. "I definitely enjoy it a lot more. I love coming into the net and finishing the point with a volley. It gives you more satisfaction."
Were there times when she had to tell herself not to fall back into her old ways? "Because I know I can run and I can make balls, I think that sometimes I do rely on that and not use an attacking game. But now I'm learning the right times when I should play how I used to play and when I should play more aggressively."
She added: "I feel like now I'm very different to when I was in the top 50 before. Then I got there with a different game style, hoping my opponent was going to miss. Now I'm getting there through me playing well and making those shots. I feel I can go so much higher than I am now. I'm just a lot more positive about it, mentally and with my game at the moment. It will take me a lot higher."
In the last six months Watson has won two International Tennis Federation tournaments, reached the semi-finals at Eastbourne and claimed some notable scalps, including those of two top 20 players in Flavia Pennetta and Dominika Cibulkova.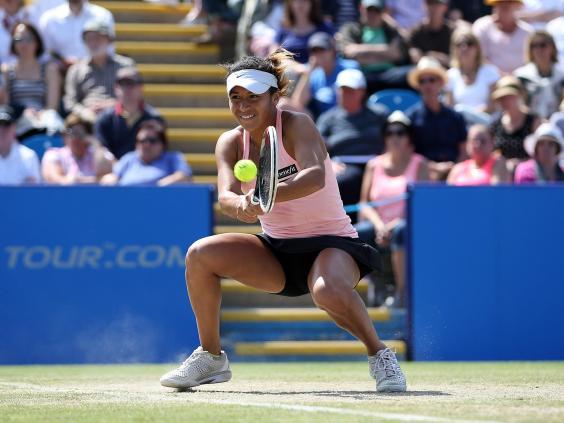 "From the beginning of the year I've been quite consistent with my results and that's what I wanted," Watson said. "I wanted to get back to where I was. I just wanted to find my game again because last year I wasn't in a good place. I couldn't find my game on the court and I wasn't very positive. But now I'm a totally different person."
Watson has climbed 116 places in the world rankings since February. "I'm happy to see my ranking moving up, but every time I look at it, it's still not good enough," Watson said. "I think that's a positive thing and it keeps me motivated."
With few ranking points to defend between now and the end of the year, Watson is targeting a seeding at the Australian Open in January, which would require her to be ranked inside the world's top 32. She can make a first step towards that goal this week, though a huge effort will be needed if she is to achieve the target she set herself this year of reaching the second week of a Grand Slam tournament for the first time.
If Watson beats Cirstea, who is the world No 81, her second-round opponent is likely to be Eugenie Bouchard, the Wimbledon runner-up.
Watson made her breakthrough in 2009, when she became the first Briton to win the US Open girls' title, but she has yet to win a match here as a senior, having been handed nightmare first-round draws on her first three visits. In 2011 she lost to Maria Sharapova (then the world No 4), in 2012 to Li Na (world No 8) and in 2013 to Halep (world No 19).
Nevertheless, Watson still loves playing here. "Every year I think: 'I won the juniors here.' So I always actually think about that, not the senior results I've had. And even though I've lost when I've played here I've played well. I played Sharapova the first year and played quite well. I played well against Halep last year.  I love the courts here. I love how it suits my game. And I do love New York as a city."
She added: "I just love food. I like to try different restaurants here, a new one each year. Also comedy shows. I think they are so good here. I went to one in London and I thought it was terrible. I want to go to a Broadway show this year, too."
Last year Watson might have been tempted to buy tickets for Les Miserables. Maybe this year she will go for The Real Thing or The Good and the True.
Reuse content