Roger Federer has set his sights on claiming an eighth Wimbledon title this summer after the latest chapter of his remarkable 2017 ended with him winning the Miami Open.
The 35-year-old's success in Florida, coming with a straight sets victory over Rafael Nadal, means he has won the biggest three tournaments of year following titles at the Australian Open and Indian Wells - all after missing the final six months of last season with a knee injury.
Federer has confirmed he will now skip the majority of the clay-court swing and not play another tournament until the French Open, which begins on May 22, but his attention is already on the third grand slam of the year five weeks later.
"Wimbledon has to be the biggest goal now," Federer, who last won at SW19 in 2012, told reporters.
Federer vs Nadal, Miami Open final 2017 - in pictures
Federer vs Nadal, Miami Open final 2017 - in pictures
1/14 Roger Federer wins the Miami Open

Roger Federer denied Rafael Nadal a first Miami Open title as he powered his way to a straight-sets victory in Sunday's final.

Getty Images

2/14 The two veterans before the match

Federer was attempting to win his third Miami Open title; Nadal his first.

Getty

3/14 Federer starts brightly

Federer started the match in fine form, with his first serve averaging above 120mph.

Getty Images

4/14 Nadal fights fire with fire

But Nadal also came racing out the blocks, impressing with his powerful groundstrokes.

Getty Images

5/14 A powerful return of serve

Key to Federer's success at Indian Wells and Miami has been his aggressive return of serves, and Nadal seemed taken aback with how quickly he was stepping in to blast the ball back down the line.

Getty Images

6/14 Nadal broken

Eventually Nadal's serve was broken, with Federer taking a 1-0 lead.

Getty Images

7/14 Federer serves

The second set followed a similar pattern to the first, with Federer's serve magnificent.

Getty

8/14 Nadal in action

Again Nadal started well, but again he was broken late on during the set.

Getty

9/14 Federer races to return on his forehand

Federer forced an error to take a 5-4 lead and the opportunity to serve for the title.

Getty

10/14 Relief

Federer successfully served for the match and looked visibly moved to win his first Miami Open title in over a decade.

Getty Images

11/14 Crandon Park erupts

The ageing Crandon Park erupted when Federer sealed the title, despite large number of Latin America fans urging Nadal on.

Getty

12/14 Posing with the ballboys and girls

The champ poses for a celebratory picture.

Getty Images

13/14 Trophy time

And there is a burst of orange ticker-tape when he collects his trophy.

Getty Images

14/14 Success

Victory means Federer has now completed the Sunshine Double three times in his career.

Getty Images
"The American hard courts I guess as well. The French Open, to some extent, we will see what happens, there is no pressure there really.
"All the grass is important to me. The second part of the season is the big priority.
"My knee was strange on the clay last year so maybe being away from it as much as possible is a good thing as well, even though I don't think it was because of the clay as such.
"But my physio, my fitness guy, thought that could be a good thing not to be too much on clay. I feel very comfortable, very confident it is the right decision.
"I will probably stay on hard courts for the next few weeks and I will get on the clay two weeks before the French. Hopefully I will play the French and then for me that's when the season really starts."
Federer's stunning start to the year means he can cherry-pick his schedule for the rest of 2017. And with over 4,000 ranking points already in the bag and no points to defend after Wimbledon, a return to the world number one spot is a strong possibility.
The 6-3 6-4 win over old rival Nadal was his 19th from 20 matches this season, a "dream" like run of form.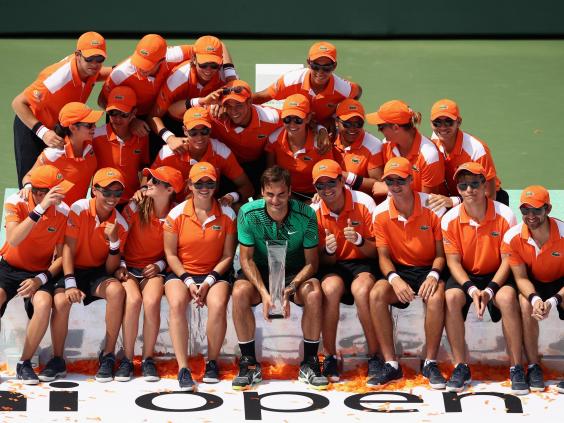 "For me, the dream continues. It's been a fabulous couple of weeks here in Miami, Indian Wells was beautiful as well," he added.
"Of course I'd like to thank my team as well. What a start to the year, I can't believe it."
For Nadal it was a fifth loss in the Miami Open final, the first of which came against Federer in 2005.
He followed that up with defeats in 2008, 2011, 2014 and now 2017 and is desperate to be standing in Federer's place one day.
He said: "It's disappointing for me that I have been trying during all my career. Every three years, I am here in this position but always with the smaller trophy.
"I am going to keep trying hard for the next couple of years. Hopefully I will not have to wait three more years to be in that position fighting again for the title."
PA
Reuse content