One young US school kid already has a story to regale his grandchildren with: the time he lobbed Roger Federer at Madison Square Gardens.
The 17-time Grand Slam champion from Switzerland was left as red-faced as his country's flag after his opponent, Grigor Dimitrov, offered a young boy from the audience a chance at duelling with the great Federer.
The Swiss champ was playing the Bulgarian in a BNP Paribas Showdown match in New York on Tuesday when Dimitrov allowed the young kid, wearing jeans and a hoodie, a chance to play a point against arguably the greatest tennis player ever.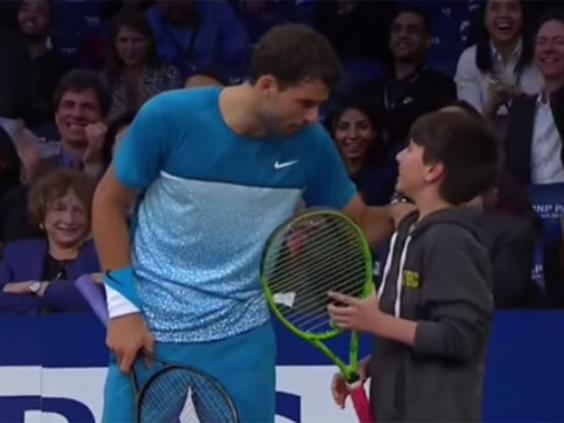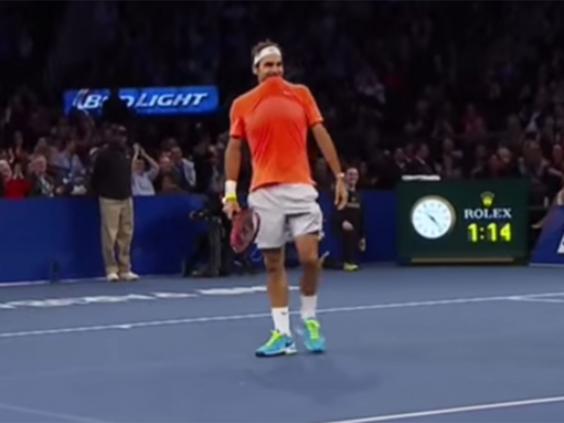 After confidently returning Federer's serve with a forehand, he then follows it up with another forehand and a backhand before lobbing the Swiss master after he approached the net. Dimitrov and others in the audience raise their hands in amazement and joy as the lob lands perfectly inside the baseline.
Roger Federer v Rafael Nadal - the greatest meetings
Roger Federer v Rafael Nadal - the greatest meetings
1/6 Nasdaq 100-Open, Miami 2005 - Federer wins 2-6 6-7 (4-7) 7-6 (7-5) 6-3 6-1

'I haven't dug out many matches in my career and to dig it out against Nadal, I'm extremely happy - and exhausted.' - Federer

It was only the second professional meeting between the two players but it proved to be a memorable one as a gruelling fight-back from Federer saw him beat a fresh-faced 18-year old Nadal for the first time.

It was a difficult match for the Swiss who rather uncharacteristically lost his cool and threw his racket in frustration after a series of errors. But he recovered well and put in a trademark performance to clinch the victory as a young Nadal began to fade.

2/6 ATP Masters Series Rome 2006 - Nadal wins 6-7 (0-7) 7-6 (7-5) 6-4 2-6 7-6 (7-5)

An enthralling five-hour battle saw Nadal edge Federer in a final which could have easily gone either way.

Nadal beat the number one seed and further enhanced his reputation as the world's best clay court player by moving to 53 matches unbeaten on the surface. He refused to be overawed by the Swiss and showed his trademark battling qualities to give him the momentum to clinch the final set.

3/6 Wimbledon Final 2007 - Federer wins 7-6 (9-7) 4-6 7-6 (7-3) 2-6 6-2

'He's a fantastic player and he's going to be around so much longer so I'm happy with every one I get before he takes them all!' - Federer

This proved to be Federer's toughest test during his dominant Wimbledon years where he won five titles in a row but he overcame a tenacious performance from Nadal who fought to the last point.

But Federer was in supreme form and entered the record books alongside Bjorn Borg after claiming his fifth successive Wimbledon title.

4/6 Wimbledon Final 2008 - Nadal wins 6-4 6-4 6-7 (5-7) 6-7 (8-10) 9-7

'It is a dream to play on this court, my favourite tournament, but to win I never imagined.' - Nadal

Lauded as one of the greatest tennis matches ever played, Nadal triumphed in what remains the longest ever Wimbledon men's singles final and ended Federer's hopes of becoming only the second player to win six successive Wimbledon titles as Nadal became the first man since Bjorn Borg in 1980 to win back-to-back French Open and Wimbledon titles.

Nadal managed to take the first two sets but, after a rain-delay, a resurgent Federer took the next two and forced a fifth set decider which the match had looked destined for from the start.

The scintillating final brought an end to Federer's reign as the undisputed king of tennis and followed Nadal's resounding win over him at Roland Garros the previous month.

5/6 Australian Open Final 2009 - Nadal wins 7-5 3-6 7-6 (7-3) 3-6 6-2

'I've felt better. Maybe I'll try later. God, it's killing me.' - Federer

The pair met again in what was another emotionally draining five-set blockbuster and Nadal followed up his Wimbledon triumph over Federer with another gruelling victory, this time in Melbourne.

Nadal had only two days to recover from his five hour victory over Fernando Verdasco which was then the longest ever match at the Australian Open. Despite Nadal's exhaustion, it was Federer who started slowly in this encounter and he struggled to find his top form throughout the match but managed to force a fifth set.

The defeat meant Federer would have to wait until Wimbledon later that year to overtake Pete Sampras's record haul of 14 Grand Slam titles.

6/6 Australian Open Semi-Final 2012 - Nadal wins 6-7 (5-7) 6-2 7-6 (7-5) 6-4

'I haven't lost in five months or something so it's not that bad. Don't feel too sorry for me.' - Federer

Despite dropping the first set, Nadal produced some excellent tennis to end Federer's 25-match winning run and left his rival still searching for a 17th Grand Slam title.

Nadal's involvement in the tournament had been uncertain following a knee injury but he produced a composed performance to finish with 34 unforced errors to Federer's 63. Nadal went on to lose a marathon match against Novak Djokovic in the final.
The grinning kid high-fives the Bulgarian before returning to the stands. Federer is seen biting his shirt in embarrassment after the unexpected tennis lesson.
Dimitrov was obviously inspired by the young kid's talents, winning the match 6-2, 1-6, 7-5.
Reuse content