Roger Federer continued his recent mastery of Rafa Nadal when he beat his great rival 6-3 6-4 in the final of the Miami Open on Sunday.
Federer, peerless this year after returning from a six-month injury absence, broke once in each set on the Crandon Park hardcourt for his fourth consecutive victory over the Spaniard.
Nadal still leads their career head-to-head record at 23-14, due entirely to his superiority on clay, but Federer now leads 10-9 on hardcourt.
Federer vs Nadal, Miami Open final 2017 - in pictures
Federer vs Nadal, Miami Open final 2017 - in pictures
1/14 Roger Federer wins the Miami Open

Roger Federer denied Rafael Nadal a first Miami Open title as he powered his way to a straight-sets victory in Sunday's final.

Getty Images

2/14 The two veterans before the match

Federer was attempting to win his third Miami Open title; Nadal his first.

Getty

3/14 Federer starts brightly

Federer started the match in fine form, with his first serve averaging above 120mph.

Getty Images

4/14 Nadal fights fire with fire

But Nadal also came racing out the blocks, impressing with his powerful groundstrokes.

Getty Images

5/14 A powerful return of serve

Key to Federer's success at Indian Wells and Miami has been his aggressive return of serves, and Nadal seemed taken aback with how quickly he was stepping in to blast the ball back down the line.

Getty Images

6/14 Nadal broken

Eventually Nadal's serve was broken, with Federer taking a 1-0 lead.

Getty Images

7/14 Federer serves

The second set followed a similar pattern to the first, with Federer's serve magnificent.

Getty

8/14 Nadal in action

Again Nadal started well, but again he was broken late on during the set.

Getty

9/14 Federer races to return on his forehand

Federer forced an error to take a 5-4 lead and the opportunity to serve for the title.

Getty

10/14 Relief

Federer successfully served for the match and looked visibly moved to win his first Miami Open title in over a decade.

Getty Images

11/14 Crandon Park erupts

The ageing Crandon Park erupted when Federer sealed the title, despite large number of Latin America fans urging Nadal on.

Getty

12/14 Posing with the ballboys and girls

The champ poses for a celebratory picture.

Getty Images

13/14 Trophy time

And there is a burst of orange ticker-tape when he collects his trophy.

Getty Images

14/14 Success

Victory means Federer has now completed the Sunshine Double three times in his career.

Getty Images
Federer improved to 19-1 this year, winning the Australian Open in five sets over Nadal, and Paribas Open in straight sets over Stan Wawrinka.
His only loss was at the hands of Russian Evgeny Donskoy in the second round in Dubai. 
Relive all of the action below...
What time is it?
Federer and Nadal will meet in the final of the Miami Open on Sunday 2 April.
The players are due on court shortly after 6pm.
Where can I watch it?
Sky Sports 3 will be showing live coverage of the eagerly-awaited match, with their programme beginning at 6pm.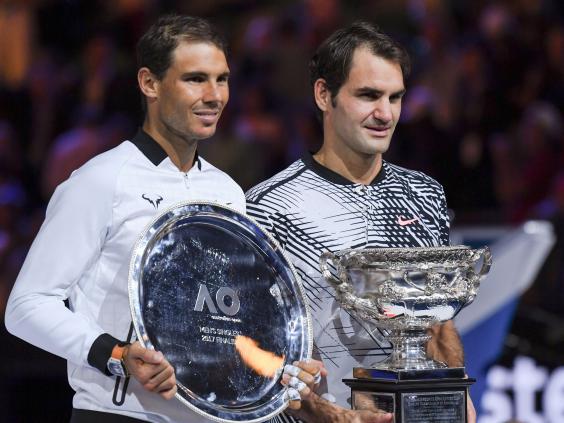 Maria Sharapova's comeback divides opinion
Maria Sharapova's comeback divides opinion
1/17 The Maria Sharapova wildcard debate

A number of current and former tennis pros have weighed in with their opinion on whether or not Sharapova should be handed a series of wildcards as she returns from her suspension for taking the cardiac drug meldonium.

AFP/Getty

2/17 Eugenie Bouchard

She's a cheater and to me, I don't think a cheater in any sport should be allowed to play that sport again.. I think from the WTA it sends the wrong message to young kids: 'Cheat and we'll welcome you back with open arms'.

Getty

3/17 Caroline Wozniacki

"First of all I think she's a good draw for tennis, women's tennis in general. But two, I think it's questionable allowing - no matter who it is - a player that is still banned to play a tournament that week. So from the tournament side I think it's disrespectful to the other players and the WTA. Obviously rules are twisted and turned in favour of who wants to do what."

Getty

4/17 Victoria Azarenka

"She has such a huge fanbase and obviously that's going to bring more attraction to see how she will do, so I think it's good for tennis, good entertainment."

Getty

5/17 Dominika Cibulkova

"I don't think it is right but what can we do about it? She's still banned but she can come on site on Wednesday, that's pretty strange."

Getty

6/17 Angelique Kerber

"It's a little bit strange for the players that she can walk on site on Wednesday and she can play on Wednesday."

Getty

7/17 Heather Watson

"From the tournament standpoint, she will bring in the crowds and make money. But, from a moral standpoint, you should have to work your way back up if you've been on a ban. It just seems a bit easy."

Getty

8/17 Simona Halep

"Her return is good for tennis, she is impatient, she wants to play and win."

Getty

9/17 Venus Williams

"I think the bodies have made their decision, and she has an opportunity to come back and continue her career. I think she should be allowed to continue that. If people want to give her wildcards, I guess that's the tournaments' decision as they weigh other wildcards. It will be nice to have her back in the game."

Getty

10/17 Svetlana Kuznetsova

"I understand, because if we talk about cheaters, people who cheat, you would say, 'Why would cheaters get a wildcard?'. But then if there is some mistake, you know, it's a little bit of a different story."

Getty

11/17 Andy Murray

"I think you should really have to work your way back."

Getty

12/17 Roger Federer

"It´s a tough one. What do you want me to tell you? Like you said, because it´s the first, it kind of is what it is. You know, some people will like it; some people won´t. She paid the price for what she did, so that´s all you can say there."

Getty

13/17 Jo-Wilfried Tsonga

"It's like if you give a sweet to a kid who did a bad thing, it's going to do it again. It sends the wrong message."

Getty

14/17 Andy Roddick

"If there's a smaller event that will benefit from having Maria, I don't begrudge them giving her the card. The Grand Slams are different. They're held to a higher standard because there's so much interest in them."

Getty

15/17 Nick Kyrgios

"I'm anti-anything that's performance-enhancing, massively against it. I'm not the one to say what [violators] should -- or shouldn't -- get afterwards, but it doesn't make sense to support people who cheat."

Getty

16/17 Jack Sock

I don't know. It's a tournament director's decision who gets [wild cards]. As a player, I have no say one way or another."

Getty

17/17 And as for Maria herself?

"I can't control what people say. To have nicer things to say about me in press conferences, what will that change to my tennis?"

Getty
How did the two men reach the final?
Roger Federer needed more than three hours to outlast Kyrgios 7-6(9) 6-7(9) 7-6(5) in a pulsating Miami Open semi-final on Friday to set up another mouthwatering final clash with Nadal.
The Swiss, who has won two of his last three tournaments including the Australian Open, had to dig deep to get through a second straight test after fending off a match point in his quarter-final victory over Tomas Berdych.
In the third round Federer beat Roberto Bautista Agut in straight sets, while he comfortably saw off Juan Martín del Potro in the third round in an impressive performance. The young American Frances Tiafoe was safely dispatched in the first match.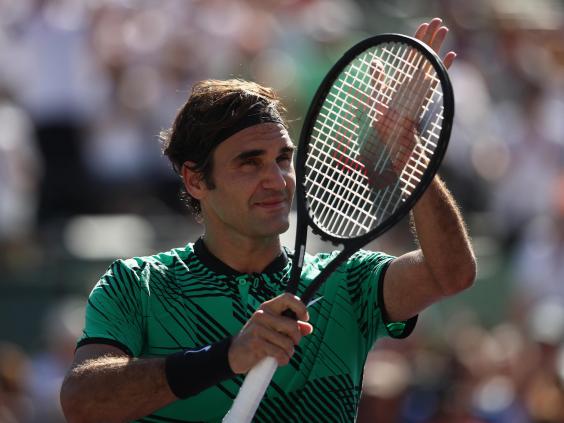 Nadal, who lost all four of his previous Miami Open finals, will be out to snap a run of three straight defeats against Federer, including in the Melbourne final and at Indian Wells.
The Spaniard has enjoyed a far smoother route to the final. He beat both Fabio Fognini and Jack Sock in straight sets, in the semi-finals and quarter-finals respectively.
The veteran Nicolas Mahut was swept aside in the fourth round, with Nadal recovering from a slight blip against Philipp Kohlschreiber – he was bagelled in the first set – to win in three. Dudi Sela was seen off with little trouble in the second.
What are they saying?
Roger Federer: "It's great winning this way, especially of course I remember the loss against him few years ago.
"I know I can't always show my fighting skills because everything else sort of takes over."
Rafa Nadal: "Winning here would be something great, and an important title I haven't won. I served well (today). That gives you calm when you have opportunities on the return."
Head to head record:
Overall:
P36. Roger Federer 13-23 Rafael Nadal.
Last five:
2017 Indian Wells Masters, hard-outdoor, R16, Federer, 6-2, 6-3.
2017 Australian Open, hard-outdoor, F, Federer, 6-4, 3-6, 6-1, 3-6, 6-3.
2015 Basel, hard-indoor, F, Federer, 6-3, 5-7, 6-3.
2014 Australian Open, hard-outdoor, SF, Nadal, 7-6 (4), 6-3, 6-3.
2013 Tour Championship-London, hard-indoor, SF, Nadal, 7-5, 6-3.
Further reading:
Odds:
Federer to win: 7/10
​Nadal to win: 15/13
Reuse content