Not so long ago you would have got very long odds on Andy Murray heading into the French Open unbeaten on clay and Rafael Nadal going there without a European title on the red stuff to his name, but these are changing times.
Murray, who pulled out of the Rome Masters with fatigue just hours before his scheduled third-round match here against David Goffin, will go to Paris having won all 10 of his matches on clay this year after winning his first titles on the surface in Munich and Madrid.
The world No 3, who played those matches – plus two doubles contests – in the space of 14 days in three countries, will rest at home this weekend before heading for Roland Garros, where competition starts in nine days' time.
Nadal, meanwhile, has to win three matches in the next three days to avoid going into the year's second grand slam event without a European title under his belt for the first time since 2004. The Spaniard, who faces Stan Wawrinka in the quarter-finals, might have to beat Roger Federer in the semi-finals and Novak Djokovic in Sunday's final if he is to win the title here for the eighth time.
Given his form of the last 11 months, that would be a tall order – since winning his ninth French Open last June the only title he has won was a minor clay-court event in Buenos Aires – but Nadal is accentuating the positives. Assessing his 6-4, 6-4 victory over John Isner, Nadal said that he had played "a fantastic match against a very tough opponent".
He added: "I played almost the perfect match. I created many chances and my serve was solid throughout. He was pushing me a lot on the return and I resisted well from the baseline. I didn't make many mistakes, I recovered some tough balls, my movement was good and I hit some very good passing shots. That's very important for my confidence."
Nadal admitted that he had been "on and off" earlier in the year but said that he was now having "a lot more good days than bad days". The Spaniard said that of the 13 matches he had played during the clay-court season only two were "bad" – his defeats to Fabio Fognini in the third round in Barcelona and to Murray in the final in Madrid.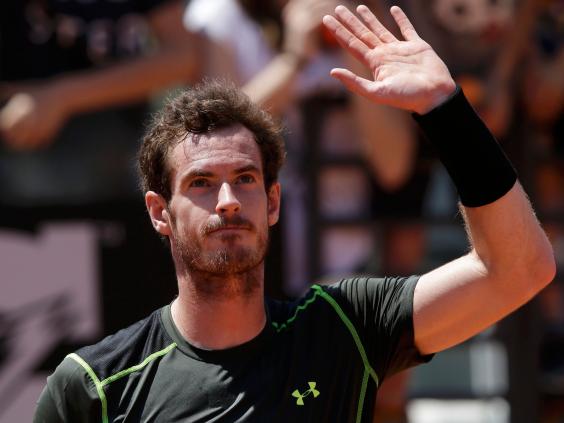 Murray said his succession of late finishes in Madrid last week – one of his matches ended at 3am – had contributed to his exhaustion. "I didn't expect to do what I've done the past few weeks," he said. "My body has never been through that before on the clay. It's a surface I've always struggled on physically.
"My body's always found the surface difficult. This year, it's been very good. I also don't want to risk making it worse. In the past, I've maybe trained too much."
He added: "It wasn't just about today's match. It was about the rest of the tournament and further down the line the possibility of getting sick and missing five, six or seven days."
Murray said he would head for the French Open in a "very positive" frame of mind given his recent results. "In tennis terms I would say that I'm playing the best I have on clay," he said.
"Going into the French Open having won a couple of tournaments and played some very good tennis is very encouraging for me – not just for the French Open but also for the rest of the year  as well."
Djokovic was taken to three sets for the second round in succession before beating the Brazilian Thomaz Bellucci, 5-7, 6-2, 6-3. The world No 1 faces a testing quarter-final against Japan's Kei Nishikori.
Federer beat Kevin Anderson 6-3, 7-5 and now plays Tomas Berdych, who silenced the noisy local fans by beating Fognini 6-3, 3-6, 7-6. In the remaining quarter-final, Goffin will now take on David Ferrer.
Within an hour of Murray's withdrawal, Serena Williams, the champion here for the last two years, announced that she was also pulling out of the event. It is the fifth time in the last 13 months that she has either retired hurt or withdrawn in the middle of a tournament.
The world No 1 said she had a problem with her right elbow and did not want to make the same mistake as last year, when she played through an injury here and then missed five days of training before the French Open, where she lost in the second round.
Maria Sharapova, who beat Bojana Jovanovski 6-3, 6-3, will now be the favourite to reach the final from the top half of the draw, while Petra Kvitova and Simona Halep are looking good in the bottom half. Kvitova beat Jelena Jankovic 6-3, 6-2 and Halep crushed Venus Williams 6-2, 6-1.
Reuse content