Serena Williams' extraordinary departure from Wimbledon last month remains somewhat of a mystery but the world No 1 gave every indication that her game is back in good working order, when she won the 61st title of her career in her comeback tournament in California.
Williams beat Germany's Angelique Kerber 7-6, 6-1 in the Bank of the West Classic final at Stanford to cap an excellent week in which she also beat Ana Ivanovic and Andrea Petkovic.
Kerber, who has now lost four finals this year, led 5-1 in the first set before Williams launched a typically bold recovery, saving two set points and winning the first five points of the tie-break, before running away with the second set.
The victory should put her in good heart as she prepares for the defence of her US Open title later this month. The 32-year-old American will be keen to end her season on a positive note following early defeats at the Australian and French Opens as well as Wimbledon.
It was Williams' exit from the All England Club that gave the most concern. Having lost to Alizé Cornet in the singles, she retired after only three games of her subsequent doubles match in which she appeared disoriented and upset. The official reason given was a "viral illness".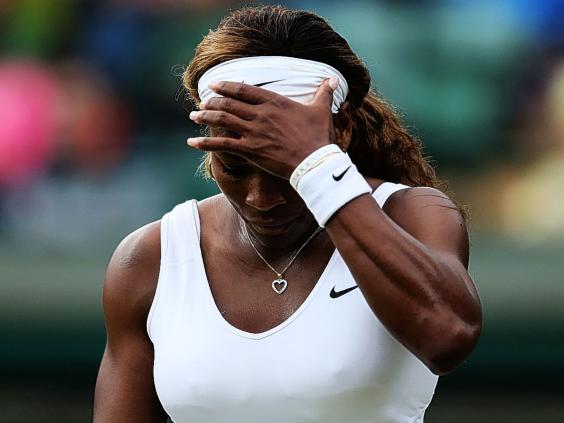 USA Today reported last week that Williams had been in bed for three days after Wimbledon and was initially ordered by doctors not to fly home. The newspaper quoted her as saying she had been "really, really sick" and would have tests later this year "for things that do run in the family". Williams' sister, Venus, suffers from Sjögren's syndrome, an incurable auto-immune disease that causes fatigue and joint pain.
There has inevitably been speculation about Patrick Mouratoglou's position as Williams' coach. The Frenchman, who admitted last month that Williams had been going through "a difficult period", was not with her at Stanford, though he has travelled to Montreal, where he will be working with her at this week's tournament. In Stanford, Williams paid tribute to her hitting partner and occasional coach, Sascha Bajin.
"I've been training hard all year and, hopefully, that pays off, especially after Wimbledon," Williams said. "I stayed positive here. This shows I'm moving in the right direction. Every week is a new week and all I can do is try and improve. For me it's all mental: being there, being positive and being good to myself."
Video: Venus Williams at the Rogers Cup

Heather Watson was due to play her opening match in Montreal last night. Like her first-round opponent, the Czech Republic's Tereza Smitkova, Watson earned her place in the draw via the qualifying tournament, in which the British No 1 beat Mirjana Lucic-Baroni and Tamira Paszek.
Svetlana Kuznetsova, the 2004 US Open champion, won her first title in four years when she beat Japan's Kurumi Nara 6-3, 4-6, 6-4 in the Citi Open final in Washington. "It feels like it's been too long," the Russian said. "After you win Slams, not winning tournaments is really hard."
Reuse content