Wim Fissette, the coach of Simona Halep, understands that much of the media interest in his charge has focused on an operation she underwent five years ago. The 22-year-old Romanian, who faces Britain's Heather Watson in the second round of the French Open here today, had breast reduction surgery when she was just 17 because she felt her body was hampering her tennis progress.
"It has been an important part of her career," Fissette, a Belgian who used to coach Kim Clijsters, said. "I guess it was the right decision. I did not see her then. I have seen some photos, but she took that decision and it was a good one. I understand that.
"Also in the Belgian newspapers it is the same thing. That's why she was famous. Let's hope she will win a Grand Slam and then they will start talking about the Grand Slams and not something else."
Win a Grand Slam? For those who follow tennis only casually that might seem like a bold suggestion, but Halep is No 4 in the world rankings and has won more titles in the last 12 months than any woman other than Serena Williams. With the world's No 1 and  No 2 players (Williams and Li Na) having already made their exit from the current tournament, Agnieszka Radwanska is the only higher-ranked player left in the draw here.
It was after a loss in the first round at this tournament last year, to Spain's Carla Suarez Navarro, that Halep, then the world No 57 and without a title to her name, embarked on a remarkable run. In the next six months she won tournaments in Nuremberg, 's-Hertogenbosch, Budapest, New Haven, Moscow and Sofia.
This year she has added the title in Doha, lost to Maria Sharapova in the final in Madrid and made the quarter-finals of the Australian Open, where she lost to the eventual runner-up, Dominika Cibulkova.
Halep won tournaments last year on hard courts, clay and grass. She said she would love to win Wimbledon because the tournament was so special but said she found grass "very fast".
Asked which Grand Slam tournament might give her the best chance of success, she said: "It's tough to say. I like the French Open, but I think I have a better chance to win on hard courts."
Romania has produced a number of successful players. Ilie Nastase was the first men's No 1 following the introduction of world rankings in 1973. Virginia Ruzici, who is now Halep's manager, won the 1978 French Open. Ion Tiriac, a contemporary of Nastase's who became one of the biggest movers and shakers in tennis, has helped Halep with wild cards in his capacity as the owner of the Madrid tournament.
Halep spent the first 16 years of her life in Constanta, on the Black Sea. Her own sporting hero was Gheorghe Hagi, the greatest footballer in Romanian history. Her father, Stere, was a professional footballer in Romania with the Sageata Stejaru club.
Ioan Stan, a tennis coach in Constanta, guided Halep's career from the time when she first picked up a racket at the age of four. Corneleu Idu, the owner of the main tennis club in Constanta, provided crucial sponsorship when she was a teenager.
Halep eventually moved to Bucharest, the Romanian capital. "We do not have many coaches in Constanta and once I got to 16 it was not possible for me to stay there," she recalled. "You just don't have many players to practise with. I went to Bucharest because there are a lot of players there."
Having become the world junior No 1 and won the girls' title at the French Open, Halep took the bold decision to have the breast reduction surgery. Standing just 5ft 6in tall and weighing 9st 6lb, she is now regarded as one of the best athletes in the women's game.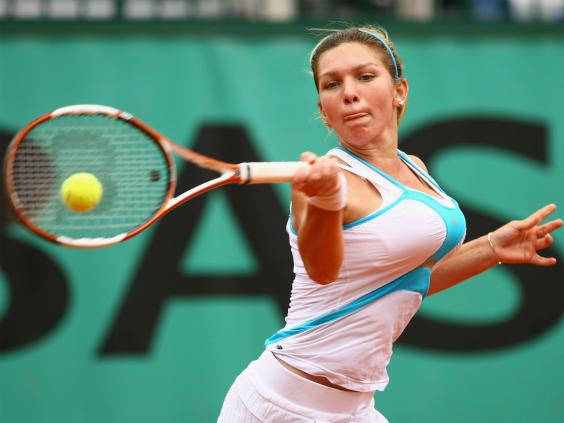 "She has footballers' legs," Fissette commented. "She is fast, she moves very lightly on the court, she always has very good balance and she makes very smart choices on the court."
He added that she did not have a weakness. "She is very intelligent on court," he said. "When things are not going right, she is trying to find a solution by herself. Especially on changeovers you see her thinking."
Watson, who lost to Halep in three sets at the US Open last year, knows all about the Romanian's ability. "She's come up through the rankings very quickly," the Briton said. "I'm not surprised at that because she's got a good game. She's very solid and makes a lot of balls."
Until she started working with Fissette earlier this year, Halep had learned only from Romanian coaches. "I am made by Romania 100 per cent and that's why I wanted to change something, to see how it is in other countries," Halep said.
"He [Fissette] hasn't come to Bucharest yet, but I think he will come after the French Open to practise there. So far we've only trained at tournaments and for a few days before them. He has told me many things that I now see in other ways from before. It's good preparation and I hope we will make more results together. He is young and he has the energy to train me and to speak with me."
Success has brought widespread recognition in her home country. "People recognise me on the streets," Halep said. "They congratulate me and say nice words. I'm enjoying this moment of my life because it's the best. I hope I will improve more in my game to be better and better day by day."
Reuse content