Dan Evans says the route to the top of the men's game can look like "a blocked path" when you are competing in the twilight world of Futures tournaments, but the 23-year-old from Birmingham also knows that a few key victories can quickly open up the route ahead.
As the world No 179 reflected on his remarkable first-round victory here at the US Open over the world No 12, Kei Nishikori, he remembered one of the players he was competing against at Futures tournaments in Britain at the start of last year.
Jerzy Janowicz and Evans, who were then the world No 221 and No 345 respectively, were both seeded at the Birkenhead Futures last January. Janowicz, a Wimbledon semi-finalist last month, is now the world No 14. "It just shows what you can do if you get your stuff together and win some matches," Evans said.
Evans, who will meet Australia's Bernard Tomic in the second round here tomorrow, was still pounding the Futures beat, which is the lowest level of tournaments on the men's tour, as recently as May this year. However, his season – and perhaps his career – was turned around by his performances in Britain's Davis Cup victory over Russia at Coventry in April. Evans won the deciding rubber against Evgeny Donskoy, who as world No 80 was then ranked 245 places above him.
The show of faith by Leon Smith, Britain's Davis Cup captain, in selecting Evans proved crucial. "It was good how it worked out," Evans said. "Every match when you win against someone who is much higher-ranked definitely gives you confidence. I rolled on from there. It's definitely been a good few months for me, though I know it's not just about seven months of the year. I need to do it for 11 months."
Smith's choice of Evans in Coventry ahead of the dependable and hard-working Jamie Baker was controversial. Evans has twice had his funding stopped by the Lawn Tennis Association because of his off-court behaviour and lack of commitment – on the first occasion he was seen out partying at 3am on the day of his second-round junior doubles match at Wimbledon – but Smith always believed he had the talent to succeed. Nevertheless, even at that Davis Cup tie Evans admitted he was "pretty bad at my job" and confessed that he did not train hard enough.
Since basing himself at the National Tennis Centre in Roehampton he has shown a much improved attitude. He feels he has benefited from the team spirit within British men's tennis at the moment. "It feels like everyone wants everyone to win now and everyone speaks to everyone else and supports everyone," he said. "I think that's what the NTC has been trying to do, getting everyone to be as one and train together and work hard together."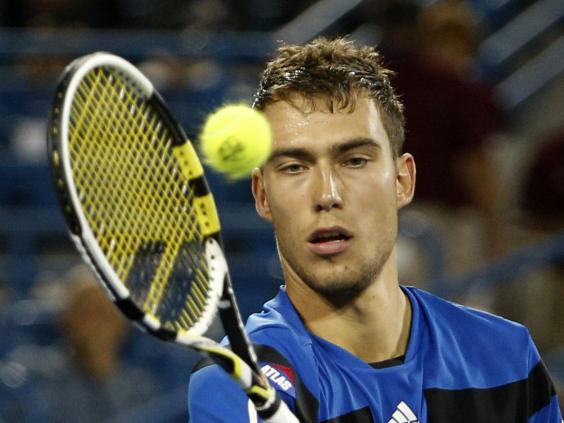 Evans' results have improved markedly, taking him into the world's top 200 for the first time. After Coventry he won a Futures tournament in Sweden, beat two top 100 players en route to the third round at Queen's Club, and knocked out six higher-ranked opponents in reaching two Challenger finals earlier this month in Vancouver and Aptos, California.
He has been in North America since the middle of last month, accompanied by an LTA-funded coach and fitness trainer, and has played 14 matches in the last five weeks. Three wins here last week saw him qualify for a Grand Slam tournament for the first time, his only two previous appearances – which both ended in first-round defeats – having been courtesy of Wimbledon wild cards.
"I've played so many matches it's like every day is rolled into one at the minute," Evans said. "It's been a good trip, and there are a few more days left."
Reaching the second round here guarantees Evans prize-money of at least $53,000 (about £34,000), nearly three times what he earned in the whole of last year, though he said he had barely thought about it. "Winning the matches means more than the money," he said. "I really want to be ranked in the top 100."
Not that being highly ranked is any guarantee of continued success. Janowicz today suffered a surprising first-round defeat, beaten in straight sets by Argentina's Maximo Gonzalez, while Grigor Dimitrov, another player who has made a major breakthrough in recent months, lost in five sets to Portugal's Joao Sousa.
Reuse content