Andy Murray did not reach a Grand Slam final this year for the first time since 2009 but two of the coaches who know him best believe he is on the brink of recapturing the form that saw him win Wimbledon last year. Brad Gilbert, who coached the Scot when he first broke into the world's top 10, and Darren Cahill, who has worked with him when he has been between coaches, both believe Murray should take positives from his defeat by Novak Djokovic here in the quarter-finals of the US Open.
Djokovic, who will meet Kei Nishikori in his eighth successive semi-final here, won 7-6, 6-7, 6-2, 6-4 after a hard-fought contest on Wednesday night that lasted more than three and a half hours. Murray played some of his best tennis since his back operation last year but faded in the closing stages after his back and hips stiffened up.
"For some reason his fitness isn't where it has been before," Gilbert said. "But something tells me, with the way Andy is, that he will address that and get that figured out. From what I saw in those first two sets his tennis was as good as I have seen him play since he won Wimbledon in 2013."
Cahill, who used to coach Andre Agassi and Lleyton Hewitt, believes Murray could be just one win away from his best form. "For certain parts of that match he may have actually played better than when he won Wimbledon," Cahill said.
"It's just a question of sustaining it now. That can come with a little bit of confidence. He's only beaten one top 10 player since Wimbledon last year. Obviously, the confidence is not where it needs to be for him to do it back-to-back-to-back, week in and week out, but that could only be one win away."
Boris Becker, Djokovic's coach, agreed. "For the first two and a half sets Andy hit the ball as cleanly as I have seen him do it in a long time," Becker said. "He hit the forehand hard, but maybe it took its toll. The serve, forehand and backhand package was Andy at his very best."
Murray's fitness, however, is a problem. The Scot has always been one of the fittest players and hoped he was returning to peak condition after his Miami training camp this summer.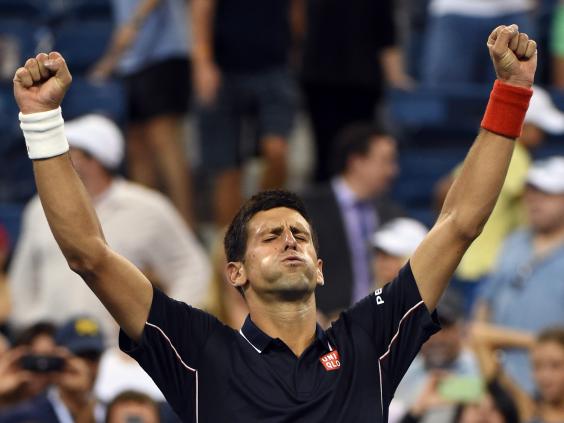 He admitted that Djokovic had been "physically better than me in the end" and added: "I was a little bit disappointed, to be honest, because I did train very hard. You do the work for these matches, so I would have liked to have felt a little bit better towards the end."
Mark Petchey, another of Murray's former coaches, believes the recovery from back surgery has been a major factor. "Any time you go under the knife as a sportsman, it's going to put a little fear into you," Petchey said. "You're not ever going to be 100 per cent sure that it's going to come out the same way as it was.
"Obviously, he put it off for as long as he could, understandably so. I think Rome this year, when he played Rafa [Nadal], was the first time we had seen him play with the kind of freedom and abandon that we've been used to. It felt like he had taken the brakes off in all departments, game-wise and everything else, so it's still a relatively short period of time that he's been playing with that kind of freedom in his back."
Cahill said: "You can train as hard as you want but it's completely different when you walk out against the world No 1 in Novak Djokovic. I think maybe his first-round match here [when he suffered from cramp] might have been at the back of his mind. When you have doubts and concerns about your body going into a match against someone like Novak, knowing that you've got to go through the pain barrier five, six or seven times to be able to win, the mind can do funny things.
"I think last night was maybe partly mental. I'm guessing that. But nobody works harder than Andy off the court. He turns over every stone he can to be as good an athlete as he can be. He's not a good athlete – he's a great athlete. I'm sure he'll get to the bottom of it," Cahill declared.
Gilbert added: "As you get older you have to learn how to train smarter. He's had some injuries. But I'm confident that within a year from now he'll be back in the top three."
Reuse content