It has not been the easiest of times for Caroline Wozniacki, but the Dane enjoyed one of her finest victories here last night at the US Open. Wozniacki's fall from the top of the rankings and the regular criticisms of her father and coach, not to mention the much-publicised ending of her relationship with Rory McIlroy, were all put aside as the former world No 1 beat Maria Sharapova 6-4, 2-6, 6-2 to secure her place in a Grand Slam quarter-final for the first time in more than two years.
The crowd here love Sharapova's glamour and star quality, but by the finish they had got behind Wozniacki, 24, who has no doubt endeared herself to the locals by entering the New York Marathon. She has also enjoyed her greatest Grand Slam success here, having reached the final in 2009 and made the semi-finals on two other occasions.
Although the song "Sweet Caroline" blared out over the public address system at the end, there was a hard-nosed professionalism about Wozniacki's victory. The mere presence of Sharapova can intimidate some players, but Wozniacki traded blows with the Russian from the baseline, complained to the umpire about the time her opponent took between serves and almost drove her to distraction with her ability to keep chasing down shots. She also showed a lovely touch at the net, which she regularly attacked.
The conditions on a hot, humid and windy day were not easy and the heat rule, which gives women a  10-minute break before the deciding set, was applied. Sharapova, who was given a time violation for returning to the court too late after the break, has an excellent record over three sets, but was outplayed.
Wozniacki, whose form has improved this summer, played a wonderful game to make a decisive break to love in the fourth game of the last set. Having gone 40-0 up after a thumping backhand pass and two beautifully constructed rallies, she won one of the points of the tournament, running down a succession of big shots before forcing Sharapova into an error.
"It means so much to me," Wozniacki said afterwards. "It's been a bit up and down this year for me, so this hard-court season has been great. To win today against a great champion is a great feeling."
Serena Williams is now the only top six seed left in the competition. In the quarter-finals Wozniacki will play Sara Errani, who ended Mirjana Lucic-Baroni's emotional run. The lop-sided statistics of Errani's 6-3,  2-6, 6-0 victory told their own story. Lucic-Baroni, a big ball-striker who goes for her shots, made 46 winners and 69 unforced errors; Errani, a lightweight who puts her emphasis on defence, made just four winners and nine unforced errors.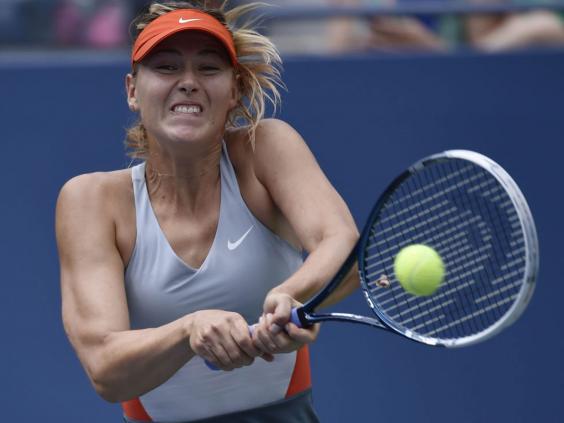 "I have blisters, tapes, pain everywhere in my body," Lucic-Baroni said, having played seven matches in the last 13 days, including three in qualifying. "I burned out a little bit today."
Lucic-Baroni, who is the world No 121, said she had enjoyed the best two weeks she could remember for a long time. Victory over Simona Halep, the No 2 seed, had taken her through to the fourth round of a Grand Slam tournament for the first time since 1999. The 32-year-old from Croatia spent several years outside the top level after fleeing to the United States from her abusive father. After her run here, she is expected to climb to around No 80 in the world rankings, which would be her highest position for 14 years.
"I have been fighting and battling through," she said. "Not a billion dollars can compare to the feelings I felt in the last two weeks, fighting back and beating Halep and winning all my matches here, fighting from the dead basically. No money can ever buy that."
David Ferrer, who had reached the quarter-finals or better of 10 successive Grand Slam tournaments until he arrived at Wimbledon this summer, became the first top 10 player in the men's singles to lose here when he was beaten 6-3, 3-6, 6-1, 6-3 by Gilles Simon.
Reuse content