Caroline Wozniacki reached the final of the US Open here but not in the manner she would have wanted. Shuai Peng, the 24-year-old Dane's semi-final opponent, left Arthur Ashe Stadium in a wheelchair when she retired in the second set after an hour and 53 minutes after suffering heat illness and cramp. The 28-year-old Chinese was trailing 7-6, 4-3 at the time.
In Sunday's final Wozniacki will face her good friend, Serena Williams, who made short work of Ekaterina Makarova in the second semi-final. Williams, who is aiming to win the title for the third year in a row, beat the Russian 6-1, 6-3 in just 60 minutes.
Peng, who was playing in her first Grand Slam semi-final, was in agony when she quit, but there was a widespread feeling that she should already have been forced to retire. The world No 39 had left the court in controversial circumstances earlier in the same game because of what seemed to be severe cramping in her legs. Struggling to cope with the 29C heat and 65 per cent humidity, Peng was barely able to stand up without support.
When Peng returned 10 minutes later she played only five more points before falling to her knees. She was helped from the court after her retirement and was later said to be recovering well.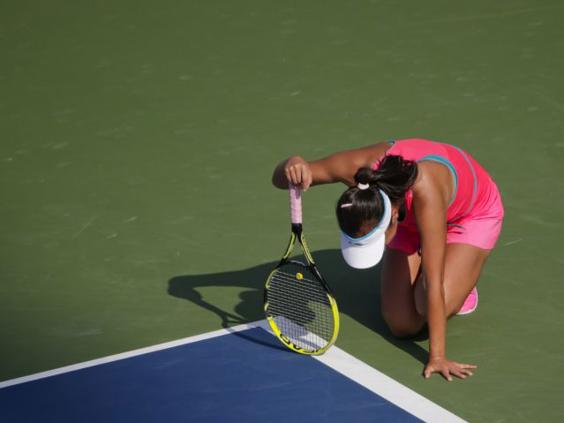 Tournament rules state that when players are injured or ill they can seek assessment of their condition and take a medical time-out for treatment. However, the same rules do not apply to cramp. John McEnroe described the decision to allow her to leave the court as "absurd" and added: "She should never have been allowed back on court for a host of reasons."
David Brewer, the tournament director, said that Peng had received "an off-court medical assessment" for heat illness, for which she then took a three-minute medical time-out. He said Peng had not received treatment for cramp.
Wozniacki said: "When she collapsed on the court that second time, I was like: 'OK, this doesn't look very good.' I wanted to go over and make sure that she was OK. I know that she had heart surgery when she was 13, so that's definitely something that I think she was worried about as well."
The Dane, who had been unwell herself and had been in bed the previous two days with a cold, said the conditions had been "really tough". She felt sorry for her opponent, though she was delighted to be through to her second Grand Slam final. She played in her first on this court five years ago, losing to Kim Clijsters. "It's incredible to be back in the final," Wozniacki said. "I've got goosebumps right now."
Williams, who did not reach the quarter-finals at any of this year's other Grand Slam tournaments, is through to her ninth US Open final. Victory on Sunday would see her join Chris Evert and Martina Navratilova on 18 Grand Slam titles. Steffi Graf, who won 22, is the only player to have won more in the Open era.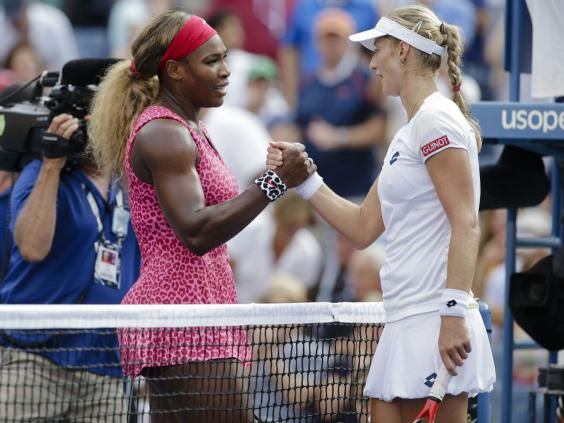 Makarova's first experience of a Grand Slam semi-final was not a happy one. The world No 18, who beat Williams at the Australian Open two years ago, was under pressure from the start. Williams won the first set in just 26 minutes and it was only towards the end of the second that Makarova found any sort of rhythm.
Williams won the first four games of the second set, but Makarova then held serve twice and finally broke the American in the penultimate game. At 3-5 and 30-30, however, Makarova hit a backhand long and then put a backhand wide on match point.
"It feels so good," Williams said afterwards when asked how she felt about reaching the final. "I'm so happy you have no idea. I didn't think I would be here today."
Williams said she would look forward to facing her friend in the final. "She obviously wants to win and go for her first Grand Slam," Williams said. "I want to win and make a bit of history."
Reuse content