The adage that a good big 'un will always beat a good little 'un held true in the men's final here at the US Open. Marin Cilic, a 6ft 6in Croatian, simply had too much power for Kei Nishikori, a 5ft 10in Japanese, and won his first Grand Slam title in emphatic fashion. The world No 16 won 6-3, 6-3, 6-3 in just an hour and 54 minutes to become the lowest-ranked men's champion here since Pete Sampras won the title in 2002 when ranked No 17 in the world.
Cilic had blown Roger Federer and Tomas Berdych off the court with his bold attacking game in the two previous rounds and there was no way he was going to change tactics against Nishikori.  The 24-year-old Japanese, the first Asian to play in a men's Grand Slam singles final, has emerged as one of the game's most spectacular shot-makers but he never got going as Cilic kept him pegged back with the sheer weight of his shots.
It was a triumph not only for 25-year-old Cilic but also for his coach and fellow countryman, Goran Ivanisevic, who as the 2001 Wimbledon champion was the last Croatian to win a Grand Slam singles title. Ivanisevic, who took over as Cilic's coach last year, has been urging his charge to adopt a more attacking game style and the result was there for all to see.
"I think this is down to the hard work I have done for several years and especially over the last year," Cilic said at the presentation ceremony. "I think my team have brought something special to me, especially Goran. The most important thing that he taught me was to enjoy my tennis and always have fun. I think I played the best tennis of my life here."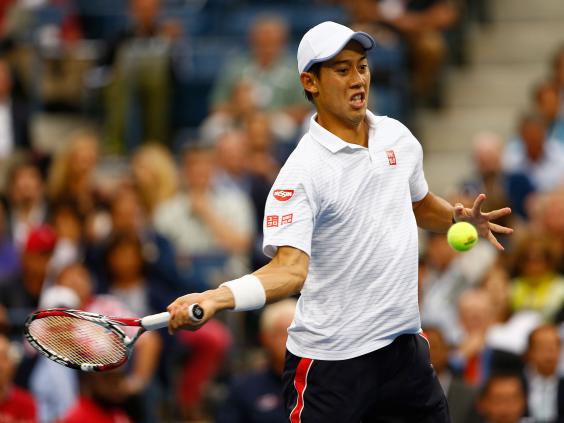 What made Cilic's victory all the more remarkable was the fact that he had to sit out this tournament last summer, having tested positive for a banned stimulant earlier in the year. He was eventually banned for four months and returned to competition only in the autumn. His absence saw him fall out of the world's top 40.
Cilic's advantage in terms of power was a crucial factor, but there was much more to his game than pure strength. For a big man he can move exceptionally well around the court and Nishikori had great difficulty getting the ball past him. Cilic defended superbly and also showed a delicate touch with some cleverly judged lobs and well-angled passing shots.
The Croatian's serve also proved a huge weapon as he bludgeoned 17 aces to Nishikori's two. Nishikori had nine break points in the match but took only one of them. There were times when the Japanese snatched at his opportunities but for the most part it was Cilic's mental strength under pressure that made the difference.
Nishikori never rediscovered the flair with which he had lit up the tournament in such spectacular fashion last week, when he won two five-set matches in succession, against Milos Raonic and Stan Wawrinka, and outclassed Novak Djokovic. The energy Nishikori expended in those matches finally seemed to catch up with him.  "Marin played really well today," Nishikori said at the end. "I couldn't play my tennis."
Cilic's victory takes him to No 9 in the world rankings and pushes Andy Murray down to No 11, the Scot's lowest position for more than six years. Nishikori, meanwhile, climbs to a career-high position at No 8.
Although Nishikori had won five of their previous seven encounters, Cilic is a very different player to the man who won only four games in their most recent meeting, on clay in Barcelona less than five months ago. His new aggressive approach has been accompanied by a sharp rise in his confidence.
After one of the hottest US Opens for many a year, the tournament's final day saw the temperature drop significantly. After a considerably cooler afternoon it was only 22C when the players came on court just after 5pm.
This was the first US Open final with two first-time finalists since Pat Rafter defeated Greg Rusedski 17 years ago. It was also the first Grand Slam final not to feature Federer, Djokovic, Murray or Rafael Nadal since the 2005 Australian Open. In the circumstances it was no surprise that the two men started nervously, though Cilic was soon into his stride.
Nishikori's biggest chance of winning the match probably came and went in the opening game. The Japanese immediately forced a break point but Cilic saved it with a rasping forehand cross-court winner and went on to hold serve. Nishikori won only one more point on Cilic's serve in the whole of the first set and dropped his own serve in the sixth game. Cilic served out for the set in just 33 minutes.
Cilic broke again in the third game of the second set. Nishikori recovered from 0-40 down, going to deuce with an exquisite drop shot, but Cilic won the next two points to take command of the set. At 3-2 the Croatian played the perfect game, winning it with four clean aces, and then broke again for 5-2. Nishikori responded with his only break of the match but dropped his serve in the next game as Cilic took the set with a fierce forehand winner down the line.
Nishikori was broken in the fourth game of the third set and was unable to take his last chances to keep the contest alive when Cilic, serving at 4-2, saved three break points.
Two games later, at 5-3, Cilic served for the set. He opened up with two huge service winners and had three match points at 40-0. The occasion got the better of him as he double-faulted on the first of them, but on the second a backhand cross-court winner secured his historic victory.
Cilic fell on his back in celebration and let out a huge roar after getting to his feet. Having shaken hands with Nishikori, he climbed into the stands to embrace his team, including Ivanisevic.
"Everything that I was working for and dreaming about came today," Cilic said later. "I feel that for all the other young players who are working hard this is a hopeful sign that if you work hard things will pay off."