What a year it is has been for Novak Djokovic. So far, he has got married, is expecting a child, and still managed to get to the Roland Garros final and win Wimbledon in between. Or maybe it was rather the marriage that came unexpectedly in between the tournaments? Either way he is the world No 1 and the favourite to win the US Open.
The Serbian is one step away from reaching the final and it's the Japanese prodigy, Kei Nishikori who stands in his way. He has survived some of the best servers of the tournament: Wawrinka and Raonic, but can he face up to Djokovic's ever increasing bag of tricks?
Nishikori has been a real fighter of the tournament, as his last two matches turned into five-set thrillers lasting over four hours each. The big question is whether or not Nishikori's body will be ready to suffer again against Djokovic, as the Serb will not go down without a fight.  
Nishikori, who has had a great season contesting some of the biggest names in men's tennis, is often being threatened by various injuries. This season he had to retire from tournaments in Derlay Beach (FL), Miami, Madrid, Rome and Toronto.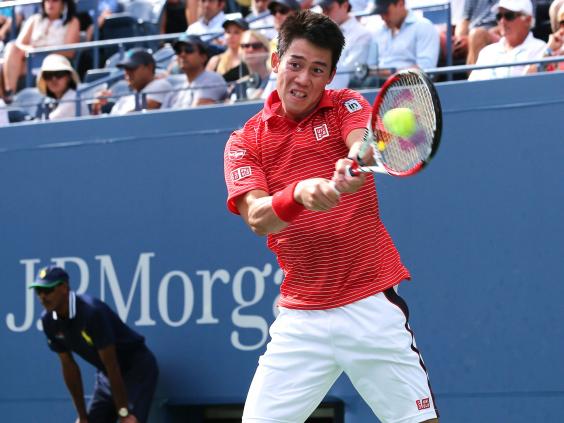 The two players have only played each other twice, holding one victory each. They were due to face each other again in the semi-final of the Miami Masters, but Nishikori retired from the tournament. Both players have ex Grand Slam winners as coaches, with Djokovic opting for Boris Becker, and Nishikori electing Michael Chang.
If Nishikori wins he would not also reach his first Grand Slam final but also become the first Japanese in history to play in one. For Djokovic a triumph would mean he reaches his fifth consecutive US Open final, where he looks to claim his second US Open title.  
Nishikori is another one of the wonder-kids from the Bollettieri Tennis Academy in Florida, which has seen the likes of the Williams sisters, Andre Agassi and Maria Sharapova to name a few. Nishikori is already playing in his best ever Grand Slam reaching the semi-final for the first time in any Grand Slam, which places the pressure on the in-form Serb, as a loss in the semi-final would mean a step backwards from last year.
The winner of the match-up will face either Roger Federer or Marin Cilic in the US Open final on Monday.
START: Saturday, Arthur Ashe Stadium, 5pm
PAST MEETINGS:
2011 Basel (Hard) Nishikori won 2-6, 7-6, 6-0
2011- Roland Garros (Clay) Djokovic won 6-1 6-4 6-4
STATS…
Nishikori has five career titles to his name; two of them were won in 2014. In contrast Djokovic has won seven Grand Slam titles.
Djokovic has played in five US open finals, but won only once in 2011.
Djokovic has highest amount of breakpoints won in the tournament (32), Nishikori sits in 5 (23).
Nishikori is the first Japanese player since 1933 to reach the semi finals of a Grand Slam singles event.
Djokovic is the third all-time leader in career prize money with $65,419,345, which is 13 times what Nishikori has so far ($5,441,044).
ODDS…
Djokovic to win 1.13
Nishikori to win 8.4
TV: Sky Sports 3
Reuse content