It has been one of the most challenging Grand Slam seasons of Serena Williams' career but when the world No 1 competed at her home event she finally came good. Williams, who had failed to reach even the quarter-finals of the year's first three Grand Slam tournaments, won her sixth US Open title and her third in succession by crushing Caroline Wozniacki in a final here that was every bit as one-sided as the 6-3, 6-3 scoreline might suggest.
Fifteen years after she won her first Grand Slam title on this court in 1999, Williams claimed the 18th of her career, which puts her level with Chris Evert and Martina Navratilova. During the presentation ceremony after Williams' victory, Evert and Navratilova came on court to present her with a gold bracelet to mark her achievement. Williams also won $3m (about £1.85m) in prize money and a $1m bonus for winning the US Open Series, which brings together all the tournaments during the north American hard-court season.
"It was a pleasure to win my first Grand Slam title here and now my 18," a tearful Williams said before receiving the winner's trophy. "I couldn't ask to win them in a better place."
Steffi Graf, who won 22 Grand Slam titles, is the only player who has won more in the Open era. The German's total could well be within Williams' reach, even though she will celebrate her 33 birthday later this month. By winning here Williams became the second oldest winner of a Grand Slam title in the Open era behind only Navratilova, who won Wimbledon at the age of 33 in 1990.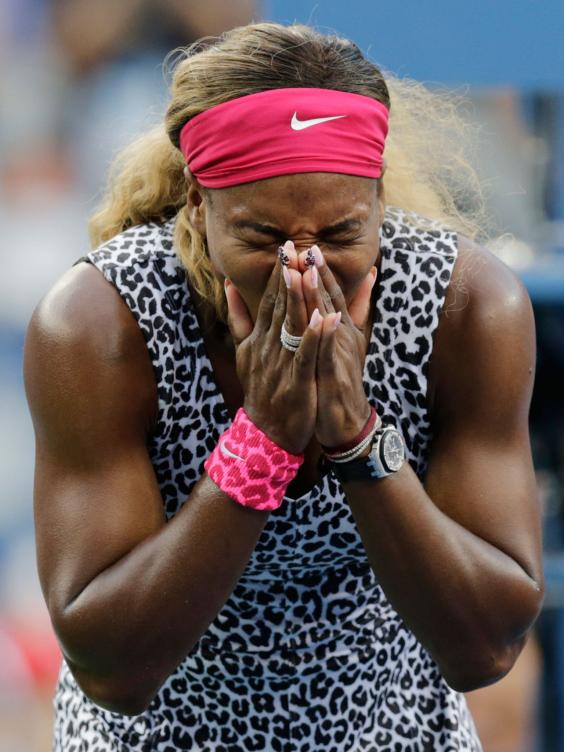 Although Wozniacki was unable to offer much of a challenge to Williams, the 24-year-old Dane has enjoyed an excellent summer, having put her personal troubles behind her after Rory McIlroy called off their wedding in May at short notice. Wozniacki's only previous appearance in a Grand Slam final had been when she lost here to Kim Clijsters in 2009, but in reaching this final she played some of her best tennis for more than three years.
Williams has also had a splendid second half of the summer. Her early defeats at the French Open and Wimbledon were quickly forgotten as she returned to her commanding best, winning two of her three tournaments in the build-up to Flushing Meadows. She did not drop a set in her seven matches here, which emulated her performance when she won the title in 2002 and 2008.
Williams and Wozniacki are close friends, but the American was ruthless in the way she set about her task. The world No 1 simply had too much power, both on her serve and her ground strokes. Williams cracked 29 winners, while Wozniacki hit only four, three of which were aces.
When Wozniacki failed to put her first serves in court she was regularly in trouble. Williams hit thumping returns when Wozniacki's placement was poor or when she took too much pace off her serves.
The Dane will be running the New York Marathon later this year and there was never any doubt about her ability to chase down balls and cover all corners of the court. She did so with some success, particularly in the second set, but it was only ever a question of delaying the inevitable.
The challenge Wozniacki faced was highlighted in her very first service game. The world No 11, well aware that Williams would punish anything short, made two double faults to put herself in trouble and was then broken when Williams punished two weak serves in a row with thumping return winners.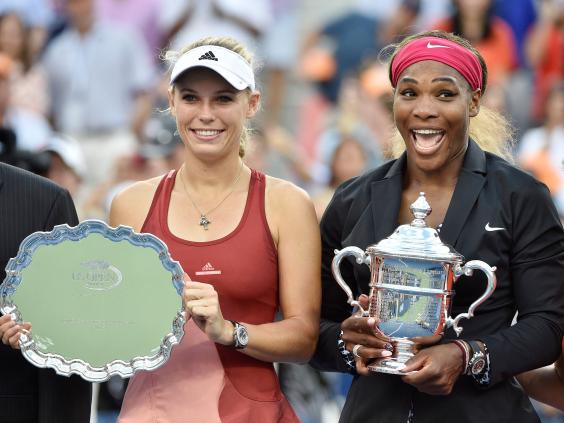 Williams, nevertheless, was far from secure on her own serve in the opening set. After the American had won her first service game, saving a break point in the process, there were five successive breaks before Williams finally held to go 5-2 ahead.
Wozniacki, who has never beaten a reigning world No 1, saved one set point in the following game, finally holding serve for the first time, but Williams served out for the set after 40 minutes. Given that the previous 19 women's finals here had been won by the player who won the first set, Wozniacki's prospects were looking on the dark side of bleak.
Williams, ominously, broke in the opening game of the second set. Although there were no further breaks of serve until the last game, Wozniacki never looked likely to get back in contention. Serving at 3-5 and 0-15, she finally hit her first winner other than an ace with a cross-court backhand that drew applause even from Williams.
On the next point, however, Wozniacki netted a backhand at the end of a 26-shot rally and then went match point down as Williams smacked a forehand winner. When Wozniacki hit a backhand long at 15-40 Williams fell on her back in celebration, the tears already welling up. It has been a difficult Grand Slam year for the American, but it ended in the way that she knows best.
Reuse content