It was Wimbledon revisited. Just as he had at the All England Club two months ago, Novak Djokovic derailed the Roger Federer express to deny the world No 2 his 18th Grand Slam title. Federer had been in sensational form going into his first US Open final for six years, but Djokovic underlined his status as the best player on the planet to win 6-4, 5-7, 6-4, 6-4.
It was a final worthy of the occasion. After under-performing in the first set Federer rose to his challenge, only to find the modern game's greatest defensive player in his most stubborn mood. Federer, supported by the vast majority of a vociferous 24,000 crowd, had 23 break points but converted only four of them, while Djokovic took six of his 13. The world No 1, serving well throughout and holding his nerve at the most crucial moments, played superbly to claim his second US Open title.
"I have a tremendous respect for Roger and what his game is presenting to me and to any other player," Djokovic said afterwards. "His level is always going to bring the best out of you and that was needed from my side."
Djokovic, who had joined Federer and Rod Laver as the only men in the Open era to reach all four Grand Slam finals in a single season, has appeared in 15 of the last 20 Grand Slam finals and won nine of them. The only blemish on his Grand Slam campaign this year was his defeat to Stan Wawrinka in the French Open final.  He has matched his 2011 achievement of winning three of the year's four Grand Slam titles.
The 28-year-old Serb's career tally of 10 Grand Slam titles puts him level with Bill Tilden and leaves only six players ahead of him on the all-time list. Federer has won 17, followed by Rafael Nadal and Pete Sampras (14 each), Roy Emerson (12) and Bjorn Borg and Laver (11 each).
US Open 2015 in pictures
US Open 2015 in pictures
1/4 First Round

Novak Djokovic celebrates his victory over Joao Souza

Getty Images

2/4 First Round

Serena Williams consoles Vitalia Diatchenko after beating her in the US Open

Getty Images

3/4 First Round

Heather Watson suffered an early exit to Lauren Davis in a 7-6 7-6 defeat

EPA

4/4 First Round

Kei Nishikori lost to Benoît Paire 6-4 3-6 4-6 7-6 6-4

Reuters
The head-to-head record between Djokovic and Federer now stands at 21 wins apiece, but the 33-year-old Swiss has lost 15 of their last 23 meetings. In the build-up to this final much of the talk had been of Federer's rediscovered aggression, but nobody chases down shots more effectively than Djokovic, who is also a master at turning stalwart defence into devastating attack. Federer attacked the net and made occasional use of his new shot, the so-called SABR ("stealth attack by Roger"), when he charges forward to hit service returns on the half-volley, but Djokovic held firm throughout.
Late-afternoon rain meant the match did not start until after 7pm, three hours later than planned. Bad weather on the closing weekend here has been a recurring problem, with five recent men's finals delayed until a third Monday. The retractable roof which is being built over Arthur Ashe Stadium will not be in operation until next year. Outside the arena there was a stiff breeze, but the fixed section of the new roof, which is already in place, has helped to reduce the wind within it.
From the start it was clear where the public's sympathies lay. Crowds the world over adore Federer and they love him here especially after his five successive title triumphs, the last of them in 2008. There was great respect for Djokovic, who had lost four of his five previous US Open finals, but whereas his best moments were mostly greeted by applause, Federer's drew raucous cheers.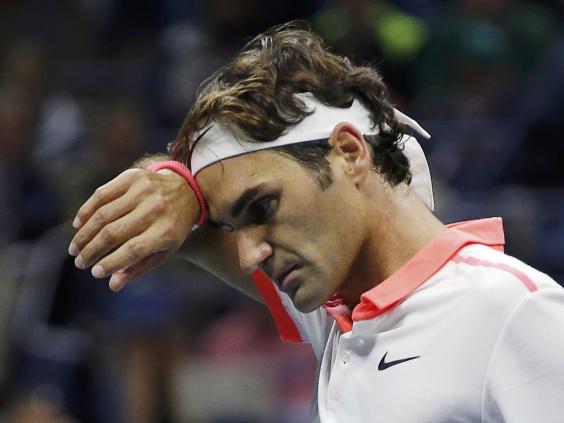 The opening game, which lasted seven minutes as Federer saved three break points, suggested a long night ahead. Djokovic went on to hold to love in the second game and forced three more break points in the third. He needed only two of them, making the first break of serve as Federer missed a backhand.
Federer fought back immediately. In the next game Djokovic fell heavily after being wrong-footed and grazed his right arm, hand and knee. He did not seek treatment until the next changeover and in the meantime netted a backhand on break point.
Within three games, however, the Wimbledon champion had restored his advantage as he broke to lead 4-3 with a winning backhand pass. Going into the final Federer had been broken only twice in the 28 sets he had played since Wimbledon; here Djokovic needed less than a set to double that statistic.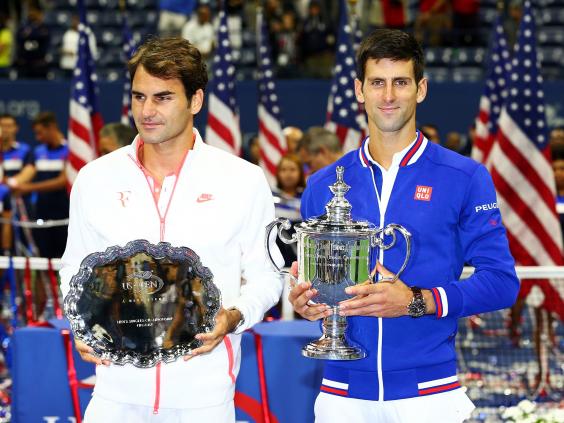 The world No 1 had an opportunity to win the opening set with a third break but missed a backhand when Federer served at 3-5 and 30-40. However, he quickly served out to love to take the set as Federer made four errors in succession.
Nevertheless, Federer's response in the second set was magnificent. The Swiss forced five break points in the second game and had two set points in a stunning 14-minute game when Djokovic served at 4-5. Djokovic successfully defended them all, but when he served at 5-6 the Serb finally succumbed as Federer converted his fourth set point with a cross-court backhand. The former world No 1's elation was matched only by the crowd's as the stadium erupted into a huge roar.
Federer quickly retrieved a break early in the third set, but the contest turned when Djokovic saved two break points when trailing 4-3. Federer dropped his serve in the following game after letting slip a 40-15 lead and led by the same margin when Djokovic served for the set, only to lose the next four points as another chance slipped from his grasp.
There had been signs that Federer was tiring and Djokovic quickly tightened his grip by breaking in the opening game of the fourth set. In the sixth game the crowd rose to their feet when Federer forced a break point, only to put a forehand wide.
Djokovic broke to go 5-2 up with a superb forehand return but the drama was not over. To perhaps the loudest cheers of the night Federer broke back in the following game with a stunning drop volley. When Djokovic served for the match for a second time he went 15-40 down as Federer drilled a backhand pass beyond his reach.
Was this going to be one of the most sensational comebacks of all time? Not with Djokovic continuing to serve so well on almost every break point. Two unreturned serves took him back to deuce. Federer forced yet another break point, only to lose it by missing a backhand. Two points later a Federer return flew beyond the baseline to give Djokovic victory after three hours and 20 minutes.
"I had my chances on my racket," Federer said afterwards. "I should never have been down in the score the way I was. But Novak did a great job of fending them off."
Federer was thrilled by the support he had received from the crowd. "It's just so nice to feel that they want you to get back in the match, they want you to win," he said. "I'm happy the people stayed after the rain delay and that they were right there when I needed them to the very, very end."
Reuse content