Heather Watson lost to an American for the second time in a row at a Grand Slam tournament here, but that was where the similarities with her dramatic defeat to Serena Williams at Wimbledon two months ago ended.
On Centre Court at the All England Club Watson played one of the matches of her life to go within two points of beating the world No 1 in the third round and ending her attempt to win a calendar-year Grand Slam.
On Court 17 here at the US Open Watson was beaten  7-6, 7-6 in the first round on the opening day by Lauren Davis, the world No 84, after a nervous display littered with errors and poor decision-making.
Bizarrely, Watson has never won a match in the senior tournament here, despite having won the junior title on these courts six years ago. This was her fifth  successive first-round defeat at the year's concluding Grand Slam event. On her only other appearance she lost in the first round of qualifying.
The hot and humid weather did not make life easy for either player, but Watson is used to those conditions, having been based in Florida since the age of 12. The Briton, nevertheless, looked uncomfortable from the start.
In recent times Watson has talked of her intention to add variety to her game and to become more aggressive in her shot-making, but all too often she stayed rooted to the baseline, unable to find a way through Davis' dogged defence. By her own admission the 23-year-old from Guernsey has failed to  capitalise on all the potential she showed with her thrilling performance at Wimbledon.
Like Watson, Davis is a fine athlete who repeatedly makes her opponent play the extra ball, but the 21-year-old American also served well and had the confidence to go for some big shots and to mix up her game. She hit 29 winners to Watson's 18.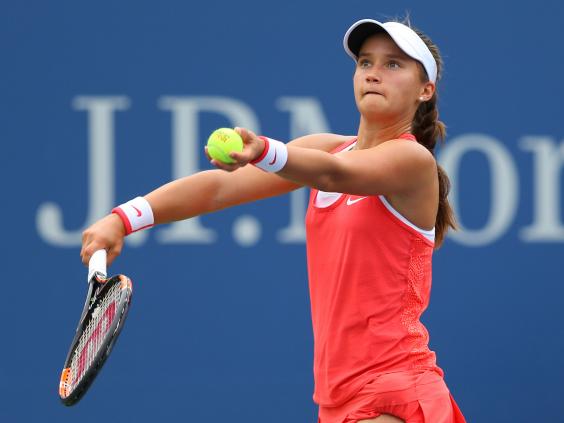 Watson failed to convert break points in the sixth game of the first set and there were no breaks of serve until Davis drew first blood to lead 5-4. The American twice failed to serve out for the opening set but dominated the first  tie-break, winning it 7-3.
Having led 3-1 in the second set, Davis went on to hit three double-faults in dropping her serve to love to trail 4-5. Watson, however, could not take advantage and was broken when she served for the set. In the second tie-break Davis immediately took charge, winning it 7-0 to secure victory after two hours and eight minutes.
A subdued Watson said afterwards that she had felt nervous going into the match in the light of her previous record in this tournament. "I was thinking a lot about this match, thinking that it was a big opportunity, and thinking about the previous years and my results here," Watson said. "Maybe I thought about that a bit too much."
Although she admitted having found the conditions tough, Watson felt she had prepared well enough. "Maybe it was just a mix of tension and some long rallies mixed together," she said. "I was cramping a little bit in my hand and then when I moved to the other side of the court I started cramping in my legs."
Watson agreed she had played a poor match tactically. "I should have come into the net a lot more than I did," she said. "I think that goes back to playing a bit tense and defensive.
"In the second set I started to come in more. I think I won most of the points when I came into the net and I should have done it more.
"It's easy looking back now and saying I could have done it there, but I didn't execute my game plan the way I wanted to."
Maria Sharapova's withdrawal late on Sunday night with a leg injury had opened up Watson's quarter of the draw, which was weakened further on the opening day by the departure of Ana Ivanovic. The former world No 1, who has just started working again with the British coach Nigel Sears, was beaten 6-3, 3-6, 6-3 by Slovakia's Dominika Cibulkova, last year's Australian Open runner-up.
Ivanovic, who was struggling with blisters on both feet, was particularly disappointed, given the way her first week's practice with Sears had gone. "I really felt that we did a lot of good work," she said. "I felt like once I could get going it could really be good things, but I just have to keep working."
By the time Serena Williams went on court last night to face Vitalia Diatchenko in her opening match the American was the only top-10 player left in the top half of the draw. Karolina Pliskova, the world No 8, was beaten 6-2, 6-1 by Anna Tatishvili, while Carla Suarez Navarro, the world No 10, lost 6-1, 7-6 to Denisa Allertova. Svetlana Kuznetsova, the 2004 champion, lost 6-3, 7-5 to Kristina Mladenovic, and Jelena Jankovic, the 2008 runner-up, was beaten by Océane Dodin.
Reuse content