There have been times in the last four years when you wondered why Venus Williams continued to play tennis, but the smile on the 34-year-old American's face after her victory here over Agnieszka Radwanska at the Australian Open told you everything. When you have won seven Grand Slam titles and had three different spells as world No 1, nothing beats the joy of winning.
Williams' 6-3, 2-6, 6-1  victory over the world No 6 took her into the quarter-finals of a Grand Slam tournament for the first time for five years. She next plays Madison Keys, a compatriot 15 years her junior.
The next prize could be a semi-final against her sister. With Serena Williams digging deep to beat Garbine Muguruza 2-6, 6-3, 6-2 and avenge her defeat by the Spaniard at last year's French Open, the sisters are through to the last eight of a Grand Slam event for the first time since Wimbledon in 2010.
It was in the following year that Venus was diagnosed with Sjogren's syndrome, an incurable auto-immune disease that causes joint pain and fatigue. She had not been beyond the third round of a Grand Slam tournament since that diagnosis. It has taken her time to manage her health issues, but now her patience and hard work are paying off.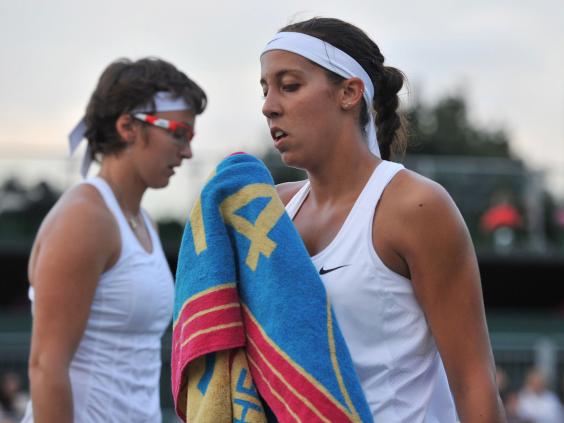 "A year ago I had a lot more trouble with putting a lot of good points together," she said. "That comes with just being able to play, playing consistently. For a while I was just on and off tour a lot. That starts to take a toll, no matter how many matches you've won. So I think just being able to build that momentum up, play matches, start to play a lot of good points in a row has been a difference."
Serena was in the crowd in Rod Laver Arena, supporting her sister, just hours after completing her victory over Muguruza on the same court. Although the Spaniard could not repeat her French Open triumph, when she inflicted the heaviest defeat of  Serena's Grand Slam career, she pushed the world No 1 all the way. "She made me play a lot better," Serena said. "I had to play the best match of the tournament or else I was going to be out."
Serena now faces Dominika Cibulkova, who after a difficult year finally rediscovered the form that took her to the final here 12 months ago. Cibulkova beat Victoria Azarenka, the champion here in 2012 and 2013, 6-2, 3-6, 6-3.
Novak Djokovic extended his run of consecutive appearances in Grand Slam quarter-finals to 23 by beating Gilles Müller 6-4, 7-5, 7-5. The world No 1, who faces Milos Raonic, is encouraged that he has yet to drop a set. "Overall, it's a positive feeling going into the quarters," he said. "I have to motivate myself and use the off days to work on a few things. There are a few things I think I can do better."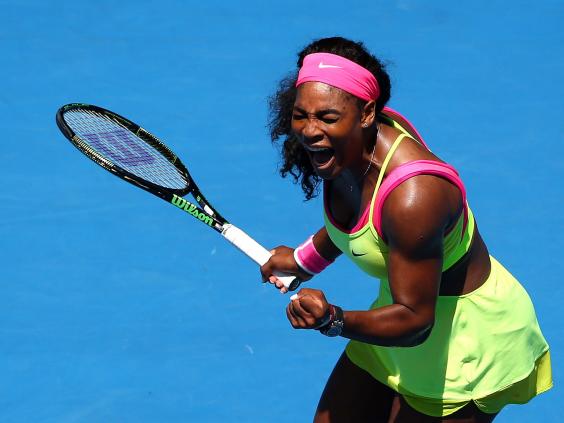 Stan Wawrinka, the defending champion, dropped a set in beating Spain's Guillermo Garcia-Lopez 7-6, 6-4, 4-6, 7-6. He now faces Japan's Kei Nishikori, the US Open runner-up, who has been in fine form throughout the tournament. The world No 5 crushed Spain's David Ferrer 6-3, 6-3, 6-3.