As I watch Nick Kyrgios there are times when I recall Andre Agassi. The Aussie is a very different player to my former protege, but there's something in his make-up that reminds me of Andre, who provided me with my greatest memory as a coach when he won Wimbledon. Holy cow, was that really 24 years ago?
Some people might think it premature to mention Kyrgios in the same breath as Agassi, but I see many of the same qualities and characteristics in them. Just like Andre was, Nick is an unpredictable and often controversial character, but he also has talent by the bucketload. I'm not saying he will definitely go on to win Grand Slam titles, but he has the potential to do that.
Jim Courier was a contemporary of Andre's at my academy in Florida, which is now the IMG Academy. Andre was a handful. When he was 15 or 16, I remember Jim coming to see me and saying: "Nick, why do you keep him here?"
Why did I not show Andre the door? Because I sensed that he had what it takes to become a great player, despite all his outlandish behaviour in his early years.
I believe there's something inside characters like Andre - and Nick - that tells them: "If I carry on like this, maybe it's the way to be." What I always tried to make Andre understand was that he needed to let his talent do the talking. However, I never wanted him to lose that explosiveness in his character which was so much a part of his make-up.
I got to know Andre more by listening to him, not by lecturing him. The more I listened to him, the more I learned when to talk to him and what to say.
Kyrgios, who meets Dustin Brown in the second round here, hasn't had a coach for more than a year. Earlier this week he said he didn't yet know what he wants from a coach. Lleyton Hewitt is mentoring him and I saw the other day that Radek Stepanek has also offered advice.
I'd be delighted to give Nick the benefit of my experience too. I'd love to be on his team. As a player he has outrageous talent. Man, he hits the shit out of that ball.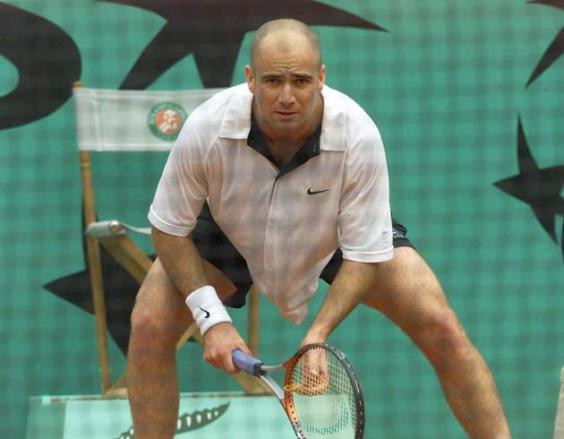 The trouble is, he also appears to be on a short fuse a lot of the time and I reckon his thought processes divert his attention from the way he should be playing matches. In the first round here he was beating Stepanek but then seemed to get distracted as he lost the third set. He came back to win the fourth and the match, but he should never have been sidetracked like that.
I talked here yesterday about how John McEnroe threw tantrums but always knew exactly what he was doing.  I don't know Nick, but I sense that he's different. When he goes off on a rant I'm not sure he knows where it's taking him.
The last thing I would want to do would be to stifle his character. Don't lose that hairdo, baby! The challenge for Nick and for those around him is to work together as a team and bring out all that talent. Nick needs to realise who he is and what he has to do, because talent alone is not enough.
I can recall coaching another player who had as much talent as anyone in the history of the game but who never realised his full potential because of flaws in his character.
Marcelo Rios, who was world No 1 for a few weeks, didn't know how to respect his fellow players or how to spend time with those kids who waited for hours for his autograph. I think he had a bit of an inferiority complex. He seemed to think: "If I behave like this maybe people will notice me more."
Kyrgios might have just as much talent as Andre and Marcelo. I just hope that he follows Andre's example.
Who I met today
I bumped into Todd Woodbridge, one half of "the Woodies" alongside Mark Woodforde. They were one of the greatest doubles teams in history and it's so good to see them now passing on their knowledge to others.
Pat Cash was in his usual forthright form. Pat tells it as it is. He won't give you any bullshit. He'll come right at you.
It was also great to see Annabel Croft, who has become an excellent broadcaster. If Cindy, my eighth wife, will forgive me for making the observation, I also think Annabel gets more attractive with every passing year…
The IMG Academy Bollettieri Tennis progamme has developed champions at every level of the game.
Reuse content