After his second-round mauling by Andy Murray here, Blaz Rola politely waited for his opponent before leaving Court One. You wondered for a moment whether the 23-year-old Slovene might have been planning to join the queue of autograph hunters seeking the Wimbledon champion's signature. Rola, who had never played a tour-level match until this year, had barely made Murray break sweat, though the overriding reason for the 6-1, 6-1, 6-0 scoreline was the 27-year-old Scot's sustained brilliance.
It was Murray's most emphatic victory in the 46 matches he has played at the All England Club. The only other Grand Slam contest which he has won more comprehensively was against Spain's Alberto Martin, who took only one game off him at the Australian Open in 2007. Murray's only "triple bagel" – a 6-0, 6-0, 6-0 victory – came against Luxembourg's Laurent Bram in the Davis Cup three years ago.
If you were a Court One ticket holder you would no doubt have been delighted by the order of play as Murray took a rare departure from his usual route between the locker room and Centre Court. Given that the match lasted only 84 minutes after a 1pm start, you have to hope that no spectators were stuck in traffic.
Rola was playing college tennis in the United States until last summer, though the world No 92's recent record merits respect. He has climbed more than 400 places in the world rankings in the last 12 months. In his first two appearances at Grand Slam tournaments he won three matches in qualifying for this year's Australian Open, where he beat the world No 55 Federico Delbonis in the main draw before losing to Martin Klizan, and won his first-round match here against Pablo Andujar, a seasoned professional with 21 Grand Slam tournaments under his belt.
However, the statistics of this mismatch told their own story. Murray won twice as many points as Rola, made half as many unforced errors (13 to 27) and hit 27 winners to the Slovene's 10. At 6ft 4in tall Rola should do more with his serve, though he has a big forehand which occasionally had Murray in trouble. All too often, however, Rola went for too much, fearful, no doubt, of how his opponent would deal with anything slow or short.
Murray, seeing the ball with crystal clarity, struck winners from all corners. There was the usual crowd-pleasing variety of shots – drop shots, lobs, volleys, variations of slice and spin – and Murray rounded off his afternoon with a game of typical brilliance: an ace for 15-0; an exquisite drop shot which carried more spin than a parliamentary press release for 30-0; a magnificent backhand cross-court winner for 40-0; and a delicate volleyed winner to complete the job. Thank you and goodnight, Ljubljana.
Players sometimes reckon it can be an advantage to be stretched in one or two early matches at a Grand Slam tournament, but Murray was happy to reach the third round, which he has now done on every visit here, with the minimum of effort.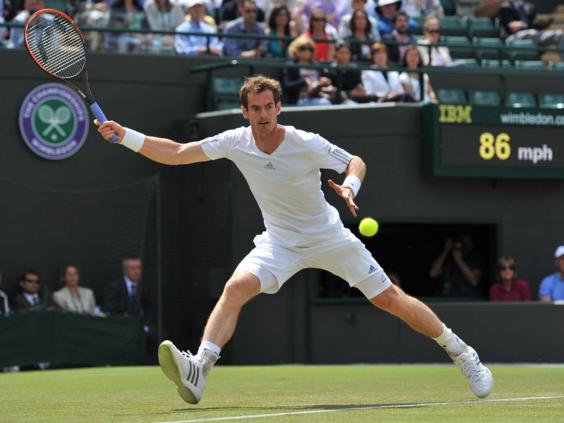 He recalled some of the tough matches he had at the recent French Open – in particular, a four-hour struggle against Germany's Philipp Kohlschreiber – and wondered whether he might have fared better in his semi-final against Rafael Nadal if he had felt fresher.
"I didn't finish the sets off [in Paris] as best as I would have liked," Murray said. "I wanted to make sure here that when I had the momentum, when I was on top, that I finished the sets off. I did that well today."
He added: "You're going to get tested during the tournament. Sometimes that happens in the first round and sometimes it can happen in semi-finals.
"It can happen at any moment in the tournament. You just have to be ready for it and expect it before every single match. I go into each match expecting to lose serve, expecting to go behind, so your mind is ready and you don't get too down on yourself if that happens."
Asked if he had felt any sympathy for Rola as he headed for victory, Murray said: "You put in a lot of hours of practice and hard work, training, all the stuff you do in the gym, for these tournaments. It hurts a lot of the time.
"When you are in a position to win a match like that, you have to try and do it as quickly as possible, because all of the players in this tournament are very, very good tennis players. If you give them a look-in in a set or they see a way back in, they can start playing very well. You just try to keep it going."
Murray said he had no problem not playing every match on Centre Court. However, he believes that since the sliding roof was installed on Centre there is a noticeable difference with Court One.
"A bit more wind gets into Court One," Murray said. "It swirls a little bit more. When you toss the ball up, with the roof there the sun obviously doesn't affect you quite as badly on Centre Court. It also sounds a little bit different. It echoes a little bit on Centre Court when you strike the ball."
With just 12 games lost in his first two matches, Murray has never enjoyed a better start in his nine Wimbledon campaigns. From now on, however, the challenges will  become significantly tougher. They will begin with Friday's third-round encounter with the world No 23, Spain's Roberto Bautista Agut, who won the first title of his career – on grass – in the Netherlands last week.
Reuse content