At this rate the bathroom break before a deciding set will soon become as established as Hawk-Eye challenges and celebrity coaches. On the morning after winning his second Wimbledon title, Novak Djokovic revealed on Monday that the time he had given himself to regroup before the last set of Sunday's marathon final against Roger Federer had been crucial.
Perhaps the Serb had learned from the US Open two years ago, when Andy Murray took a break at the same stage of his final against Djokovic. Murray looked in the bathroom mirror and told himself that he was not going to let another chance of Grand Slam glory slip from his grasp without giving his all in the fifth set. The Scot went on to win.
"I wasn't looking in the mirror," Djokovic said with a smile. "I was looking at the toilet seat. Nevertheless, it wasn't about where I was but what I said to myself and went through in this moment. I needed some time to refocus and forget about what had happened in the fourth set, forget about the missed opportunities and move on.
"I had these positive words of encouragement to say to myself. You go through different emotions during such an important match. There are times when you have doubts. Especially after the fourth set, there is disappointment which brings with it fear and doubt and all these different demons inside.
In pictures: Wimbledon moments of magic
In pictures: Wimbledon moments of magic
1/10 Shot of the tournament

Nick Kyrgios's victory over Rafael Nadal was the most extraordinary result of the fortnight and featured the most memorable shot – a through-the-legs half-volley winner from the baseline.

PA

2/10 Unplayable Kvitova

Petra Kvitova's performance was one of the best seen in a women's final for many a year. When the Czech strikes the ball as cleanly as she did against Eugenie Bouchard she is almost unplayable.

EPA

3/10 Leaping and diving

The sight of Novak Djokovic and Grigor Dimitrov both lying spreadeagled on either side of the net during their semi-final showed how players can throw themselves around a grass court in a way they would not contemplate on other surfaces.

EPA

4/10 Alizé in wonderland

There is nothing more satisfying than seeing a game plan work out. Alizé Cornet carried hers out to perfection to beat Serena Williams. Was there a happier face at Wimbledon than Cornet's after her victory?

AP

5/10 The best of Murray

Andy Murray's defence of his title ended in disappointment, but some of his tennis in the first four rounds was sensational. He made Roberto Bautista Agut, the world No 23, look like a novice.

Reuters

6/10 Fantastic Federer

Of all Roger Federer's performances, his dismantling of Milos Raonic in the semi-final was one of the best demonstrations of the pressure a great champion can impose on even the most talented of opponents.

EPA

7/10 Kazakh surprise

She did not go as far as Nick Kyrgios, but Zarina Diyas was the surprise package in the women's draw. She is also a genuine Kazakh rather than the Russian imports who often compete under the Kazakhstan flag.

Getty Images

8/10 The grace of Stepanek

At no time in the history of tennis has the game been so similar on all surfaces, but Radek Stepanek reminded us in his second-round match against Novak Djokovic how graceful grass-court tennis can be.

Getty Images

9/10 The colourful Fanatics

Wimbledon insisted on strict observance of its whites-only rule for players, but thankfully that did not apply to spectators. Hats off to the "Fanatics" who provided so much colour – and noise – in their support of the Australians.

Getty Images

10/10 The Princess Eugenie

Eugenie Bouchard emerged as a player who will charm the Wimbledon crowd for years to come. What better way to win over the British public than to be named after a member of the royal family?

EPA
"When you start fighting them, that's the biggest fight you can have. I managed to have my convictions stronger than my doubts in this moment and pushed myself the very last step to win the trophy."
Djokovic acknowledged the role Boris Becker had played in building the inner strength that has helped the new world No 1 rediscover his winning touch. Djokovic had lost five of his previous six Grand Slam finals.
Becker joined Djokovic's entourage as head coach at the end of last year. His arrival meant a diluting of the role played by Marian Vajda, Djokovic's long-time coach, who is now working with him only intermittently.
Eyebrows were raised at the time and Becker's tenure did not start well as Djokovic suffered his earliest Grand Slam defeat for four years in the quarter-finals of the Australian Open.
However, the Serb enjoyed a good clay-court season, culminating in a run to the final of the French Open, and has now won Wimbledon again.
Djokovic said that a key to the success of the relationship had been to work at the Rome Masters in May with both Becker and Vajda. "We won the tournament, the three of us, and it was actually the time when I started feeling much closer to Boris and when I actually understood what message he is trying to convey to me," Djokovic said.
"Boris contributed mostly to me from the psychological perspective, because of his broad experience. At the start, obviously, there was a difference in our characters and in our approaches and routines. We are different people and it took some time for us to get that understanding going and the right chemistry."
Asked what contribution Becker had made specifically to Sunday's victory, Djokovic said: "There were a few things that Boris said that were important. Most of all is the mental toughness and the self-belief. We've been working around that.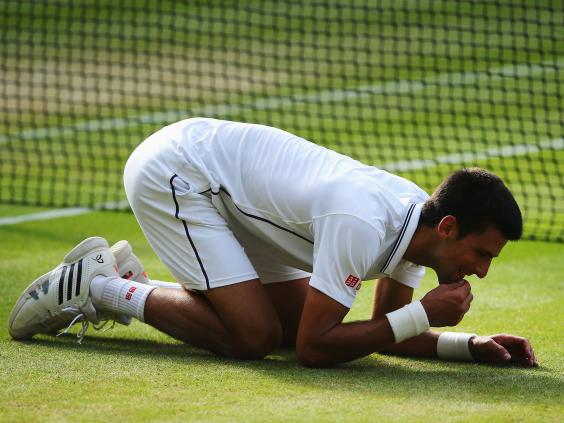 "He believes in my game. He said that he knew I had the game to win this tournament and I just needed to hang in there, stay tough, regardless of what I went through on the court."
Becker thinks that the appointment of some legends of the sport as coaches had been long overdue. He said that former players like Stefan Edberg, who is working with Federer, and Ivan Lendl, who guided Andy Murray to his first Grand Slam titles, knew "a lot more about tennis than 99 per cent of the people involved in tennis – and I'm not far behind."
He added: "I think it was time for the top players to understand – they're in their mid-20s – that if they want to improve and get a bit more knowledge, it's the same in any business. You want to go to the established ones, the veterans who have done it before for many, many years."
Becker was asked whether he regarded Djokovic as a friend. "We have an unbelievable amount of respect for one another," Becker said. "I take him very seriously and I like to think he takes me very seriously. Yes we laugh together and I am close to his other family members, but friends? I would rather not go with him on a bachelor weekend in Ibiza, put it that way."
Djokovic has more domestic issues on his mind anyway. He marries Jelena Ristic, who is expecting their first child later this year, in the next few days. The date and location of the wedding have been kept secret.
 "I'm very excited and joyful about the period that is coming up," Djokovic said. "Hopefully we're going to become parents at the end of this year, so these are really exciting times and a new chapter in our lives."
Reuse content