They're either proud suffragettes or insufferable prima donnas, these female tennis players. The views are becoming increasingly entrenched. On one hand, they are castigated for barely grazing the courts with their paltry three setters, deafening their audiences with operatic screeching and then having the temerity to pocket equal prize money while complaining they're not on the show courts enough. Both the men's and women's Wimbledon champions will take home £1.9m this year, after the rule of equality was established at The Championships in 2007.
On the other hand, the All England Club has shoved even a multiple champion like Venus Williams into tufted backwaters, and men's matches on Courts One and Centre outnumbered the women in the first week by 41 to 28. Caroline Wozniacki, former world No 1, complained, as she lost on Court Two: "I think a lot of us women feel like we deserve to play on the big courts in front of a big crowd as well."
The crush of sour grapes may have influenced her chagrin, but women are, and always have been, an integral part of the show. So she has a point. One best made by the most influential sporting suffragette of them all, Billie Jean King. The 39 Grand Slam title-holder has been besieging the holders of purse strings and antediluvian sexist attitudes since the 1970s when she campaigned for equal prize money. And got it.
Wimbledon 2015 - in pictures
Wimbledon 2015 - in pictures
1/74 Day 13

Novak Djokovic celebrates with the Wimbledon title alongside beaten finalist Roger Federer

GETTY IMAGES

2/74 Day 13

As per usual, Djokovic eats a bit of the SW19 grass in celebration

GETTY IMAGES

3/74 Day 13

Novak Djokovic celebrates winning Wimbledon

GETTY IMAGES

4/74 Day 13

Novak Djokovic wins a point

GETTY IMAGES

5/74 Day 13

A downbeat Roger Federer reacts in the final

GETTY IMAGES

6/74 Day 13

Novak Djokovic plays a strong return

GETTY IMAGES

7/74 Day 12

Williams and Muguruza show off their respective winner and runner-up trophies

Getty Images

8/74 Day 12

Serena Williams with the Wimbledon title

Getty Images

9/74 Day 12

Muguruza and Williams embrace after their Wimbledon final

Getty Images

10/74 Day 12

Serena Williams celebrates winning a point against Garbine Muguruza in the Wimbledon final

Getty Images

11/74 Day 12

Serena Williams celebrates winning a point against Garbine Muguruza in the Wimbledon final

Getty Images

12/74 Day 11

Roger Federer rolled back the years to produce a brilliant display to set up a final against Novak Djokovic

Getty Images

13/74 Day 11

Andy Murray reacts after losing a point to Roger Federer

Getty Images

14/74 Day 11

Novak Djokovic celebrates after easing into the final with a win over Richard Gasquet

Getty Images

15/74 Day 11

Richard Gasquet rarely troubled Djokovic in a straight sets defeat

Getty Images

16/74 Day 10

Serena Williams celebrates victory over Maria Sharapova in the semi-finals

GETTY IMAGES

17/74 Day 10

Garbine Muguruza clinches semi-final victory

GETTY IMAGES

18/74 Day 9

Roger Federer celebrates his win over Gilles Simon

GETTY IMAGES

19/74 Day 9

The players embrace after the match

GETTY IMAGES

20/74 Day 9

Andy Murray celebrates his win over Vasek Pospisil

GETTY IMAGES

21/74 Day 9

The Dutchess and Duke of Cambridge look on

GETTY IMAGES

22/74 Day 9

David Beckham and son Romeo watch Andy Murray

GETTY IMAGES

23/74 Day 9

The roof over Centre Court closes during Murray's quarter-final match

GETTY IMAGES

24/74 Day 8

Jamie Murray on his way to the men's doubles semi-finals

GETTY IMAGES

25/74 Day 8

Madison Keys pictured in her defeat to Agnieszka Radwanska

GETTY IMAGES

26/74 Day 8

Maria Sharapova celebrates after coming through her tough quarter-final match against Coco Vandeweghe

GETTY IMAGES

27/74 Day 8

Garbine Muguruza celebrates her quarter-final victory

GETTY IMAGES

28/74 Day 8

Novak Djokovic on his way to victory against Kevin Anderson after their fourth round match resumed

GETTY IMAGES

29/74 Day 7

Roger Federer was in complete control throughout his three-set victory over Bautista Agut

Getty

30/74 Day 7

Caroline Wozniacki on her way to defeat against Garbine Muguruza

Getty

31/74 Day 7

Andy Murray in action against Ivo Karlovic

GETTY IMAGES

32/74 Day 7

Ivo Karlovic in action against Murray

GETTY IMAGES

33/74 Day 7

Murray in action in his fourth round tie on Centre Court

GETTY IMAGES

34/74 Day 7

Andy Murray in action against Ivo Karlovic

GETTY IMAGES

35/74 Day 7

Nick Kyrgios clashes with the umpire during his defeat to Gasquet

GETTY IMAGES

36/74 Day 7

Maria Sharapova during her fourth round win

GETTY IMAGES

37/74 Day 7

Serena is congratulated by sister Venus after their fourth round contest

GETTY IMAGES

38/74 Day Six

Andy Murray was in real trouble for a short time against Andreas Seppi and needed a medical timeout to work on his shoulder

Getty Images

39/74 Day Six

But the Scot rallied and won six games in a row to march into the fourth round

Getty Images

40/74 Day Six

James Ward is cheered off by the home support after losing an epic battle with Vasek Pospisil

Getty Images

41/74 Day Six

Defending champion Petra Kvitova leaves the court in tears after shock defeat to Jelena Jankovic

Getty Images

42/74 Day Six

Angelique Kerber was upset by Garbine Muguruza, who was seeded 10 places below the German

Getty Images

43/74 Day Six

No 5 seed Caroline Wozniacki made quick work of Camila Giorgi

Getty Images

44/74 Day Six

Marin Cilic needed five sets and a 12-10 tie-break to beat American John Isner

Getty Images

45/74 Day Six

Roger Federer Eased to a win over Sam Groth

Getty Images

46/74 Day Six

Wimbledon darling Dustin Brown packs up after defeat to Viktor Troicki

Getty Images

47/74 Day Five

Serena Williams celebrates her triumph over Heather Watson

GETTY IMAGES

48/74 Day Five

Heather Watson wins a point in the third set

GETTY IMAGES

49/74 Day Five

Serena Williams reacts to losing a point

GETTY IMAGES

50/74 Day Five

Grigor Dimitrov was knocked out after losing to Richard Gasquet

GETTY IMAGES

51/74 Day Five

Maria Sharapova celebrates her win over Irina-Camelia Begu

52/74 Day Four

Tennis world number 102 Dustin Brown has shaken Wimbledon by knocking out two-time champion Rafael Nadal

53/74 Day Four

Roger Federer plays a cheeky shot during his second round win over Sam Querrey

GETTY IMAGES

54/74 Day Four

Petra Kvitova celebrates her second round win

GETTY IMAGES

55/74 Day Four

The Duchess of Cornwall meets Rafa Nadal

GETTY IMAGES

56/74 Day Four

Adam Lallana of Liverpool at Wimbledon with Game of Thrones star Kit Harington

GETTY IMAGES

57/74 Day Four

Andy Murray in second round action where he beat Robin Haase in straight sets

GETTY IMAGES

58/74 Day Four

Wimbledon fans feel the heat

GETTY IMAGES

59/74 Day Three

Milos Raonic of Canada serves to Tommy Haas of Germany during their singles match

AP

60/74 Day Three

Grigor Dimitrov of Bulgaria reaches for the ball trying to return to Steve Johnson

AP

61/74 Day Three

Heather Watson impressed to beat Daniela Hanutchova in straight sets

Getty Images

62/74 Day Three

Novak Djokovic eased into the third round with a win against Jarkko Nieminen, who played his last game at the tournament

GETTY IMAGES

63/74 Day Two

Defending champion Petra Kvitova made light work of Kiki Bertens, dropping just one set

Getty Images

64/74 Day Two

Heather Watson booked her place in the second round but upsetting No 32 seed Caroline Garcia

Getty Images

65/74 Day Two

Laura Robson played her first Grand Slam match in 17 months but lost to Evgeniya Rodina

Getty Images

66/74 Day Two

No 10 seed Rafa Nadal was given some problems by Tomaz Bellucci but prevailed

Getty Images

67/74 Day Two

Roger Federer was excellent as he beat Damir Dzumhur in straight sets

Getty Images

68/74 Day Two

Getty Images

69/74 Day One

A blue tit stole the show early on the first day of the tournament

BBC

70/74 Day One

Serena Williams made hard work over her victory over Margarita Gasparyan

Getty Images

71/74 Day One

Novak Djokovic boked his place in the second round with a 6-4 6-4 6-4 win over Philipp Kohlschreiber

Getty Images

72/74 Day One

Liam Broady produced a brilliant fightback from two sets down to beat Marinko Matosevic - a man ranked 43 places above him

Getty Images

73/74 Day One

Maria Sharapova was impressive in beating Britain's Johanna Konta

Getty Images

74/74 Day One

Kei Nishikori reacts after the No 5 seed struggled to a five-set win

Getty Images
Ever since, the argument has raged that while men play best of five sets and women three, why should they get equal pay for less work? Here's your answer. "It's not about work when it comes to the entertainment business. It's all about eyeballs," said King. "We had more eyeballs on the Women's World Cup in the States than for the men's a year earlier."
She was right. Over 54 million eyeballs in the US watched USA v Japan in the Women's World Cup final,  exceeding the figure for the men's version by 20m. But that won't be the case when the BBC's viewing figures for Wimbledon are announced.
There have been exceptions – notably when Heather Watson took on Serena Williams – but the men's game is currently of such a supremely high order that you can expect the population of Britain's sofas to be greater today for the men's final than for Williams v Muguruza yesterday.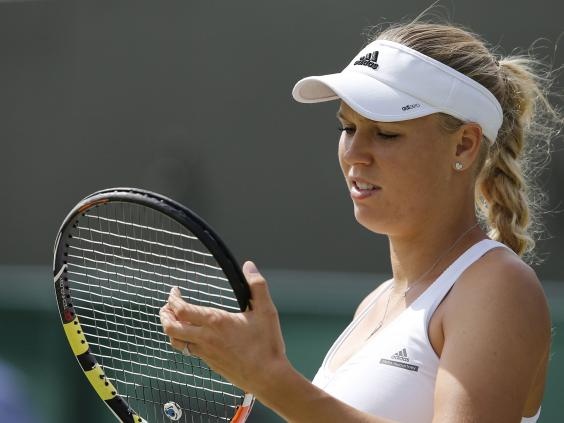 Wimbledon could try snatching money off the women's champion to compensate but maybe that's a trifle ungallant. Instead, they might remember when Jim Courier was being deeply uncharismatic, mercifully offset by the compelling spectacles involving Steffi Graf, Gabriela Sabatini, Jana Novotna. Few rivalries have ever matched Navratilova-Evert. Even now, in the US, Serena Williams pulls the biggest audiences on the Tennis Channel.
In other words, ascendancies change and the maintenance of equal prize money is too important a principle to chop. "And I think the boys should play best of three as well," added King. "Five-setters are too hard on them. It's just ridiculous how hard it is on their bodies. Most of them quit when they're 30, like Pete Sampras. And I hate it because just when I feel I'm getting to know them they quit."
Another suggestion is that both men and women should play three sets until the Grand Slam quarter-final stage, when both sexes would revert to five sets. "If it's an  argument about five sets, we can do that," said King. "We have more body fat than men. We can last longer." Thing is though, what would you lose in the process? Novak Djokovic for one, who would have exited in the fourth round this Wimbledon against Kevin Anderson. The problem, as with all sport so entwined in tradition, will be inducing a change. It was bad enough getting women out of corsets and men out of long trousers on courts a century ago. The theatrical five-setter is woven in the very fabric of Wimbledon and its fellow Slams. Every generation can recall some ridiculous endurance test like Gonzales-Pasarell 1969, Isner-Mahut 2010, that three-day marathon, or Djokovic-Nadal 2012 in Australia, a six-hour war of attrition that left both men on the verge of collapse. "There goes another career," thought King as she watched the match.
"Athletes do not like change," said King. "They're useless at it."
But Serena Williams is not so risk-adverse and weighed in, politely, to the argument on show courts. "We're still fighting on that. We've made some progress. I don't think it's limited to Wimbledon. We have this problem at a lot of tournaments."
There will be much clucking in the shires, as the campaigning women players are seen as aggressively demanding. Needs must, reckons King. "Women have to speak up because when they don't nobody cares. We keep thinking somebody's going to notice and they're not. As former President Carter said, 'The average man... accepts his position of privilege'. They don't want to give up their power. So we must do it ourselves. It's important for girls to have the same privileges as men. Otherwise it's human capital we're wasting."
It's the 21st century. Women have stopped being dainty and fainting at the drop of a cambric lace hanky. This debate about equal prize money, equal billing, is about more than counting sets. It's about sending the message that at Wimbledon, and beyond, women deserve equal opportunities.
Follow @suemott1 on Twitter
Reuse content